United Kingdom BBC PROM 44 – Koechlin, Varèse and Walton: Gerald Finley (baritone), London Symphony Chorus, Orfeó Català, Orfeó Català Youth Choir, London Symphony Orchestra / Sir Simon Rattle (conductor), Royal Albert Hall, London, 20.8.2019. (AS)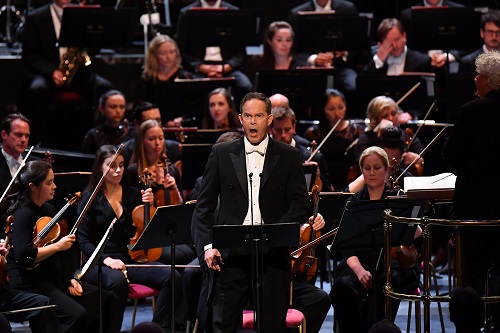 Koechlin – Les bandar-log Op.176
Varèse – Amériques (original version)
Walton – Belshazzar's Feast
In his regular page-long feature in each Prom programme, which bears the title 'The Proms Listening Service' (sic), Tom Service on this occasion suggested that Sir Henry Wood's most "treasurable" legacy is the new music that's commissioned and played each year. This year it is 15 new works, and there are several other pieces that are almost new to the scene. If the quality of these "novelties" (to use Sir Henry's term) was such as to justify their promotion then all would be well, but so often patient Proms audiences have to put up with works that either desperately strive to say something new, without success, or are cast in an idiom that palely reflects infinitely better compositions written maybe a century ago. The result, coupled with the programming emphasis on the same old 30 or so composers that we hear all the time, means that so many fine composers, particularly those of the mid-twentieth century, are routinely neglected.
These thoughts were reinforced by the splendidly innovative programme that had no doubt been devised by Sir Simon himself. Charles Koechlin's Les bandar-log, completed in 1940, may not be a great masterpiece, but it has many merits, and how fresh and 'new' it sounded, compared with the derivative quality of much of today's new music.
Koechlin was continually fascinated by Rudyard Kipling's The Jungle Book, and wrote a cycle of works based on episodes contained in it. The last of these, Les bandar-log, depicts the chattering and cavorting of a troupe of monkeys at one level, but also satirises contemporary composers who act like monkeys in seizing upon newfangled methods of composition. Therefore, we hear examples, for instance, of 12-note serialism (though Koechlin was in fact seriously interested in Schoenberg's works), and neo-classical fugues. The work is extravagantly scored, and Koechlin's kaleidoscopic use of orchestral colour is masterly.
Edgard Varèse wrote Amériques over a period of several years after his arrival in New York from France at the end of 1915. It reflects his reactions to the tumultuous activity of the city, and particularly the sounds that he heard in his riverside apartment. Thus, this work, scored for an even vaster body than that for the Koechlin, contains parts for a siren, whistles and exotic percussion instruments. Though the influence of Stravinsky and Schoenberg is apparent, it is an astonishingly original and forward-looking work for its time, teeming with potent invention of all kinds, and its 25-minute length is not a moment too long.
In both these no doubt difficult works the playing of the LSO had extraordinary energy, finesse and obvious total confidence under Rattle's inspirational leadership.
Belshazzar's Feast has been a justifiably familiar work to Prom audiences over the years. Its last performance in 2017, with Kirill Karabits leading forces including the Bournemouth Symphony Orchestra, was disappointing, since the conductor pressed too hard and the whole thing rather boiled over and became somewhat garbled. Sir Simon is an old hand in Walton's music, and his was a finely balanced execution, with the score's many fast and exciting sections certainly played for all they were worth, but its quieter, somewhat menacing elements vividly brought to life too. Often the solo part is given to a heavy baritone voice, and as a consequence the tricky solo passages usually lack security and definition. Gerald Finley's somewhat lighter, but still strong and resonant voice was perfect for the occasion and his skilful, accurate and dramatic delivery left nothing to be desired. The combined choruses sang as a perfect unit, whose tonal quality, impressive volume capacity and precision of execution were astonishing. Of course, the LSO's virtuosity could be taken for granted, and the whole added up to a magnificent and memorable performance of this great masterwork.
Alan Sanders