United Kingdom BBC PROM 18 – Britten and Mahler: Leif Ove Andsnes (piano), Claudia Mahnke (mezzo-soprano), Stuart Skelton (tenor),  BBC Symphony Orchestra / Edward Gardner (conductor). Royal Albert Hall, London 1.8.2019 (CSa)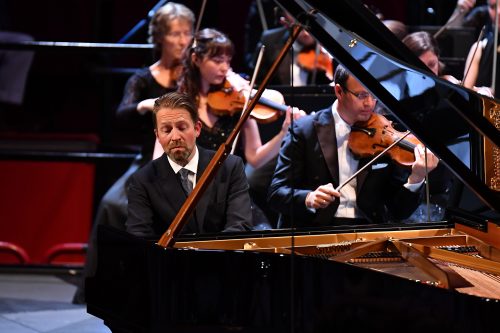 Britten – Piano Concerto (revised version, 1945)
Mahler – Das Lied von der Erde
The programme for this Prom featured a striking black and white photo of an unsmiling twenty-four-year old Benjamin Britten taken in 1938. He is seated at a piano, his long fingers resting on the keys, fixing us with a penetrating gaze. He is destined for greatness, and he knows it. He had been commissioned by no less a figure than Sir Henry Wood to write a piano concerto, and performed it himself it at the Proms in August of that year, with Wood conducting.
Britten described the work as 'a rather bravura concerto with orchestral accompaniment', but this unduly minimised the scale of Britten's achievement. True that at this early stage of his career he had yet to find an identifiable voice and style. The work plainly bears the characteristic traits of the composers he admired – the exuberance of Tchaikovsky, the anguish of Mahler, the can-do confidence of Walton, and the rhythmic quirkiness of Prokofiev. True, too, that the four movements were in the form of musical vignettes rather than conventional concerto-like movements. Yet, this is a composition of technical brilliance, with more than an early promise of the mature composer's gift for orchestral colour. It also contains a dazzlingly virtuosic piano part, as demanding as any in the repertoire.  These challenges were met with seeming and seamless ease by the impeccable Norwegian pianist Leif Ove Andsnes. The bravura passages opening Toccata and haunting waltz were played with glittering assurance, while the third movement Andante combined accuracy and tenderness. The Allegro March, with its shades of Crown Imperial – surely a dig at the Elgar-loving musical Establishment from young Britten the conscientious objector – was executed by Andsnes with just the right measure of tongue-in-cheek humour. Brilliantly accompanied throughout by the BBC SO under the insightful direction of Edward Gardner, this was a performance to cherish.
Despite a couple of unwelcome mobile phone interruptions from the arena at critical moments in his performance, Andsnes rewarded the audience with a beautifully judged encore. I thought it was by Debussy, while my companion for the evening guessed Ravel. In fact, it turned out to be the first piece from Federico Mompou's five-movement suite, Suburbis (1917).
Britten revered the song settings of Gustav Mahler, saying of Das Lied von der Erde that it was 'cruel that music should be so beautiful'. Certainly, there were moments of serene beauty in Gardner's realisation of this richly contemplative late work, a performance in which the BBC SO played sympathetically and expressively. It also brought together fabled heldentenor Stuart Skelton and mezzo-soprano Claudia Mahnke.
Skelton's performance was indeed heroic, all-embracing, and sung not only from the heart, but also from memory. In the first and one of the most demanding of the songs in Mahler's cycle, Das Trinklied vom Jammer der Erde (Drinking Song of Earth's Misery), Skelton packed a powerful punch – projecting bitterness,  mirth and drunken abandon in equal measure – although the voice sounded somewhat stretched in the upper register. By way of contrast, Skelton's account of the exotic Von der Jugend (Youth) was unforced, light and delicate in texture.
Mahnke's projection was occasionally hampered by her tendency to look down at the music in front of her. As a result, her low notes were sometimes swallowed up in the orchestral swell or lost in the cavernous recesses of the Royal Albert Hall. That said, in the second setting, Der Einsame in Herbst (The Lonely One in Autumn) the dark resonance of Mahnke's voice was deeply moving, as was her elegiac, almost breathless farewell to life in Der Abscheid.
An enchanting performance.
Chris Sallon