Sweden Dala-Floda Operafest [2] – Mozart, Le nozze di Figaro: Soloists, Håkapellet (Ola Ottosson [piano], Jonas Lindgård [violin], Christian Sahlin [cello]). Björbo Opera House. Dala Floda, 5.8.2019. (GF)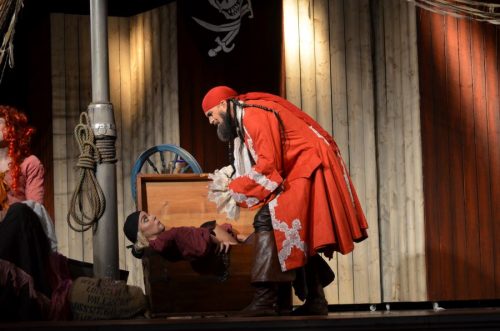 Production:
Direction – Märit Bergvall
Costumes – Ilona Autio & Fredrik Ell
Sets – Anna Johansson
Cast:
Count Almaviva – Anders Falbe
Countess Rosina – Anna Hanning Häggström
Figaro – David Afzelius
Susanna – Evelina Stenvall
Cherubin – Hannah Körner
Marcellina – Vilma Skäryd
Barbarina – Karin Mobacke
Madame Bacille – Fabian Düberg
Bartolo – Erik Johansson
Antonia – Julia Andersson
Märit Bergvall has made a speciality of producing operas in chamber-size versions with simple accompaniments – often only a piano – relatively simple sets and sometimes with cuts. Last year's Così fan tutte at Björbo was a good example. There the secco recitatives were replaced by spoken dialogue, easier to digest for audiences with limited experience of opera. She also seems to have a soft spot for transporting the action to other milieus than the original. This Figaro production is located on a pirate ship(!) instead of in Count Almaviva's castle, although I really cannot see how this would make the play easier to understand. People jumping from windows – one of them is Cherubin  – fall into the water and celebrate weddings on board the ship. Quite absurd in my opinion. Don Basilio and Don Curzio, who are often played by the same tenor since they never appear simultaneously, are combined with a Madame Bacille, sung by a tenor. No objection. The gardener Antonio obviously had to stay on land and is replaced by Antonia, who is the ship's cook. The story is basically the same as the original, based on Britt G. Hallqvist's Swedish translation as modified by Märit Bergvall, who has also removed most of the recitatives and replaced them with spoken dialogue. The orchestra is reduced to a piano trio, which works well, and I am full of admiration for their stamina. The performance takes more than three hours, admittedly with a pause of twenty minutes in the middle, but it is still a tough job for these three fine musicians.
There are some cuts. The overture is truncated, but that is no great loss under the circumstances. What is more serious is that Figaro loses two of his three arias and is only allowed the well-known 'Non più andrai'. But the other two are the most important if one wants to retain the revolutionary importance of the opera: the lower classes' opposition to the nobility. Interestingly Don Basilio is allowed his aria in the last act, a piece that is frequently cut in live performances.
It is also a pity that Märit Bergvall demands a rather burlesque style of acting of the performers. It is a coarse style, which Mozart would have hardly accepted – rough and blunt. When Susanna slaps Figaro in the face it is a wallop that floors him, to name just one example, and generally Susanna is a rather vulgar character in this production. Moreover, all the characters are crude. There are two exceptions: Anna Hanning Häggström's Countess is as noble and sad as she should be and her two arias are lyrical highlights; and Karin Mobacke's Barbarina is also free of exaggerations. It is a small role but she makes the most of it with small means, sings beautifully, acts charmingly and her face comes alive. For me those few moments were the most attractive of the entire performance.
However, I am not implying that the rest of the ensemble is not good. Just as with last year's Così fan tutte I was greatly impressed by the acting within the concept that the director opted for. The greatest was no doubt offered by the dynamic Count Almaviva of Anders Falbe – and his dark-hued and powerful bass-baritone made him a truly dangerous Count. In the last act the magic moment when the Countess steps out of her hiding-place and reveals him as a notorious skirt-chaser and he, full of shame, begs her forgiveness, time stands still. Hannah Körner's superb body-language as the hormone-laden Cherubin was also masterful. But everyone else was convincing as well, and for those who accepted the somewhat vulgarized concept – which most of those present apparently did – this was an enjoyable performance.
Göran Forsling