United Kingdom BBC PROM 50 – Schumann, Widmann, Beethoven: Orchestre de Paris / Daniel Harding (conductor). Royal Albert Hall, London, 27.8.2019. (CC)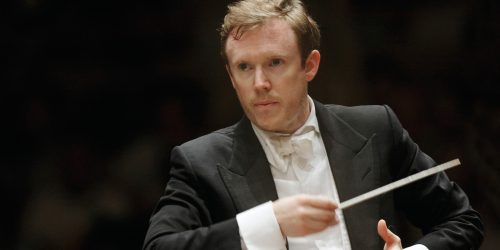 Schumann – Genoveva Overture (1847/8)
Widmann – Babylon Suite (2014, London premiere)
Beethoven – Symphony No.6 in F, Op.68, 'Pastoral' (1808)
It was wonderful to see and hear the Orchestre de Paris in such tremendous form under its current Music Director, Daniel Harding. This pairing of conductor and orchestra seems a powerful and successful one – this was by far the most impressive concert I have heard under Harding's baton. Watching his economic gestures and his ever-expressive baton, it is easy to see, physically, his debt to Abbado (who he assisted at the Berlin Philharmonic); and Harding now has an orchestra that responds instantly to his will.
The evening began with Schumann's Overture to his only opera Genoveva, strings warm, timpani nicely hard-sticked very accurate brass. But most off all there was a sense of flow, of impetuosity that gave the music real life, underpinned by real rhythmic buoyancy.
Still with opera, the concert's trajectory now moved firmly to our time. My colleague Jens  F. Laurson was less than complementary about the premiere of Widmann's second opera, Babylon, in Munich in 2012 (review); José M. Irurzun caught a 2019 Berlin performance at the Staatsoper unter den Linden (review). Perhaps it was the singing phalluses and vulvas on stage that put them off. The plot focuses on cultures that cannot live together (nothing's changed, then); Widmann also takes this into the area of spirituality with a separate part for the Soul of one of the main characters, Tammu. The orchestral suite, mercifully minus huge exposed genitals, is a half-hour celebration of polystylism that takes us on a wild roller-coaster of a ride. The orchestra is huge, including contrabass clarinet and a battery of percussion: four percussionists in addition to the timpanist are required. But despite the vast forces, the first impression is that Widmann knows exactly what he is doing at each and every moment with his orchestra. Busy the score may be, but there is a translucency there that sometimes verges on the miraculous – and the excellence of the performance played no small part in this delineation.
The plaintive sound of an accordion colours the opening of the work, while at various points other composers' music seems to surface. Is that the slow movement of Rachmaninov Second Symphony? – a piece heard just two days ago at the Proms – while Ives and his marching bands certainly find their place in Widmann's vocabulary. At another moment, there is what sounds like a slowed down, bastardised Schubert Waltz. Elsewhere, cartoon music meets Petrushka; brass blowing through their instruments without producing a note seemingly imitate a steam train – or perhaps it was the bellows that fan Nebuchadnezzar's Fiery Furnace. In amongst all of this are moments of the most tear-jerking lyricism. The confidence of the performance was enormous, and we have to take it on trust that all was as it should be (I only mention that because there was one moment that Harding gave a lead and nothing seemed to happen). Emotively, everything made its mark, Widmann expertly moving between true emotion and Schmaltz, between bestial, earthy, orgiastic controlled chaos and cherished moments of clarity. Harding clearly believes in this score and transmitted that belief to his players.
I have long admired Widmann's music. His string quartets are well worth getting to know – try the performances on Dabringhaus – and note also that the Third Quartet appears on a Harmonia Mundi disc coupled with the Viola Concerto conducted by Harding. This Babylon Suite confirms Widmann's importance. If only we could be gifted a staging of Babylon the full opera in the UK ….
It was quite a shift to Beethoven's 'Pastoral', in a light-textured, light-footed reading that exuded joy. Those antiphonal violins paid off here; and Harding placed the double-basses behind the wind, raised. Conducting the first movement mainly one beat to a bar, perhaps to emphasise the gentle forward movement, Harding ensured the woodwind were major contributors, not least the superb principal bassoon, Giorgio Mandolesi, who at times seemed to have a starring role. Everything was carefully considered, the repeated woodwind triplet chords beautifully modulated; throughout, that transparency that had illuminated both the Schumann and the Widmann. The 'Scene by the brook' moved, as it should, the lower strings superb in setting up the ululating cushion of sound over which the violins circle; and amazing how together those violins were. The 'Merry Gathering' and 'Storm' were taken at quite a lick, exhilarating, enabling the sunlight of the 'Shepherds' song' after the tempest to radiate fully. A wonderful performance; all the more surprising, then, that, as a visiting orchestra, the Parisians offered no encore. No problem: a most enjoyable, stimulating, concert.
Colin Clarke