Sweden Dala-Floda Operafest [1] – Lehár, The Merry Widow: Soloists, Dala-Floda Opera Chorus & Orchestra / Jonas Lindgård (conductor). Björbo Opera House. Dala Floda, 4.8.2019. (GF)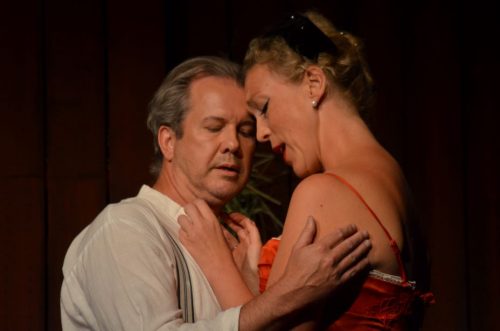 Production:
Stage director – Märit Bergvall
Set designer – Ilona Autio
Costume designer – Nils Harning
Lighting designer – Erik Johansson
Arrangements – Jonas Dominique
Cast:
Hanna – Paulina Pfeiffer
Danilo – Mathias Zachariassen
Valencienne – Evelina Stenvall
Camille – William Davis Lind
Zeta – Anders Falbe
Njegus – Fabian Düberg
Sylvia – Maria Jansson
Maxine – Maria Kjelsson
Julie – Julia Andersson
Christine –  – Stina Lindberg
Charles – Kalle Holmslet
Eric – Erik Johansson
The Opera Festival in Dala Floda, Dalecarlia, Sweden, opened its ninth season with Franz Lehár's immortal operetta The Merry Widow (in Swedish Glada änkan). As has become more or less the rule over the past few years, the story has been adapted to the local environment and thus transported from the Paris of the previous turn of the century to a fictive rural village (Floda-Böda) and Zeta, originally Pontevedrinian ambassador in Paris, is a well-to-do farmer who will be even more wealthy when he marries Valencienne, inheritor to large areas close to Zeta's property. The hang-up is a small piece of land separating the two properties, for which Zeta should have arranged an easement, but he hasn't, and that piece is now owned by Hanna, a former maid at Zeta's farm. Ten years ago she moved to Paris where, after living for some years in poverty, she married a wealthy man. Now he is dead and Hanna has inherited his fortune. She no longer needs this insignificant piece of land but before leaving for Paris she had a love affair with Danilo, Zeta's younger brother and has never forgotten their broken liaison, caused by the father of Zeta and Danilo, who forbade their marriage. Hanna was too common for a rich man's son.
As the story begins, preparations are in full swing for the wedding party and Zeta announces that an important secret guest is due to appear. It is Hanna, who arrives together with some of her Parisian friends, and there is a decided cultural clash between these fashionable people and the rural inhabitants of Floda-Böda. The rest of the operetta is filled with complications, just as in the original story. Zeta and his allies do their best to get Hanna and Danilo married to secure that little piece of land, but the two are stubborn. In the end they surrender and sing their 'Lippen schweigen' duet – in Swedish in Folke Abenius's classic translation – albeit adapted by stage director Märit Bergvall, who also provided the entirely rewritten spoken dialogues. But for Zeta things are a bit unfortunate, since his wife Valencienne elopes to Paris with her lover, the farmhand Camille, despite insisting that she is a respectable woman.
Musically the score is complete, including the fairly rarely heard duet 'Ein trautes Zimmerlein' for Valencienne and Camille in the first act and even enriched with music from The Land of Smiles. The lush orchestra of the original is reduced to an ensemble of nine musicians with four strings, four wind instruments and an accordion. This works well in this chamber-size format although occasionally it happens that they are a bit too loud and drown out the voices. But the playing is confident and full of zest, which rubs off on the singers as well. There are a great deal of fun details, possibly the most amusing being the fact that Maxine is not a nightclub singer but a maid whom Danilo secretly meets and helps feed the pigs and goats, who are named Lolo, Dodo, Jou-Jou, etc. – i.e. the names of the Grisettes!
The changes of scenes are carried out elegantly with the help of movable cupboards, which the actors operate themselves so that the changes are done in no time. The acting is convincing, often a bit coarse, which fits the rural setting and especially the chorus – consisting of amateurs – are worthy of great praise for their enthusiastic and wholehearted involvement, as is director Märit Bergvall for skilful instructions. The chorus also sings well, considering the average age of the members, but some rejuvenation would not hurt, in particular among the male voices, of which there are too few.
Among the soloists the experienced Paulina Pfeiffer (Hanna) and Mathias Zachariassen (Danilo) stand out for both singing and acting on a high level. They have a perfect understanding of the piece, having starred in several productions at the Dala-Floda Festival. The supporting couple, Evelina Stenvall (Valenncienne) and William Davis Lind (Camille), are talented and Anders Falbe is a tremendously dynamic Zeta with dramatic stage presence. But no one lets the show down, and the production as a whole is greatly entertaining – although, to be honest, I would not have minded seeing the original.
Göran Forsling