Austria Salzburg Festival [3] – Previn, Sibelius, and Beethoven: Anne-Sophie Mutter (violin), West-Eastern Divan Orchestra / Daniel Barenboim (conductor), Grosses Festspielhaus, Salzburg, 16.8.2019. (MB)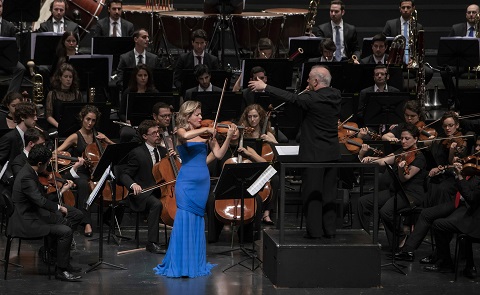 André Previn – Violin Concerto, 'Anne-Sophie': third movement, '(from a train in Germany)'
Sibelius – Violin Concerto in D minor Op.47
Beethoven: Symphony No.7 in A major Op.92
For the third and final of the West-Eastern Divan Orchestra's Salzburg appearances this year, the players and Daniel Barenboim were joined by Anne-Sophie Mutter, for one-and-a-third violin concertos. The third-fraction was the final movement of André Previn's work, written for Mutter and named after her, the movement in question a set of variations on the song, 'Wenn ich ein Vöglein wär'. She is clearly fond of the work, although it is difficult to imagine we shall hear much of it from anyone else; at any rate, performance of a single movement afforded a touching tribute, without outstaying its welcome. Korngold, Prokofiev, Walton, even occasionally Berg haunted its pages: rather as one might have expected. It is not so much reactionary music, as simply what it is, never pretending to be anything else. Mutter here, as later, was on outstanding form, her tone centred, and focused, the music knowingly playing to her strengths, supported not only by a gorgeous orchestral sound, but by players and a conductor who knew where things were heading and how to get there. The soloist's final sustained note, fading into nothing, made for a loving farewell to a mentor, sometime husband, and collaborator.
Sibelius, I am afraid, is a composer whose music I have never really been able to get on with. My loss, doubtless. I put the symphonies to one side some time ago, deciding that there was little point in persistently trying and getting nowhere: better to wait until they came knocking at the door again. Although I have found many of the shorter pieces, whether songs or orchestral works, attractive, I have likewise avoided the Violin Concerto for some time, initially nonplussed by it. If I cannot imagine it ever being my favourite work in the genre – though who knows? – I am delighted to report the extent to which I was won over, my reservations confounded and quite forgotten. Sometimes it pays to wait not just for the right time, but for the right performers. For me, at least, Mutter, the Divan Orchestra, and Barenboim proved very much that. Mutter's tone for the opening was different: less glamorous, with tighter vibrato, her line nevertheless built swiftly and surely with evident passion and belief. It was a long line, yet variegated. Barenboim attended to harmonic rhythm with all the understanding one would expect. This first movement emerged as not un-Wagnerian at times: not just the sound, but, in Barenboim's hands, dramatic timing too. The depth and vigour of the Divan strings did no harm whatsoever either. Mutter's cadenza was as nourishing as it was thrilling, the vehemence of the movement's close quite stirring from all concerned. There was more than a little Wagner to the slow movement's opening clarinet and oboe duo, Mutter responding with a rich, yet never thick, solo of her own. It was unashamedly 'Romantic', yet with an awareness that the term meant something quite different from what it might have done twenty-five or fifty years earlier. The movement spoke 'for itself', not unduly or even noticeable moulded, Barenboim attentive in the best way. Virtuosity at the service of the score characterised the finale. I doubt one would hear its opening solo played with greater clarity or understanding today, the orchestra responding in (darker) kind. And so on and so forth, our musicians excellent guides. This prior sceptic found himself entirely won over.
With Beethoven we were firmly on Barenboim's home territory – and his orchestra's. The Seventh Symphony's first movement introduction can rarely, if ever, have sounded replete with potentiality, with hope. (How we need that right now!) Haydn radicalised: is that not what Beethoven is, in many ways? From the outset, harmony was the symphony's guiding force. (Why, apparently, do so many conductors fail to realise or at least to communicate this? As if Beethoven had no harmonic understanding…!) Every new phrase, every new section of a sequence, was developmental, generative, the transition to the exposition proper almost responsorial. Barenboim's great friend and colleague, Pierre Boulez, would surely have nodded smiling assent. And the moment of arrival was, paradoxically, or better, dialectically, both decisive and almost imperceptible. Above all, though, there was meaning; this was music that mattered: I had shed a couple of tears before the advent of the second group. All the virtues of the introduction were carried forward, developed, transformed, Barenboim's leading of his musicians an object lesson in symphonic form. Not only did we face the tonal universe in an almost Newtonian sense; we explored it, as humans do, as humans all will. To have those musicians playing as if their lives depending on it, a strong, decisive, generative bass line (ten cellos, eight double basses) reminded us what Beethoven can be, should be, must be, yet sadly, tragically, in these diminished times of ours, so rarely is. What struck me once the movement, coda and all, was over was how it had passed in the twinkling of an eye: as concise, so it seemed, as its opposite number in the Fifth Symphony.
Taken attacca, the nobility of the second movement, voiced with surpassing musical excellence and understanding, pursued the humanistic tale. A requiem for our hopes? No, although perhaps a moment to consider, to reconsider, to begin to achieve them. This, once again, was awe-inspiring Beethoven, such as only Barenboim can summon up today. Harmony and counterpoint alike offered an absolutely necessary coming together: political in every sense. This is our music; let us never forget that. Fresh, determined, the scherzo never hinted at outstaying its welcome, as it can in lesser performances, its trio offering new, yet related vistas and hopes. Mahler would have understood the marriage, the interdependence, of physical and metaphysical. And how this music, so often grimly driven, danced with delight! Much the same might be said of the finale, albeit with very different material and, ultimately, purpose. It was a whirlwind in the best sense: all-enveloping, directed, yet embracing us. 'Seid umschlungen, Millionen…' Content and form, style and idea were indissoluble: dialectically sparring and, yes, mutually embracing. The apotheosis, then, of human, necessary revolution.
Mark Berry