Portugal Portugal Festival Verão Clássico 2019, TalentFest Concerts V-VI: Guilherme Alves, Martim Barbosa (clarinets); Luis Matos (English horn); Niek Baar, Claire Wells (violins); Mathis Rochat (viola); Miguel Braga, Mariona Camats i Torrents, Jeffrey Ho, Florianne Remme (cellos); Domingos Ribeiro (double bass); Roman Fediurko, Florent Ling (piano). Sala Luís de Freitas Branco, Centro Cultural de Belém, Lisbon, Portugal. 5-6.8.2019. (LV)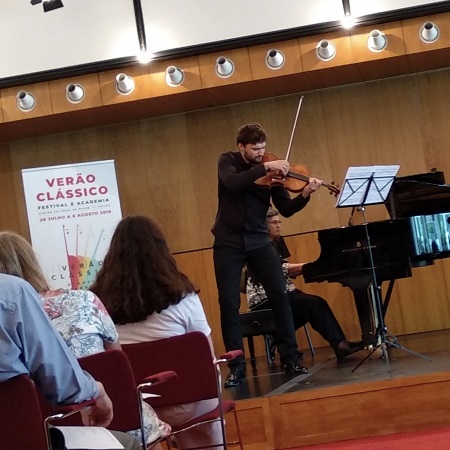 Brahms – Cello Sonata Op.99: I. Allegro vivace
Debussy – Cello Sonata: II. Sérénade, III. Final
Fauré – Élégie Op.24
Françaix – Clarinet Concerto: III. Andantino
Franck – Violin Sonata: II. Allegro
Dirk-Michael Kirsch – Dance, Sigilium Saturni
Koussevitzky – Double Bass Concerto Op.3: II. Andante
Liszt – Transcendental Etude No.10
Mendelssohn – Cello Sonata Op.58: I. Allegro assai vivace
Mussorgsky – Pictures at an Exhibition: IX. 'The Hut on Hen's Legs,' X. 'The Bogatyr Gates in the Capital of Kiev'
Prokofiev – Cello Sonata Op.119
Saint-Saëns – Clarinet Sonata Op.167: IV. Molto allegro
Schumann – Violin Sonata Op.121: I. Ziemlich langsam – Lebhaft
During the final TalentFest concerts of the fifth annual Verão Clássico Festival e Academia, all the lessons from the teachers over the last two weeks came to fruition. From twelve countries, 32 young musicians showcased their skills over two successive afternoons. They had been chosen by their professores based on their work in the master classes. Many were already working at high levels of the classical music industry. Yet still they came to learn, network, and test themselves in the intimate cauldron—packed with colleagues, parents, teachers, and the press—that was the Sala Luís de Freitas Branco at the Centro Cultural de Belém in Lisbon.
For the 200 students of the Accademia it was as if they had traveled to an alternate universe with a skewed sense of humor, back again to their old playgrounds before their fingers had to be insured. For the professores it was an opportunity to do what they love best, surrounded by adoring students and the occasional grown-up groupies, in a time and place that was somehow, for the moment, above the world's frays.
Brushing away loose strands of her from her eyes, swaying with the position and angle of her bow and violin, Claire Wells tore into the second movement of Franck's Violin Sonata as if her life depended on it. Her intense use of tonal nuance and her daringly spontaneous portamento resulted in more than just super-heated Franck, it added the emotional impact of being written for the greatest violinist of the age, Eugène Ysaÿe.
Even more spectacular was English hornist Luis Matos in Dirk-Michael Kirsch's Dance, Sigilium Saturni, with the help of four music stands and—appropriately for a score based on a 16th century philosophy of planetary squares—a set of right-ankle bells. As the various beeps, blasts, squirts and other virtuosic noises flashed by, an outrageous 21st-century version of Bob Dylan's Mr. Tambourine Man appeared. No matter how chaotic, Matos found the pulse—always the inner, sometimes the outer—and whenever he could, reveled in the sublime tone of his instrument.
The most viscerally magnetic was Niek Baar taking command of the dramatic first movement of Schumann's Violin Sonata Op.121, which the smokingly handsome Dutchman immersed in dark pools of color. He embraced Schumann's solution to the incompatibilities between violin and piano, captured the sweep from the very first bars, and told his story in big, broad strokes.
A quartet of cellists each presented individual, highly distinctive, visually arresting and musically unforgettable takes on cornerstones of their repertoire. In the first movement of Brahms' F-major Sonata, Miguel Braga was commanding and heroic. Jeffrey Ho's Debussy Sonata was flamboyant in the 'Sérénade' and intoxicated in the 'Final.' In the first movement of Mendelssohn's D major Cello Sonata, Mariona Camats i Torrents communicated from her heart and the soul of her instrument—Guilhermina Suggia-like in its aristocratic lyrical swing, coupled with expressive eyes and gentle swaying. In the first movement of Prokofiev's Cello Sonata, Florianne Remme laid out an astonishing range of expressive power and a profound respect for its simplicity—not mention scintillating virtuosity .
Under the tootelage—er, tutelage—of Pascal Moraguès, the clarinetists were magnifiques. Guilherme Alves showed that how to mesmerize in the third movement of Jean Françaix's Clarinet Concerto—and also handle lots of notes. Martim Barbosa showed what stupefying virtuosity could do with the Molto allegro finale of Saint-Saëns' Clarinet Sonata, also notably note-heavy.
I sat next to Barbosa's father, a professional trumpet player, and his grandfather, a professional clarinetist. Therefore it was no surprise when I later asked Martim for his favorite festival moment, and he answered, 'Clearly, the five minutes that I played Saint-Saëns at the TalentFest concert, because I could express my music to my friends. It was nice to to hear my friends playing, too.'
The two pianists who stood out were the 14-year-old Romand Fediurko and the 25-year-old Florent Ling. Fediurko came on stage dressed in a fussy formal suit and a big bow tie, and wiped off keys with a handkerchief before beginning to play Liszt's Transcendental Etude No.10, which bubbled out of him—controlled, but dashing. All the while, seated directly behind him in the peanut gallery, his little brother watched intently, nodding his head vigorously at every beat and key inflection point. By contrast, in the last two movements of Mussorgsky's Pictures at an Exhibition, Ling moved around like a big cat, pouncing with extraordinary appetite and command.
Other high points were Mathis Rochat in Fauré's Élégie with the deeply moving, burnished tones of his viola, and Domingos Ribeiro giving the earnest seriousness of youth to the sad siren song of the Andante from Koussevitzky's Double Bass Concerto.
After the final TalentFest concerts, lists of the prize winners and honorable mention were posted, but after an initial flurry of interest, the kids who had been competing for them for two weeks quickly congregated away, taking in stride whatever results they received. (I peered at the lists, but in order to fit in the many names they had used a tiny font, and I gave up after a few minutes.) One thing was clear: after realizing an enormous dream in only five years' time, Verão Clássico's founding director Filipe Pinto-Ribeiro had given the kids hope and inspiration, encouraging them to realize dreams of their own.
In fact, the very first student I met at the Accademia, a violinist named Ricardo Salavessa, had a very powerful dream which he shared with me: 'to create a richer and more integrated classical music culture in Portugal, and to further develop Portuguese music schools at a graduate and post-graduate level, to be able to take full advantage of the teachings of outstanding Portuguese musicians.' It is a dream of which the Festival can be proud.
Laurence Vittes