Spain Festival Castell de Peralada [1] – Various: Joseph Calleja (tenor), Vincenzo Scalera (piano), Iglesia del Carme, Peralada, 4.8.2019. (JMI)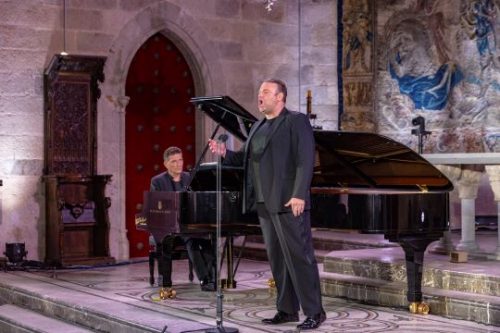 Donizetti – 'Quanto è bella, quanto è cara' (L'elisir d'amore)
Bizet – 'La fleur qui tu m'avais jetée' (Carmen)
Massenet – 'Pourquoi me réveiller' (Werther)
Verdi – 'Ah, la paterna mano' (Macbeth)
Puccini – 'E lucevan le stelle' (Tosca)
Tchaikovsky – 'Nyet tolko tot kto znal'
Tosti – 'Ideale', 'A vuchella'
Vella – 'Kebbies tal Fanali'
Donaudy – 'Vaghissimma sembianza'
Leoncavallo – 'Mattinata'
The annual Festival Castell de Peralada always features a number of recitals and concerts by important singers. This year the program has included recitals by baritone Ludovic Tézier and tenor Joseph Calleja and will continue with Sondra Radvanovsky and Juan Diego Flórez. Camilla Nylund was to have sung but cancelled in order to replace Krassimira Stoyanova at the last minute in Bayreuth as Elsa in Lohengrin.
Tenor Joseph Calleja was in Spain six years ago on a tour following the release of an album dedicated to the memory of Mario Lanza. He is one of the most prestigious tenors today, with an attractive timbre and a homogeneous voice throughout the tessitura, although it becomes somewhat narrower in the top notes. It has been 17 years since I first saw him on stage, and his evolution is remarkable. If then he was a light-lyric tenor, today he is practically a spinto tenor.
This recital had two very different halves, and the second was clearly more interesting than the first. The Peralada church is a small one, and a singer must keep this in mind. In the first part of Calleja's concert, his voice was too loud for the church, and the result was rather monotonous singing, superficial and with little nuance, since everything was sung in forte.
The second half was much more appealing. It was as if someone advised Calleja at the intermission that he had to moderate his voice in such a small place. And so it was. He seemed more confident and expressive, and even had a kind of dialogue with the audience in the encores, of which there were no less than four.
He was accompanied at the piano by Vincenzo Scalera, who did a remarkable job. Scalera also performed a few solo pieces: the 'Méditation' from Massenet's Thaïs, which he played with gusto, and three excellent George Gershwin preludes.
Calleja opened his recital with the aria 'Quanto è bella, quanto è cara' from L'elisir d'amore, which was flat. He continued with 'The Flower Song' from Bizet's Carmen, where he showed his beautiful voice but, again, there was an excess of open sounds. Next came 'Pourquoi me réveiller' from Massenet's Werther, sung with an important voice but excessive monotony.
He was more convincing in Macduff's aria (from Macbeth) and finished the first part of the recital with Cavaradossi's 'E lucevan le stelle' (Tosca), where things worked well and ended in an excellent piano.
As I mentioned above, the recital improved significantly in the second half, which began with Tchaikovsky's 'Nyet tolko tot kto znal' – the best song of the evening so far. It was followed by two well-known Tosti songs where Calleja shone.
He had the good idea of offering a piece by the Maltese composer Joseph Vella, where he again was superb, and finished the 'official program' with 'Vaghissimma sembianza', sung with brilliance and good taste, and then the well-known 'Mattinata' by Leoncavallo, where he was at his best.
Calleja seemed to be completely at ease in the encores. The first was an excellent 'No puede ser' from the zarzuela La tabernera del puerto. He followed with the well-known 'La Vie en rose', which he sang with outstanding taste, and then 'O sole mio', where he was quite brilliant. He ended with a tribute to Mario Lanza: the song 'Because' by Guy d'Hardelot that Lanza made so popular. The recital ended, as the Italians say, in 'bellezza'.
José M. Irurzun