United Kingdom Wagner, Die Meistersinger von Nürnberg: Soloists, Chorus and Orchestra of Fulham Opera / Ben Woodward (conductor). Greenwood Theatre, London, 9.8.2019. (JPr)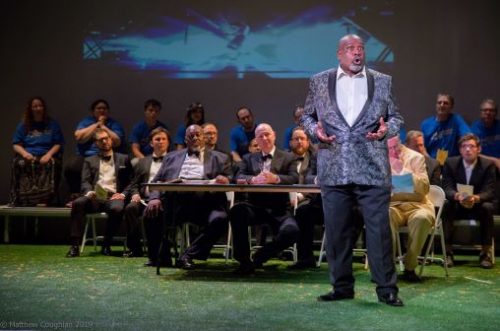 Production:
Director – Paul Higgins
Designer – Jessica Statton
Lighting designer – Chris McDonnell
Cast:
Hans Sachs – Keel Watson
Walther von Stolzing – Ronald Samm
Eva – Catharine Woodward
Magdalene – Sarah Denbee
Beckmesser – Jonathan Finney
David – Edward Mout
Pogner – Gerard Delrez
Kothner – Andrew Mayor
Ortel – Ian Wilson-Pope
Foltz – Henry Grant Kerswell
Zorn – Phil Clieve
Eisslinger – John Rodger
Nachtigall – Tom Asher
Moser – Holden Madagame
Schwarz – Simon Grange
Vogelgesang – Roberto Barbaro
The Night Watchman – Robert Byford
Looking around me at London's Greenwood Theatre I suspect some of the audience might have seen more performances of Die Meistersinger von Nürnberg than I have, but I suspect it would only be a handful of people who had. Some have been memorable for different reasons: the best being those conducted by Reginald Goodall with Alberto Remedios as Walther von Stolzing; the worst – and I won't name the professional company – was something that toured once to Oxford.
Wagner's 1868 Die Meistersinger von Nürnberg is one of the longest operas commonly presented, and uncut – as Fulham Opera perform it here – it lasts nearly four and a half hours. It is the only comedy amongst Wagner's mature works and the shoemaker Hans Sachs actually lived and was not the stuff of myth or legend. The story is set in mid-sixteenth century Nuremberg and centres on the city's guild of Meistersinger (Mastersingers) an association – think Round Table or Freemasons – of craftsmen who are also amateur poets and musicians. It is basically a love story as the young knight Walther challenges the rigid rules of the Mastersingers to prevail in a song contest and so win the hand of Eva, whom he loves, in marriage. The villain of the piece is the town clerk, Beckmesser who has also set his sights on Eva. If we ignore the twentieth-century ramifications of Sachs's Act III warning on the need to preserve German art from foreign threats, after more than four hours of music – with a virtually unique mix, for Wagner, of arias, choruses, quintet, and, most surprisingly, a ballet – there is a happy ending of sorts.
Fulham Opera began humbly in St. John's Church on the North End Road and haven't they come a long way! My background includes many unsuccessful attempts at making money from Wagner performance and I urge anybody who was there and reads this – or just might want to support a good musical cause – to go to their website (click here) and give them some of your spare money. Fulham Opera's artistic director, Ben Woodward, introduces the four performances in the programme as 'surely the maddest thing ever attempted by a fringe opera company'. There is no doubt that is true and not even Longborough Festival Opera with its Wagner pedigree has attempted Die Meistersinger.
I have no intention of being hyper-critical since everyone was giving their time with – as Woodward also wrote – 'very little certainty of financial reward'. What we saw was a modern dress semi-staging from director Paul Higgins in Jessica Staton's designs which consisted of little more than a stage wide rear plinth, a few trestle tables, coloured chairs, odd relevant props and some bunting – including EU flags(!) – for the Act III Festwiese closing scene. We were watching the planning of 'Nürnberger Musikfest 2019'; Veit Pogner, Eva's father, seemed to have a heart condition; the clear outsider Beckmesser was a ukulele-playing hippy with long hair (initially in a man bun); there was an enthusiastic semaphoring gaggle of T-shirted 'apprentices' overseen by a fussy David; and a Night Watchman as a torch-wielding security guard. Higgins moved all those involved – including 17 with named roles – around the Greenwood Theatre's wide stage effectively and my attention never wandered. If more money had been available, then there might have been better use – than there was – of projections behind the singers to create the appropriate atmosphere for the various scenes.
The success of this Die Meistersinger relied on its rosters of talented singing-actors, a stunning chorus (listed in the programme as 23) and the faultless playing of 18 instrumentalists, as well as, the 'lute' of Jonathan Musgrave. Most impressive of all was the conducting of Ben Woodward who kept an impeccable ensemble throughout and led a remarkably vibrant – and authentic-sounding – account of the reduced score. Sometimes less is more and Fulham Opera's small orchestra sounded no worse than Longborough's full pit did for their recent Das Rheingold. That so much justice was done to Wagner's music, including his great choral writing, was because of Jonathan Finney as arranger and chorus master. There is no reason why his new version cannot have a life beyond these Fulham Opera performances in a similar way to Jonathan Dove's chamber version of the Ring (review click here). I understand it could be considered heresy from a veteran Wagnerian on the eve of his 30th anniversary visit to Bayreuth but – even though hindsight is a wonderful thing – it might have been better to 'edit' some of the opera's longueurs and create a more audience friendly edition of Die Meistersinger.
Of course, some singers were better than others and anyway I have heard much worse attempts at some of the leading roles from singers with far more Wagner experience than those Fulham Opera fielded. The Mastersingers were a committed, yet individualised, group and were led from the front by the strong singing of Andrew Mayor (Kothner) and Gerard Delrez (Pogner). Edward Mout bustled about eagerly as David. The character can sometimes be a monotonous whiner as he recounts the 'rules' in Act I, Mout was too engaging for that. Not as many Beckmessers in recent years have been as funny – in the best sense – as Jonathan Finney was though his singing was a bit 'baritenor' (a voice type that has its origins with how Plácido Domingo currently sings). Both Catherine Woodward and Sarah Denbee created fully-rounded portrayals of the besotted Eva and faithful accomplice Magdalene.
What a delight it was for me to hear Ronald Samm's heroic tenor voice for the first time live. A lot of hard work must have gone into perfecting the role of Walther and even if his acting was stoic – though never less than engaging – his singing had great stamina and was secure throughout its range. I was certainly was not hearing Keel Watson for the first time and it is wonderful to note his many recent successes. On Watson's birthday his Hans Sachs was another fantastic achievement for this most personable of singers with his rich, cavernous, bass-baritone. Watson now sings all four performances instead of sharing the role and his need to occasionally resort to the score was entirely understandable in the prevailing circumstances and did nothing to diminish his accomplishment.
If there is a chance for you to get to see and hear Fulham Opera's Die Meistersinger (some roles are double cast) you should not be disappointed. It's four stars from me!
Jim Pritchard
For more about Fulham Opera's performance and how to support them click here.