United Kingdom Gilbert & Sullivan, Patience: Forbear! Theatre; National Festival Orchestra / William Remmers (conductor), Harrogate, Royal Hall, Yorkshire. 8.8.2019. (RJW)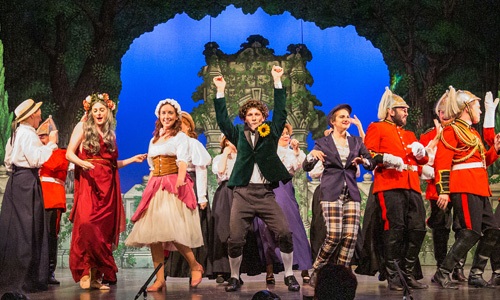 Production:
Director – Rachel Middle
Set – Paul Lazell
Costumes – Litchfield Costumes
Lighting – David Marsden
Cast:
Colonel Calverley — Peter Brooks
Major Murgatroyd — Roland Harrad
Duke of Dunstable — David Woods
Reginald Bunthorne — David Jones
Archibald Grosvenor — Jenni Simmonds
Mr Bunthorne's Solicitor — George Ireland
Lady Angela — Isabelle Paige
Lady Saphir — Joanna Goldspink
Lady Ella — Darja Scukina
Lady Jane — George Priestley
Patience — Helen Clutterbuck
This production seemed conventional enough to start with when a charming rendering by forlorn, lovesick maidens pleased the audience, the chorus solo lines being clearly sung by Lady Angela. No surprises seemed to be forthcoming apart from a slightly 'edgy' contralto voice of Lady Jane. It was some time before we realised that Jane's part was being convincingly played by a male in disguise. He also happened to be a cellist and this added another dimension to the opening of Act II where a live instrument was substituted for the usual 'dummy' cello — the effect was hilarious, especially when Lady Jane bowed slightly out of step with the orchestra.
Patience acted with modest naivety and sang her 'I cannot tell what this love may be' delightfully, with a bright soprano voice. Bunthorne was a poet believably infatuated by the presence of this innocent dairy maid and showed his continual irritation by Lady Jane's cloying presence. The graceful mannerisms and gestures seemed most in keeping with our understanding of Victorian Pre-Raphaelite culture and were nicely wedded to the music. Lady Jane was not the only one given a role reversal; Grosvenor was played by a female, but the purpose of her comedy was not really understood by the majority of the audience.
A sensitive standard of acting and singing was held throughout by this nicely dressed Company, although at times audibility of accentuated speech dropped to an inaudible whisper by Grosvenor and some of the others. The well-drilled Dragoons gave military precision to their moves and the Duke and Colonel provided strong performances, especially in one of Sullivan's best numbers, the syncopated, 'If Saphir I chose to Marry'. The trio's 'stained glass' puppetry attitudes were visually clever and neatly executed, with appropriately arranged lilies teeming with hidden meaning. Added by an aesthetic stage performance in the pit, conductor William Remmers ably held the singers together and Sally Robinson's Festival Orchestra was perfect.
Raymond J Walker