Switzerland Lucerne Festival [1] – Beethoven, Shostakovich: Leonidas Kavakos (violin), Lucerne Festival Orchestra / Yannick Nézet-Séguin (conductor), Kultur- und Kongresszentrum Lucerne (KKL), 22.9.2019. (JR)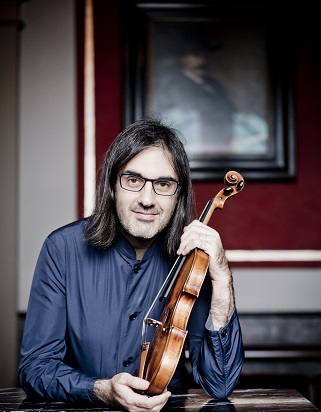 Beethoven – Violin Concerto Op.61

Shostakovich – Symphony No.4 Op.43
The prestigious Lucerne Festival opened a few days ago with Bernard Haitink conducting the Lucerne Festival Orchestra in Mahler's Fourth Symphony. My festival attendance commenced just a few days later to catch Leonidas Kavakos play Beethoven's Violin Concerto and Yannick Néget-Seguin conduct Shostakovich's Fourth Symphony.
Beethoven's Violin Concerto strangely took about 40 years to become established in the repertoire. Contemporaries considered it too long, too muddled, and too lacking in glamour. Its performance (in 1806) was unsuccessful – it did not help that Beethoven finished the composition so late that the soloist apparently had to sight-read some of the score. For some decades the work languished in obscurity, until revived in 1844, well after Beethoven's death, by Joseph Joachim. 
Kavakos sported a luminous turquoise tunic and towered over the diminutive Nézet-Séguin; and indeed Kavakos gave us a towering interpretation of the Beethoven. I have seldom been so impressed by this concerto.
Kavakos is a sensitive, almost introverted soloist; there is no hint of flamboyance. He gave us a deceptively simple, pure, astounding performance, with Nézet-Séguin ever the accommodating accompanist. Kavakos's intonation was never in doubt and captivating throughout. His finger-work made one appreciate the subtleties of the work rather than his flawless technique. There was an element of affectation: we were served no fewer than four cadenzas, some could be described as brief embellishments: Kavakos composed them all, one being his arrangement of the cadenza written by Beethoven for the piano version of the work. Another, an oddity, had added timpani. I did not take to them all but they certainly added interest. Kavakos turned to the orchestra when playing along with the first violins and seemed to be resisting an urge to simultaneously conduct the work. He was assisted by his 1734 Stradivarius, a wondrous instrument. We were rewarded by way of an encore with a master-class in double-stopping: the Andante from Bach's Second Sonata.
This summer Lucerne Festival has 'Power' as its over-arching theme. The programme writers have to bend over backwards to find suitable links to many of the works, but with Shostakovich it is a no-brainer.
When Shostakovich read Pravda on 28 January 1936, he could hardly believe his eyes. He found a scathing review of his opera Lady Macbeth of Mtsensk claiming that he had insulted his listeners with cacophony. The power of Stalin's repressive regime was to be feared. Because of his Fourth Symphony's progressive musical language, Shostakovich chose, probably wisely, to withdraw the immense work which he was composing at precisely this time. Not until 1961 was it premiered. It is still one of his least performed scores, not I suspect because it is difficult to grasp but because it demands huge forces and is hardly a box office draw. Many listeners were probably new to the work.
The symphony is another unjustly neglected masterpiece; it is a powerful work and received, in the hands of Nézet-Séguin and the impressive orchestra, a vehement performance from over 100 musicians on stage. Shostakovich called for 10 to 16 double basses. It literally blew the listeners out of their seats, aided by the magnificent acoustics of the KKL.
A word about the orchestra, the Lucerne Festival Orchestra (LFO): they were formed in 2003 and its members were then hand-picked by Claudio Abbado. Many of them, sixteen years on, remain the same. They are drawn from Europe's top orchestras and many are or were principals in those orchestras and are now professors; some give up their holidays to take part in the Festival. I highlight just a few names: Wolfram Christ leads the violas; he was principal violist with the Berlin Philharmonic in Karajan's day and one of the founding members of the LFO. He sits next to his wife. His son Raphael leads the orchestra as Concertmaster. His daughter Sarah, formerly at Vienna State Opera, leads the harps.
Jacques Zoon, another founding member of the LFO, formerly principal flute at the Concertgebouw and Boston Symphony, led the flute section. Clemens Hagen, of the Hagen Quartet, is principal cello. Notable also are Reinhold Friedrich, principal trumpet, who received a special cheer as he emerged onto the stage and the superb timpanist Raymond Curfs, now with the Bavarian RSO. The list can go on. The quality of the orchestra is audible across the board.
The symphony has its imperfections but overwhelms. Nézet-Séguin held the audience for a whole minute after the tinkling celesta had subsided, following the giant cacophonic outburst in the final movement; the audience duly held its collective breath. 
Nézet-Séguin has a penchant for Shostakovich: he has conducted the 'Leningrad' and the 13th Symphony and recorded the Fourth with his former orchestra, the Rotterdam Philharmonic.  I think it might well be my favourite Shostakovich symphony. This was a thrilling performance I shall not forget in a hurry.
John Rhodes