United Kingdom Gilbert & Sullivan Festival: Bruce Graham (former D'Oyly Carte Principal), Ian Smith (Festival Director), Utopia Theatre, Harrogate, Yorkshire 9.8.2019. (RJW)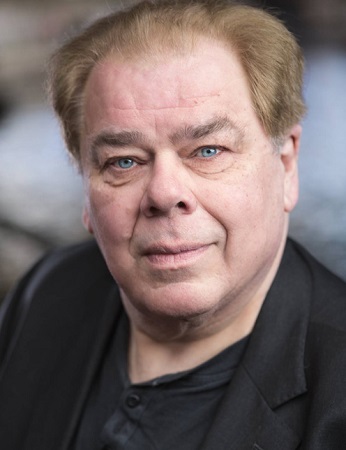 The joy of this annual Festival is that it is the only place where one can find the most knowledgeable and regular West End G&S performers. It comes as no surprise to find that many flocked to attend the presentation by Bruce Graham this year for he is one of the few remaining original D'Oyly Carte stars of the 1970s and 80s. He must have joined when very young because he is not old now and is appearing in the National Gilbert & Sullivan Opera Company's production of The Yeomen of the Guard as Sergeant Meryll.
A proficient grammar school scholar, he went up to Edinburgh University to read Medicine, but was put off by the mortuary's rows of smiling corpses. A wise decision was made to move departments and embrace the genial atmosphere of Modern Languages.
Always of fine voice and having a mother pianist and grandfather musician, he took singing lessons after graduating and decided on the creative environs of the stage. It had been when watching a production of Iolanthe in 1963 that he decided that this was what he wanted to do. Edinburgh's go-ahead group of musicians and singers, The Prince Consort had been active in promoting the lesser known stage works of Sullivan and Graham found their repertoire inviting. The D'Oyly Carte connection came when he auditioned for them at Leeds Grand Theatre where the Company was on tour. Joining in 1978, he was probably the last soloist to join before its closure in 1982. The D'Oyly Carte Opera Company toured with fewer shows towards the end, though the West End houses had always been well-filled; only the provinces suffered.
After that chapter closed, other doors opened because producers were quick to realise the excellence of training the Carte offered in relation to diction and stage movement. Engagements for shows like Me and My Girl, the Royal Variety Performance, and his favourite, Follies followed.
True words were mentioned about those directors who feel that the material needs to be brought up to date with gimmicks or clowning. The humour lies in Gilbert's words although many of WSG's witticisms sometimes go over the heads of directors. There is a style that should be followed and when it is the quality of the production will follow.
Interviewed by Ian Smith, Bruce Graham has a witty and easy style of banter that brought many smiles to his appreciative audience. Questions from the floor were greeted with interesting answers and the event overran by an extra half hour — a lovely start to the day.
Raymond J Walker