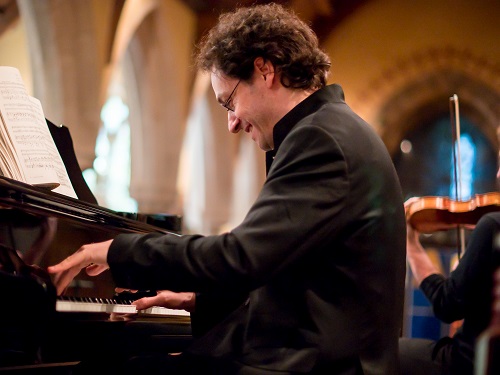 IMS Prussia Cove is celebrated for its biannual seminars, which bring exceptional musicians from across the world to study, rehearse and perform together in a remote part of Cornwall. Over the last nearly 50 years, IMS Prussia Cove have established a reputation as one of the most exciting and respected organisations in classical music, and continue to flourish under the Artistic Director of Steven Isserlis.
The annual Autumn Tour offers audiences across the UK an opportunity to glimpse some of the work which has taken place in Cornwall during the seminars, featuring a group of musicians especially chosen by Artistic Director Steven Isserlis. This week-long tour gives insight into the unique atmosphere created during the renowned IMS Prussia Cove seminars, showcasing chamber groups which combine emerging artists with established world-class performers.
In autumn 2019, a star line-up and programme featuring Schumann, Fauré, Kurtág and Mozart is not to be missed, and we are pleased to announce that BBC Radio 3 will be recording the concert in Cedars Hall in Wells on Monday 30th September for broadcast in their lunchtime series later in the year. The hugely talented young cellist Zlatomir Fung, who recently attended the IMS Prussia Cove Masterclass Seminar, and who is taking part in this year's Autumn Tour, was the winner of the celebrated Tchaikovsky Competition in Moscow earlier this summer.
FREE tickets are available to all young people aged 8-25 for the concerts in Falmouth, Wells and Cambridge thanks to support from the Cavatina Chamber Music Trust.
Sunday 29th September, 3pm – King Charles the Martyr, Falmouth
Monday 30th September, 7pm – Cedars Hall, Wells
Tuesday 1st October, 7.30pm – Wigmore Hall, London
Wednesday 2nd October, 7.30pm – West Road Concert Hall, Cambridge
Thursday 3rd October, 7.30pm – Champs Hill, West Sussex
Schumann – Fairy Tales Op.132
Fauré – Piano Quintet No.2 in C minor Op.115
Kurtág – Hommage à Robert Schumann Op.15d
Mozart – Clarinet Quintet in A K581
Sacha Rattle (clarinet)
Irène Duval and William Hagen (violin)
William Coleman and Clare Finnimore (viola)
Zlatomir Fung (cello)
Shai Wosner (piano)
Sacha Rattle (clarinet) Sacha has become an established soloist since his highly praised 2009 solo debut at Berlin's Philharmonie. Noted for his immense sensitivity, warm character and unique sound, his career has developed rapidly with performances throughout Europe and in Asia. Sacha is an avid chamber musician, having collaborated with artists such as Lars Vogt, Isabelle Faust, Katia and Marielle Labèque, Pascal Moragues and Gustavo Dudamel. He performs regularly with duo partner Zeynep Özsuca, and is a founding member of the ensemble Berlin Counterpoint, a wind and piano sextet that enjoys world-wide success. Sacha helped to create Classical Revolution Berlin, which brings chamber music to unusual locations.
Irène Duval (violin) Irène has been praised for her 'infinite delicacy' (Le Populaire de centre) and 'astonishing virtuosity' (Revelation Classiques Prades). Winner of multiple national and international competitions, Irène has established herself as a compelling and versatile performer of concerti, recitals and chamber music and has appeared frequently as a soloist both throughout her native France and abroad. Irène regularly performs with the pianist Pierre-Yves Hodique, cellist Aurélien Pascal, and forms the duo La Rose et le Réséda with violinist Virgil Boutellis. She has also performed with Gidon Kremer, Steven Isserlis, Christian Tetzlaff and Mate Bekavac.
William Hagen (violin) William has performed as a soloist, recitalist and chamber musician across the USA, Europe and Asia since his debut with the Utah Symphony aged nine. William's 2018 season featured debuts with the San Francisco Symphony and Alexander Prior, the Indianapolis Symphony Orchestra and Brett Mitchell and an appearance at the Grant Park Music Festival in Chicago with Carolos Kalmar. William has performed with conductors such as Marin Alsop, Christian Arming, Placido Domingo, Miguel Harth-Bedoya, Michel Tabachnik and Hugh Wolff, and with orchestras including the Brussels Philharmonic, the National Orchestra of Belgium, the ORF RadioSinfonieorchester, Vienna, the Orchestre Philharmonique Royal de Liège, and the Yokohama Sinfonietta and the Sendai Philharmonic in Japan.
William Coleman (viola) William Coleman has made many appearances as a chamber musician and soloist, and as the violist of the acclaimed Berlin-based Kuss Quartet. His concert schedule has included concerts at the Salzburg and Edinburgh Festivals, at the Berlin Philharmonie, Vienna Konzerthaus and Musikverein, Wigmore Hall, Theatre du Chatelet Paris, Washington Library of Congress and Carnegie Hall. He has performed with some of the world's finest musicians, including Pierre-Laurent Aimard, Christian Tetzlaff, Yuri Bashmet, Miklos Perenyi, Kim Kashkashian, Boris Pergamenschikov, Leif Ove Andsnes, Til Felner, Antje Weithaas and Clemens Hagen, as well as working directly with contemporary composers such as Helmut Lachenmann and György Kurtag.
Clare Finnimore (viola) Clare has played Principal Viola in Britten Sinfonia for the last 12 years, as well as with her regular chamber group – the Britten Oboe Quartet – which performs regularly at Festivals around the UK. She has also played as a guest with the Aronovitz Ensemble and the Nash Ensemble. As soloist, Clare has performed at the Aldeburgh, Brighton and Malvern festivals, at the Wigmore Hall and throughout the USA. While still a student she cofounded and was principal viola in the Guildhall String Ensemble, an internationally prize-winning group who toured worldwide for 20 years, making their Carnegie Hall Debut in 1991. They appeared on Blue Peter and Omnibus, made numerous recordings for RCA Red Seal and broadcast frequently on BBC Radio 3.
Zlatomir Fung (cello) Zlatomir was recently awarded First prize at the XVI International Tchaikovsky Competition and, among many other international awards in recent years, also won First Prize at the 2018 Alice & Eleonore Schoenfeld International String Competition. He is a regular member of the Jupiter Symphony Chamber Players for their 2018-2019 season, and has been featured on NPR's radio show From the Top six times, as well as on Performance Today. Zlatomir has been a soloist with the George Enescu Philharmonic Orchestra, the Ann Arbor Symphony, the Baltimore Chamber Orchestra, the Santa Cruz Symphony, the Boston Pops, the Lausanne Sinfonietta, the Grand Rapids Symphony, the State Philharmonic of Sibiu, and the New England Philharmonic, among others.
Shai Wosner (piano) Shai has attracted international recognition for his exceptional artistry, musical integrity and creative insight. His performances have made him a favourite among audiences and critics alike. This season, Shai continues his career-long engagement with Schubert's music, including performances of his latest recital series Schubert: The Great Sonatas, at the Konzerthaus, Berlin, a residency at Cal Performance, Berkeley. This series will be recorded for a new double album on Onyx, released in the spring. His concerto performances this season include appearances with the Detroit and Toronto Symphony Orchestras, the Jerusalem Symphony Orchestra and many others. Shai is a recipient of Lincoln Centre's Martin E. Segal Award, an Avery G. Fisher Career Grant, and a Borletti-Buitoni Trust Award. He has worked with conductors including Daniel Barenboim, Jiří Bělohlávek, James Conlon, Alan Gilbert, Gunther Herbig, James Judd, Zubin Mehta, Peter Oundjian, Donald Runnicles, Leonard Slatkin, Jeffrey Tate, and Yan Pascal Tortelier.
Further information available at http://www.i-m-s.org.uk/concerts/tour/