Matthew Bourne's Romeo and Juliet Comes to Cinemas
in the UK and Ireland in October
Running time 93 mins / BBFC TBC / Released in cinemas nationwide
22 October 2019
Matthew Bourne's Romeo and Juliet – to be screened in cinemas across the UK and Ireland from Tuesday 22 October (running time 93mins): Dancers and Orchestra of the New Adventures company / Brett Morris (conductor). Directed for the screen by Ross MacGibbon and filmed live at Sadler's Wells, London. Reviewed by Jim Pritchard.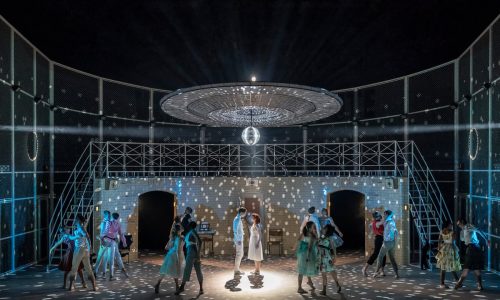 Production:
Music composed by Sergei Prokofiev (orchestrated by Terry Davies)
Directed & Choreographed by Matthew Bourne
Set & Costume Design – Lez Brotherston
Lighting Design – Paule Constable
Sound Design – Paul Groothuis
Cast included:
Romeo – Paris Fitzpatrick
Juliet – Cordelia Braithwaite
Tybalt – Dan Wright
Mercutio – Ben Brown
Balthasar – Jackson Fisch
Benvolio – Harrison Dowzell
Senator and Mrs Montague – Matt Petty & Daisy May Kemp
Rev. Bernadette Laurence – Daisy May Kemp
Frenchie – Hannah Mason
Tanisha Addicott, Emily Galvin, Hannah Kremer, Janacek Wood & Ashton Hall (local cast)
Among several highlights of the 33 years of Sir Matthew Bourne's gender-bridging New Adventures has been Swan Lake with the classic corps de ballet of female dancers in tutus being replaced by bare-chested men in swan pants; Cinderella's classic fairy-tale now set in the 1940s during the London Blitz; and George Bizet's opera Carmen envisioned as The Car Man (review click here). One of their biggest successes was their more recent – and slightly more 'traditional' – version of The Red Shoes (review click here) based on the 1948 Powell and Pressburger film, as well as, Hans Christian Andersen's fairy-tale of the same name. It is a tale of obsession, possession and a girl's desire to be the greatest dancer in the world. Bourne undoubtedly attracts an audience that normally would give classical ballet a wide berth and all credit to him for doing that. For some these productions are like Marmite and are to the Royal Ballet what all those touring dance extravaganzas, featuring the professionals from Strictly Come Dancing, are to formal ballroom dancing.
If you plan to see this in the cinema – or later through any DVD release – you need to forget Shakespeare's feuding Montagues and Capulets; any filmed version of Romeo and Juliet, as well as, West Side Story which also has two young lovers kept apart by the world they have grown up in; also put from your mind the ballet versions from Kenneth MacMillan and Rudolf Nureyev. That said the tone of Bourne's Romeo and Juliet is closest to Nureyev's staging for English National Ballet which emphasises the predestination of fate and how death stalks his renaissance Verona. I am convinced memories of Nureyev haunt Bourne's own duets for Romeo and Juliet. These are slightly more lyrical than all the other insistent movement we otherwise see and have the Russian's slightly awkward gymnastics which is redolent of genuine romantic couplings.
As Prokofiev's portentous music resounds out from Brett Morris and his small orchestra a bright red curtain drops to the stage. Although we are somewhat distanced by Ross MacGibbon's direction for the screen at this point, we will come to realise that the blood-drenched lovers lie in each other's arms on a mortuary slab. Soon we are shown the 'Verona Institute', a rather grim juvenile detention unit (from set designer Lez Brotherston) which we are told is in 'The not too distant future'. It is all white tiles, doors to the 'Boys' and 'Girls' wings, metals fences, guards and medical staff. It is a strict and brutal regime with regular surveillance and constant medication, with the synchronised motion of the 'inmates' emphasising their lack of freedom. In Terry Davies's rearrangement of Prokofiev's familiar score, we jump straight to the Dance of the Knights which subsequently returns again and again. At a counselling session we see what caused some of their confinement.
The girls are prey to sexual exploitation by their supposed protectors led by the thuggish Tybalt (the compellingly malignant Dan Wright). The red-haired Juliet (Cordelia Braithwaite) saves one of the other girls before being dragged away and raped. The young Romeo's behaviour seems totally at odds with the real world and his parents, Senator and Mrs. Montague, are only too keen to wash their hands of him at the cost of a healthy donation to the Verona Institute. With nods again to the ballet versions from MacMillan and Nureyev, a – slightly homoerotic – bromance soon develops between Bourne's Romeo, the charismatic Mercutio, his boyfriend Balthasar, and Benvolio.
As in those productions, Romeo (Paris Fitzpatrick) and Juliet meet at a social event; only here it is overseen by the concerned – but naïve – Rev. Bernadette Laurence (Daisy May Kemp), part-Shakespeare's Nurse and part-Friar Laurence. The painfully shy Romeo is very much the outsider in all the forced jollity we see whilst the drink-swilling, tattooed, Tybalt is shown trying to control his demons. Soon however all the frantic movement quietens down and under a glitter ball(!) Romeo and Juliet gaze into each other's eyes, whilst around them an orgy ensues. Their first passionate Nureyev-inspired duet involves lots of rolling on the floor, entwining of limbs, as well as, a lingering kiss.
Act II opens 'Two weeks later' and it soon becomes clear that Bourne's choreography for the boys and girls can be a little repetitive with arms often outstretched and upwards, and, regardless of the situation, sometimes looking more like aerobic exercise than dance. Romeo and Juliet exchange vows during something that looks like a balletic handfastening. Tybalt drunkenly stumbles upon their celebrations and overcome by jealousy soon betrays the fact that he has fallen for Juliet, leading him to be mocked mercilessly by the youths. Totally humiliated Tybalt wields a gun and threatens Mercutio who is eventually shot offstage. Spurred on by Romeo and Juliet everyone takes out their revenge on Tybalt who is choked to death. Lady Montague's distress – in the 'original' – at the death of her son, Tybalt, is here given to Juliet as Romeo takes the blame as everyone else flees the scene.
It is now 'One week later' and due to an increase in their medication all seem drugged to their eyeballs. Romeo enters in a straitjacket and the dancing is (even) more anguished and despairing than ever. Romeo is released for some reason into the care of his uncaring parents but is far from 'cured' and they hand over another sizable cheque that sees him committed once more. Romeo and Juliet are kept apart and fantasise about the happiness they might have shared. Juliet explains everything to the vicar who leads her to Romeo; cue another Nureyev-lite duet. Juliet is haunted by Tybalt's ghost and her mental health spirals downhill. To avoid (any further) spoilers I will leave the denouement to your imagination, or until you get to see this in the cinema or on DVD.
My major criticism is a lack of narrative coherence and that the characters are – in the main – merely cyphers and have insufficient nuance, motivation, or depth. Nevertheless the piece is danced from beginning to end with great stamina and spirit – and no lack of encouraging talent – from a young cast including some local pre-professional dancers. Braithwaite is an intense, appealing, Juliet who is full of steely determination, and Fitzpatrick's Romeo is gauche, guileless and all too believably troubled.
If you have enjoyed the Matthew Bourne's New Adventures shows before then you will know what to expect and you can see it in cinemas across the UK and Ireland from Tuesday 22 October (for more information click here).
Jim Pritchard
For more about New Adventures click here.
More2Screen is delighted to announce that New Adventures' stunning new 5-star production of Matthew Bourne's Romeo and Juliet will be screened in cinemas across the UK and Ireland from Tuesday 22 October.
 'One of Bourne's smartest, sexiest, most stirring shows ever'
★★★★★ Daily Telegraph
'A seismic youthquake. A Romeo and Juliet for the millennial generation'
★★★★★ The Stage
'Your jaw will drop, there are moments so stunning that you might just forget to breathe'
★★★★★ Broadway World
Matthew Bourne commented: 'I'm thrilled that New Adventures' brand-new production of Romeo and Juliet will be in cinemas across the UK from 22 October. We have been overwhelmed by the fantastic response to the work during our tour and felt we couldn't miss this opportunity to share it with as many people as possible across the UK and around the world. This timeless story of forbidden love, repressed emotions and teenage discovery is no better told than by the young, and I have been refreshed and inspired by what this team of young dancers and artists have brought to Shakespeare's classic tale of tragic conflict and young love.'
This passionate and contemporary re-imagining of Shakespeare's classic story of love and conflict is set in the not-too-distant future in 'The Verona Institute'. Here 'difficult' young people are mysteriously confined by a society that seeks to divide and crush their youthful spirit and individuality. The two young lovers must follow their hearts as they risk everything to be together. Filmed live at Sadler's Wells in London especially for cinemas, Matthew Bourne's Romeo and Juliet stars Cordelia Braithwaite as Juliet, Paris Fitzpatrick as Romeo, Dan Wright as Tybalt and Ben Brown as Mercutio.
'Paris Fitzpatrick is a wonderful Romeo, tender-hearted and heartbreakingly out of his depth. Cordelia Braithwaite is a beautiful and doomed Juliet, a young woman who moves with a fleet grace and a sense of unhinged desperation.' ★★★★ The Times
Bursting with youth, vitality and Matthew Bourne's trademark storytelling, the UK's brightest young dance talent join the New Adventures company, with direction and choreography by Matthew Bourne, design by Lez Brotherston, lighting by Paule Constable, sound by Paul Groothuis and new orchestrations of the Prokofiev score by Terry Davies, played live by the New Adventures Orchestra conducted by Brett Morris.
Matthew Bourne's Romeo and Juliet is directed for the screen by Ross MacGibbon and produced by Illuminations.  It is being screened in cinemas worldwide by More2Screen, a leading Event Cinema distributor based in London.
This cinema release would not have been possible without the support of the following partners: New Adventures, Arts Council England, Bradford Theatres, Birmingham Hippodrome, Curve Theatre, Sadler's Wells, Theatre Royal Plymouth and Mayflower Theatre.
For more information and to book cinema tickets visit: RomeoAndJulietInCinemas.com
#RomeoandJulietCinema
Cast:
Romeo – Paris Fitzpatrick
Juliet – Cordelia Braithwaite
Tybalt – Dan Wright
Mercutio – Ben Brown
Balthasar, Mercutio's Boyfriend – Jackson Fisch
Benvolio – Harrison Dowzell
Senator and Mrs Montague – Matt Petty & Daisy May Kemp
Rev. Bernadette Laurence – Daisy May Kemp
Frenchie – Hannah Mason
Dorcas – Bryony Harrison
Magdalen – Monique Jonas
Lavinia – Roisin Whelan
Morgan – Sharol Mackenzie
Edmund – Christopher Thomas
Lennox – Alexander Fadayiro
Sebastian – Callum Bowman
Fabian – Cameron Flynn
Nurses, Guard and Orderly – Daisy May Kemp & Matt Petty
Governor Escalus – Monique Jonas
Psychiatrist – Ben Brown
Swings – Kate Lyons & Mark Samaras
Griffin – Mark Samaras
Local Cast:
Faith – Tanisha Addicott
Martha – Emily Galvin
Bridget – Hannah Kremer
Rafe – Janacek Wood
Ambrose – Ashton Hall
Production:
Directed & Choreographed by Matthew Bourne
Set & Costume Design – Lez Brotherston
Lighting Design – Paule Constable
Sound Design – Paul Groothuis
Music composed by Sergei Prokofiev