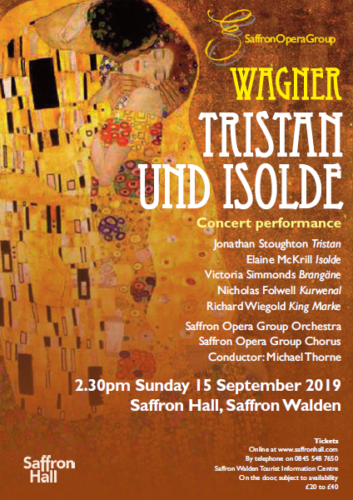 SAFFRON OPERA GROUP PRESENTS TRISTAN UND ISOLDE
FORMER TRIUMPHS INCLUDE THE RING CYCLE, PARSIFAL, DIE MEISTERSINGER
THRILLING CAST OF ESTABLISHED AND EMERGING ARTISTS IN OPERA'S GREATEST LOVE STORY
'A most remarkable concert performance… superb'
(Simon Heffer, Daily Telegraph, on Parsifal)
Saffron Opera Group intends to build on its critically-lauded run of Wagnerian triumphs with the composer's sublime hymn to the agonies and ecstasies of love, Tristan und Isolde. The concert performance takes place on 15 September in Saffron Hall.Tristan, a Breton nobleman, is escorting the Irish princess Isolde to England where she is to marry his uncle King Marke to whom she has been betrothed in a political alliance. Although Tristan was responsible for the death of Isolde's fiancée Morold, they share an unspoken love.  In her despair, Isolde decides they must drink a draft of atonement together.  They both know the draft is in fact poison but drink willingly.
The scheme is overturned when her faithful companion Brangäne secretly substitutes a love-potion for the poison, miraculously causing Tristan and Isolde to exchange death for love. Unable to escape her marriage to Marke, Isolde then embarks on an adulterous affair with Tristan, which ultimately climaxes in his death, and Isolde's mysterious and ecstatic lament over his body, known as the Liebestod or 'love-in-death'.
As in all previous Saffron Opera Group events, the roster of performers mixes established professional singers and exciting stars of tomorrow. Soprano Elaine McKrill, a firm favourite with SOG audiences for her superb performances as Brünnhilde and Kundry, sings Isolde. Internationally acclaimed for her vibrant and gleaming sound, she has performed major Wagner and Strauss roles with the Royal Opera, Scottish Opera, Stuttgart Opera and Canadian Opera Company, among others. 'Elaine McKrill explored Kundry's complexity with expression and fine signing' – (Anthony Negus for Wagner News).
Opposite her as Tristan – a role often considered to be the most challenging in the whole tenor repertoire – is the dazzling young British Heldentenor Jonathan Stoughton. Praised by Opera Magazine for his 'full-voiced, focussed and fearless' performances, and by The Guardian for his 'ardent, fresh-toned and promisingly tireless voice', Stoughton has already sung Siegfried for SOG, and also worked with the Deutsche Oper Berlin, the Prague State Opera, and all major British companies including The Royal Opera and Glyndebourne.
Two well-established stars of SOG's Parsifal make welcome returns. The celebrated bass Richard Wiegold, whose performance as the ageing Titurel 'could be considered a celebrity cameo' (The Arts Desk) now appears as King Marke. Nicholas Folwell, who made a huge impact as Alberich in SOG's Ring Cycle, and as the villainous Klingsor in Parsifal 'a well-projected and malevolently evil Klingsor' – (Seen & Heard International) is now Tristan's devoted servant Kurwenal.
Victoria Simmonds, who thrilled audiences with her lustrous voice and electrifying stage-presence as the Rhinemaiden Wellgunde for SOG, now returns as Brangäne. Her stellar career has included roles in major world premieres for the Royal Opera (Written on Skin) and Opera North (Pinocchio, title role).
Completing the cast are Howard Goodall Scholarship winner Stuart Pendred as Melot, Ben Thapa (inter alia a former member of best-selling opera-pop group G4) as A Shepherd, bass Paul Goodwin-Groen as Steersman and lyric tenor Ted Black as The Young Sailor.
Under the commanding baton of Wagner specialist Michael Thorne, 'meticulous preparation' – (Andrew Clements – The Guardian) and with a hand-picked orchestra and chorus, Tristan und Isolde promises to add further lustre to Saffron Opera Group's reputation as a beacon of Wagnerian excellence.
Saffron Opera Group was founded by opera-loving Saffron Walden residents Paul Garland and Francis Lambert in 2014 and hit the ground running with a performance of Wagner's Die Meistersinger. Its ambitious concerts of the Ring Cycle and Parsifal have been among the most successful UK Wagnerian events of recent years.
Saffron Opera Group performs Tristan und Isolde at 2.30pm on Sunday 15 September 2019
Saffron Hall, Audley End Road, Saffron Walden, CB11 4UH