United States 2019 Marlboro Music Festival – Haydn, Harbison, Schubert, Beethoven: Participating and senior artists, Marlboro College, Vermont. (CSa)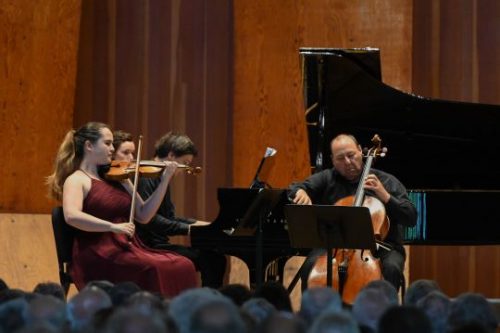 Week One
13 July
Hayden – String Quartet in B-flat Major, Op.64 No.3
Harbison – Woodwind Quintet
Schubert – Psalm 23, D.706
Beethoven – Piano Trio in E-flat Major Op.1 No.1
14 July
Chausson – Chanson perpétuelle Op.37
Mendelssohn – Piano Trio in D Minor, Op.49
Beethoven – Septet in E-flat Major, Op.20
Professional musicians and aficionados will know of the existence and international reputation of the Marlboro Music Festival but given its location deep in the Green Mountains of Southern Vermont, few are likely to have paid a visit. It thus remains one of chamber music's best-kept secrets
For seven weeks each summer for almost 70 years, the Festival, held at Marlboro College, a small liberal arts institution, has become a musical lodestar: a place of pilgrimage where devotees can hear exceptionally gifted young professionals and established artists of the greatest stature. Together, they rehearse and perform at the highest level of chamber music-making.
The Festival was established in 1951 by a group of storm-tossed refugees from Nazi Europe – including violinist Adolf Busch and his son-in law – the late, great Austrian pianist Rudolf Serkin. Its founders shared a vision: to create an egalitarian Utopia, where younger musicians would have the opportunity to live, collaborate, rehearse and perform with some of chamber music's leading exponents, free of commercial constraints and without pressure of time.
In a nod to equality, there are no references at Marlboro to students and teachers but rather to 'participating artists' and 'senior artists'. The key objectives at Marlboro are learning, tradition, innovation, and continuity with the past, or as Christopher Serkin, Chair of the Board of Trustees and Rudolf's grandson pithily puts it: 'progress without change'. Sometimes described as a cultural kibbutz or a musical Shangri-La, Christopher considers Marlboro to be less a conventional 'festival' and more a 'serious carnival' where the emphasis is on the joy of making music.
There is certainly no promotional razzmatazz, no coach park, no slick restaurant, and no gift shop selling themed T-shirts or 'Make Chamber Music Great Again' baseball hats. The town, improbably named after battle-hardened Arthur Wellesley, first Duke of Marlborough, is classic New England – tiny and timeless – and the campus buildings, set amongst banked lawns and maple trees, are modest and understated.  Attendees lodge in the College's dorms or cedar-clad cabins, rehearse in the classrooms or dine and wait on each other in the white clapboard refectory. Open rehearsals and performances are given in the Persons Auditorium, an unadorned, acoustically perfect wooden hall, capable of seating an audience of 500, but which transforms into a gymnasium during college term time.
Over the last 69 years – the Festival celebrates its platinum anniversary in 2020 – the list of senior and participating artists who have taught, studied and played at Marlboro is a roll call of classical music's greatest and most celebrated instrumentalists and chamber ensembles. It is tempting to use the term 'virtuosi' when describing the likes of Pablo Casals, Alexander Schneider, Felix Galimir, Joshua Bell, Marcel Moyse, Yo-Yo Ma, András Andras Schiff, Murray Perahia, and ensembles such as the Emerson, Beaux Arts, Dover, and Belcea, to name but a few. Virtuosity for its own sake is not prized here. 'It's all about the composer and his music, and not the performer's glory' insisted Rudolf Serkin, who became the Festival's Artistic Director in 1952 until shortly before his death in 1990. It's also 'all about learning, preparing to expand musical sensibility, musical horizons and getting to the centre of the piece', explained renowned concert pianist Mitsuko Uchida in a recent radio interview. In 1999, Uchida, already a seasoned member of the Marlboro community both as a participant and senior, was appointed Co-Artistic Director with US concert pianist Richard Goode, an unpaid position she now shares with Jonathan Biss.
Young applicants – including graduates from leading conservatories, new recruits to major orchestras, and members of chamber groups throughout the world – are chosen through competitive audition. The selection criteria are not published, but only those demonstrating technical excellence and an emotional understanding of the music need apply.
'As a rule, the imaginative ones are lacking the technique, and the ones who have a good technique haven't got a clue – but there are exceptions to the rule, and we try to snap them up' Uchida bluntly declared in an interview with the New Yorker a decade ago. Reiterating Serkin's view that Marlboro should be more than a traditional music school, Uchida draws a parallel between the essential qualities needed in the playing of chamber music with those required in life: the ability to listen to one another, awareness of one another, and the art of compromise. Performance in itself is not the goal. Rather, the emphasis is on learning and the pleasure of music making without impending deadlines. As a result, fewer than 20 percent of works rehearsed are actually performed. The choice of weekend concert repertoire is an organic process, and as a result only published one week ahead.
Keen to experience Marlboro at first hand and anxious to witness these high-minded ideals in practice, I made the pilgrimage on a gloriously hot weekend in mid-July – the first of the Festival's concert season. 'Caution: Musicians at Play' warned the sign as I turned off a winding wooded road leading to the entrance of the smallest university in the United States. The bleached-wood Persons Auditorium provided a cool oasis from the intense noonday sun. There was to be an early afternoon public rehearsal of Mendelssohn's Piano Trio in E-flat Major ahead of the Sunday afternoon concert. A cacophony of disparate instruments both astounded and amused the 20 or so members of the audience, spread thinly around the hall. Alina Kobialka, a 20-year-old violinist from San Francisco, fired off a series of agitated fragments from the Trio's opening Molto allegro, while a brilliant young Hungarian pianist called János Palojtay – seemingly oblivious to his colleague – unleashed the torrent of sweeping arpeggios and crashing octaves which mark the work's Finale. While this was going on, Peter Wiley, former cellist of the Guarneri Quartet and the Beaux Arts Trio, made his way to the platform and tuned his cello. After a short silence the players glance at each other, smile, and launch into Mendelssohn's lilting cantabile first movement. Five minutes or so into the piece, the genial Wiley paused and said 'I feel like I'm chasing behind you guys in the last 15 bars. What did you think?' A short discussion followed in which Wiley imparted but never imposed his wisdom. 'Shall we play it again?' asked Palojtay. They readily agreed. What followed was as joyful, profound and finely detailed an account of the Trio as any to be heard in a full-blooded concert performance.
There was hardly a seat to be had for the Saturday evening concert. In the first half, a dynamic performance of John Harbison's Stravinsky-inspired Woodwind Quintet was preceded by Haydn's String Quartet in B-flat Major. Three preternaturally talented young string players – violinists Alexi Kenney and Rose Hsien and violist Jing Peng – were joined by Peter Wiley. The result was an unhurried and luminously beautiful account, particularly in the calm slow movement.
In the second half, Schubert's little heard a cappella setting of Psalm 23 was followed by a genial musical conversation in Beethoven's Piano Trio in E-flat Major. János Palojtay was on sparkling form, joined on this occasion by violinist Scott St John, Director of Chamber Music at the Colburn School Los Angeles, and the brilliant Brannon Cho, playing a 1668 Cassini cello.
As the concert ended, the unmistakable figure of Mitsuko Uchida edged her way through the crowd towards the stage. Responding warmly to my smile of recognition, she stopped for a chat. 'You must come next week', she insisted, 'I am playing Schubert'. I explained somewhat apologetically that I would then be back in London, before adding that I had heard one of her Schubert recitals at the Royal Festival Hall earlier in the year. 'Ah, but then I was playing on my own', she exclaimed. 'This time I am playing with musicians!'
I saw Uchida once again, seated alone at the back of the auditorium at Sunday morning's rehearsal for the concert later that day. A programme consisting of Chausson's Chanson perpétuelle and the aforementioned Mendelssohn Trio, was also to include Beethoven's six movement Septet in E-flat major. The distinguished Julliard Quartet violist Samuel Rhodes joined the younger string and woodwind in an account which was at once grand and intimate, joyful and deeply affecting. Although periodically punctuated by animated discussion between the players, the piece flowed without any sense of unwelcome interruption. The resulting performance was every bit as inspired as the rehearsal.
As I drove away from Marlboro to prepare for my return to London and the harsher realities of life, I felt elated but sad to leave a musical Eden. My pilgrimage may have been short, but it was revelatory. If I felt this way after 48 hours, I wondered what these young players feel after seven weeks of such intense communal collaboration.
The good news is that in the coming year there will be a series of 22 concerts from Montreal to Sarasota by Musicians from Marlboro where, for the uninitiated, chamber music's best-kept secret will be revealed.
Chris Sallon
For more about the 2020 Marlboro Music Festival click here.