Switzerland Lucerne Festival [4] – Schubert, Mahler: Anna Lucia Richter (soprano), Chamber Orchestra of Europe / Bernard Haitink (conductor), Lucerne Festival, Lucerne, 20.8.2019. (CCr)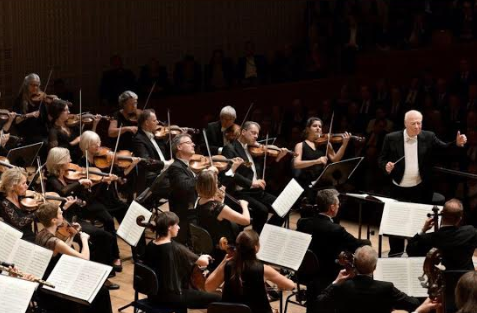 Schubert – Symphony No.5 in B major
Mahler – Symphony No.4 in G major
In our double-edged sword of an age, in which false idols are being ever struck down and yet so very much of what is given credence is vain, the power of entering a concert hall to hear a live orchestra is not to be underestimated. Indeed, the Lucerne Festival has declared 'Power' to be its central theme this year. Here, something bygone is resurrected, the zeal for reproach is put on hold, and an authoritarian rainmaker in the form of a conductor holds a lightning rod in his hands, almost literally 'conducting' sound with it. The audience is reverence itself. Imagine sitting in the tight, entrancing KKL concert hall in Lucerne, thinking that if the Titanic had had a megachurch, it would have looked like this.
Imagine now that the conductor himself is a living relic, not quite bygone but cut from the cloth of the very idols he is here resurrecting. Bernard Haitink was born in 1929, when Bartók was still twenty years away from composing his Viola Concerto. Mahler was twenty years away from composing his Ninth Symphony, in the other direction on the timeline. Hermann Hesse claimed in the 40's in his novel Magister Ludi, and Haitink has said recently he is still inclined to agree, that we live in the age of the Feuilleton – the style section, the age of commentary and criticism. New climaxes of creation elude us, but, oh, how advanced we've become at sifting through the old! Is it more a question of our epoch than of one man to ask why Haitink himself never became a composer? Never mind; in 2019, a live performance of Mahler or Bruckner under Haitink's baton is as powerful an evening you could wish for.
It must be said that Haitink is a modest man, and all this talk of power and authority would tire him. No one conducting today is farther away from bamboozling the audience with power derived from show and noise. No one is a more patient musical architect of chronological lines that build a whole. No one has more agnostic humility before the divinity of a great composer. And what about the orchestra, the entity actually making music?
It was as if there were two of them last Tuesday evening, in the COE's final concert with Haitink after decades of bearing fruit together. (Haitink's final concert ever will be on Friday, September 6, playing Bruckner 7 in Lucerne with the Vienna Philharmonic.) First there was the orchestra that played a dashingly forthright Schubert 5, and then there was the one that came back after the intermission to grant Mr Haitink one more go through his favourite Mahler work, the cosmic masterpiece of contradictions that is the Fourth Symphony.
The Chamber Orchestra of Europe found with Schubert 5 yet another occasion to display their trademark chamber romanticism, their svelte, compact sound that is still capable of the fullest splendour. With only two horns and no timpani, they achieved this via the superb playing of Clara Andrada on flute, and Ramón Ortega dancing through his oboe parts. In this mostly light Schubert work with clues to his darkness, weight in the strings gave lushness, keeping finales from being classically clarion and keeping dynamics from getting precious.
The second movement, Andante, had a tempo bracing enough to eliminate its lightness and mystery, and an unexpected accelerando around the sombre final theme made for an unwelcome chill, like hearing a joke told during evensong. The third movement is an excellent Menuetto, a dance that Schubert turns into a storm at sea. A fitting link to the later Mahler, it reminded us how early on Schubert began his subversion of joy to melancholy or worse; he was 19 when he wrote his Fifth Symphony, and was otherwise imitating Mozart.
The whole effect was of sweepingly smooth music, not pointed, not fussily precise, intense and oddly ill at ease.
Mahler's Fourth Symphony is a miracle, and you should listen to it. Echoing the Schubert, its sixty minutes are also a subversive ode to something agonisingly short of joy. Its first movement is almost mischievous, with a gay theme that doesn't prance so much as stagger. In the second movement, the real mischief, Death appears via a wrongly tuned violin for a Ländler dance – cf. Schubert 5's violent menuet. In the third movement, we enter heaven, still encumbered with life. It's the heart of the work, and something divine happens that prepares the way for so much of Mahler's subsequent composing – rapt placidity gives over to quaking. In the fourth movement, a mad banquet is rejoiced over by an uncanny soprano. I could go on describing, but why? Hear it for yourself.
The playing was overwhelmingly beautiful. Tempi were taken slow enough that on the journey through expositions, something akin to expressionism emerged, and emotions were embarrassingly naked. Mahler's ironic pomp stayed pomp, destabilising the ethereal slowdowns and intensifying the second movement's danse macabre. In the second movement, First Violinist Lorenza Borrani intoxicated as she switched violins, one tuned to produce Death's tritones; bassoons and horns chased and teased, and the raw oboe called out plea after plea. Haitink took the would-be primary colours of another conductor's Fantasia and gave us instead a Dürer woodcut print, visceral and coy and slightly wretched with life.
And then the last two movements, played together without interruption as soprano Anna Lucia Richter entered the stage to the clarinet already underway. It was playing that asked more of the listener – a confident bass can pulse not too lightly and almost confront you with meekness. Questioning strings would limp along after an anguished burst. The third movement was cosmically abstracted even when the winds – Mahler's matchless winds – were singing their evocative songs and laying their claims about life.
Richter may well be the best soprano you could wish for to finish this symphony, giving the Lucerne native Edith Mathis a run for her money (find the recording and hear Mathis sing of this inverted feast with Leonard Bernstein and the Vienna Philharmonic; there's nothing like it). Richter sang without big phrases, and her stolidly linear telling of a heavenly banquet added to the surrealism; her upper tessitura was magically chirpy and comely, not afraid of strangeness, never so precise as to be cute and never so sincere as to confront the contradictions in the text – in heaven, they slaughter lambs.
The symphony closes. A fading harp plays its lowest notes. The soprano sings of an awakening. Haitink has said it's like music making its farewell. It's 2019. The rainforest is burning. The concert hall is on a lake, where the Alps shine through the fog.
Casey Creel