United Kingdom BBC PROM 31 – Brahms, R. Strauss and Bruckner: Lise Davidsen (soprano), Philharmonia Orchestra / Esa-Pekka Salonen (conductor), Royal Albert Hall, London, 10.8.2019. (AS)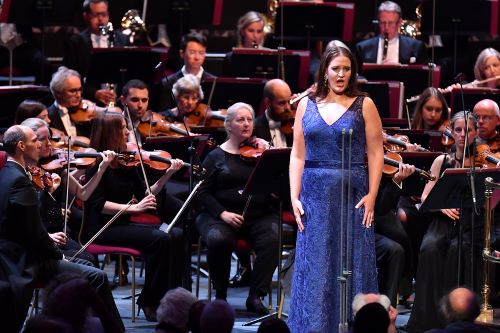 Brahms – Variations on a Theme by Haydn, Op.56
R. Strauss – Four songs, Op.27 – 1. 'Ruhe, meine Seele!'; 2. 'Cäcilie'; 3. 'Heimliche Aufforderung'; 4. 'Morgen!'
Bruckner – Symphony No.4 in E flat (1878–80 version, ed. Nowak)
The 32-year old Norwegian soprano Lise Davidsen made a comparatively late start to her singing career, since she only graduated from the Opera Academy in Copenhagen in 2014. But this obviously did her no harm, for since then she has rapidly risen to the top of her profession, even making her debut this year at Bayreuth as Elisabeth in Wagner's Tannhäuser. There should be no fears that she is too young to be tackling heavy Wagnerian roles, since she has a naturally big voice, an evidently perfectly secure technique, and she also has an important attribute for such repertoire in that she is tall and has an imposing physique to support her strength of voice.
All these qualities were apparent in her performances of the four songs that comprise Strauss's Opus 27. These songs, written for Strauss's soprano wife Pauline as a wedding present in 1894, are not necessarily intended to be sung as a group and thus listed separately above. They do however make a satisfying and contrasted entity and are all among the composer's best-known Lieder.
Davidsen's lovely voice rang out gloriously into the vast spaces of the Royal Albert Hall, and her response to the somewhat hothouse texts was both passionate and ultra-sensitive. A glittering future surely beckons this fine artist. Salonen supported his soloist with impressively ardent orchestral support: three of the songs were orchestrated by Strauss himself after the appearance of the original voice and piano versions, but the German conductor Robert Heger scored the third song. It is a tribute to Heger's clearly apparent skills that Strauss himself conducted his version in live performance.
We then heard an encore. I wish that performers should always be given a microphone to announce what they are about to sing, for Davidsen's speaking voice was largely lost in the hall. Not everybody present out of earshot would have known that the item was 'Dich, teure halle' or 'Elisabeth's Greeting' from Tannhäuser: in this respect listeners to the live BBC Radio 3 relay were better served by an announcement after the piece had been sung, as one could hear later via the online concert recording.
Nowadays Brahms's set of orchestral variations is sometimes referred to as Variations on the Saint Antoni Chorale since the theme is now thought to be by an unknown composer and not by Haydn, but this scarcely matters, surely, since the end result is one of the masterpieces of the romantic orchestral repertoire. There was indeed, seemingly, an attitude of particularly great respect shown by Esa-Pekka Salonen to this work. His was a highly serious, finely judged performance. Every variation was imbued with great feeling, every tempo was perfectly judged, and the climactic finale seemed both to be the crown of the work and to represent a satisfying drawing together of the diverse elements in the preceding variations.
Such an approach also suits the music of Bruckner, and it was clear again in an exceptionally fine interpretation of the great Fourth Symphony. It got off to a bad start, since bad-tempered shouting by a member – or members – of the audience caused Salonen to stop the orchestra after a minute or two and then re-start after peace has been restored. In the last two performances I have heard the solo horn calls that begin the work have contained split notes, but here the performer concerned, named in the programme as Diego Incertis Sánchez, played faultlessly, twice, and thoroughly deserved the hug that Salonen rushed over to give him at the end of the performance.
After such an eventful beginning all was conspicuously well. Salonen held all the movements together with great skill, and the progress of each had a quality of inevitable logic and certainty. But while each movement seemed to be built as an entirely cogent unity, there was also great attention to illuminating but entirely faithful and seemingly logical interpretative detail. A conductor who can point detail interestingly and satisfyingly within a clear presentation of Bruckner's mighty structures surely has a total grasp of the composer's greatest attributes. Choices and variations of tempo were entirely sure-footed; for instance, the Scherzo's rousing hunting calls were beautifully contrasted with lovingly played, homely sounding presentations of the trio section.
The playing of the Philharmonia Orchestra throughout this work and indeed throughout the concert was on a very high level.
Alan Sanders