Sweden Mozart, Die Zauberflöte: Soloists, Opera på Skäret Chorus, The Swedish Chamber Orchestra / Lorenzo Coladonato (conductor), Opera på Skäret, Kopparberg, 27.7.& 28.7.2019. (GF)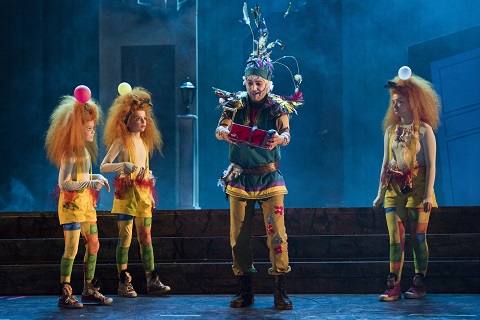 Production:
Stage director – Roberto Recchia
Set designer – Sven Östberg
Costume designer – Sigyn Stenqvist/Caroline Romare
Makeup & wigs – Stephanie Metzner
Lighting designer – Kevin Wyn-Jones
Choreographer – Carina Jarlemark
Assistant director – Oskar Webrell
Cast:
Tamino – Kjetil Støa / Tobias Westman
Pamina – Sabina Bisholt / Lauryna Bendžiūnaitė
Papageno – Henry Neill / Timothée Varon
The Queen of the Night – Nazan Fikret / Giulia Bolcato
Sarastro – Karl Huml / Vladislav Solodyagin
The Speaker – Lars Fosser
Papagena – Emily Kyte
The First Lady – Hanna Wåhlin
The Second Lady – Rebecca Fjällsby
The Third Lady – Susanna Sundberg
Monostatos – Chris Lysack
Genius 1 – Leo Erni Rossbäck / Ebbe Folkesson
Genius 2 – Matheo Lindberg Vivien / Kristin Leoson
Genius 3 – Miranda Lundin / Elina Forslund
The Priest – Jonatan Lönnqvist
The First Guard – Martin Lindau / Thomas Bärlin
The Second Guard – Philip Hartman
Premiere I of this year's Opera på Skäret festival had an unfortunate start, since the main fuse blew only minutes before kick-off and plunged the entire theatre into darkness. An electrician had to be called in and it took some 45 minutes before the manager, Sten Niclasson, could report that the problem had been solved and invited the audience – who had sought shelter in the shade from the merciless sunshine – to enter the magnificent wooden building.
In the sixteenth season of its existence Opera på Skäret presents its first Mozart opera, and what better candidate for this debut than Die Zauberflöte? There is something for everyone here: humour, drama, some mysticism, a spoonful of freemasonry and a great deal of fairy tale feeling, where more or less anything can happen. In fact it is a dream and the dreamer is Tamino, 'a young student who is exhausted by studies, love and bullying [and] falls into a deep sleep and in his dream gets to experience a new exciting fantasy world in which he is a Prince', to quote the lavish programme book. The snake (or dragon) that chases Tamino in the original story, is replaced by mobsters who are driven away by the three ladies. At the end, when everything has been sorted out, he wakes up in his student room and we are back in present time and prosaic reality. But the intervening hours have been an adventure full of action and playfulness. Sven Östberg's sets are, as usual, ingenious and allow for rapid changes of scenes (and there are many of them), even though they have to be operated manually – just as in Mozart's time.
The costume designer duo Sigyn Stenqvist and Caroline Romare, who also worked together on last year's Don Carlo, have given free rein to their imagination and created a fascinating array of fairyland attire, from the wilderness green Papageno (and Papagena) via the three gorgeous costumes for the Queen of the Night, the first with extra-long fingers, the third with three heads, to the grotesque, swollen bodies of Monostatos and his henchmen. This also includes Sarastro's golden suit and fanciful headgear, as well as square hats of his followers with all-seeing gigantic eyes on top. The Speaker looks like an enormous pyramid cake. Most charming of all are the three genii with their colourful body-stockings and enormous thick red wigs. They immediately became the darlings of the audience. The playfulness goes as far as Tamino's magic flute, which is an umbrella! But he can play it. It is black, but when he and Pamina go through the fire test in the second act it turns red, and after the water test it is blue. A magic flute, indeed!
The acting is very convincing in very respect. Papageno is of course the great charmer and both Henry Neill in the first team and Timothée Varon in the second make the most of the role. The opera is performed in the original German with surtitles in Swedish, and the international ensemble, of which none is a native German speaker, are well drilled in the language, also in the long – maybe over-long – spoken dialogues. The chorus is excellent and the Swedish Chamber Orchestra, which has been one of the best chamber orchestras world-wide for quite a few years now, with many successful tours abroad and many acclaimed recordings, is of course a pillar of strength in the pit under the dynamic Lorenzo Coladonato making his debut at Opera på Skäret.
The two teams of soloists are evenly balanced and after hearing both on two consecutive days I can honestly say that whichever of them you meet you will get a sterling performance of Die Zauberflöte. But there are still differences. The Tamino and Pamina of Team 1, Kjetil Støa and Sabina Bisholt, have grander voices and deliver a more high-octane reading, and in particular Sabina Bisholt's glorious singing would seem to be a precursor to future lirico-spinto roles. Kjetil Støa already has roles such as Calaf of Turandot in his repertoire. The second couple, Tobias Westman's Tamino and Lauryna Bendžiūnaitė's Pamina, have lighter, more lyrical voices and are perhaps more traditionally Mozartean. Westman's singing at the second premiere is the best I've ever heard from him, with a beauty of tone and nuanced phrasing of the highest order. Lauryna Bendžiūnaitė likewise sang lovely and nuanced. Two different approaches, both equally valid. The Queen of the Night has two of the most formidable arias in the opera literature and requires vocal chords of steel and stratospheric height. Of the two Queens Nazan Fikret in Team 1 was the most formidably brilliant. A voice for the grand opera houses, while Giulia Bolcato was less formidable but her coloratura was just as fluent as her English counterpart's. Of the two Sarastros Karl Huml in Team 1 had the most monumental voice with secure low notes, while Vladislav Solodyagin in Team 2 was a little rusty and elderly sounding, which was more in tune with the role, since he is supposed to be a fatherly figure. Huml was decidedly more youthful in his acting. The two Papagenos, already mentioned as excellent actors, also gave us singing that was just as excellent and expressive, with Timothée Varon in Team 2 somewhat darker in tone than Henry Neill.
Canadian Chris Lysack was possibly the most loathsome but also the funniest Monostatos I have seen, and his expressive voice was a pleasure to hear. Emily Kyte's cute Papagena also made the heart beat a little faster, and all the others involved contributed to a harmonious experience, whether from the first or second cast.
There was a nice little touch at the end of the opera: the pronounced animosity between Sarastro and the Queen of the Night, father and mother of Pamina, seems to have ended in reconciliation! If such a thing can occur – even though this is only a fairy tale – there is still hope for mankind.
Hate and love, sorrow and happiness – and a substantial helping of humour: you get it all at Opera på Skäret. Die Zauberflöte is running until August 25th. But do hurry! More than 7,000 tickets have already been sold.
Göran Forsling