United Kingdom Rameau – Hippolyte et Aricie (1733): Cast, Seb Gillot (harpsichord), Ensemble OrQuestra/Kieran Staub (conductor), Arcola Theatre, Dalston, London, 13.8.2019 (CC)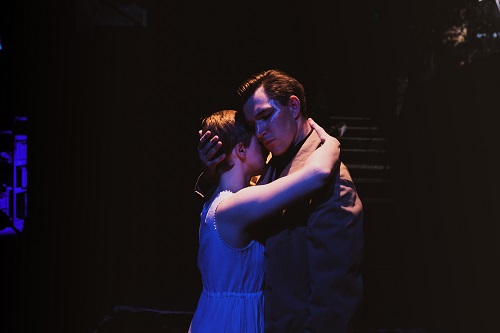 Cast:
Hippolyte – Kieran White
Aricie – Juliet Petrus
Phèdre – Alexandrea Bork
Thésée – Marcio da Silva
Diane – Helen May
L'Amour – Katherine MacRae
Mercure – Oguzhan Engin
Pluton – John Holland-Avery
Tisiphone – Oscar Smith
Une Matelote – Jessica Summers
Une Prêtresse – Angharad Davies
Production:
Director – Marcia da Silva
Assistant Stage Director – Benjamin Riedel
Christian Hey – Designer
Vivi Bayliss – Assistant Movement Director
Diego Widen – Production Assistant
Tucked away behind a busy high street in East London is the Arcola Theatre, literally a hidden gem. It is almost as if its positioning shields it from the rather dishevelled, yet somehow characterful, area. This is actually the Grimeborn company's sixth French Baroque Opera production. Their ethos is to present operas with small forces and in economical and digestible ways. Hence the decision here to omit the prologue and, in reversing the order of Acts I and II, to enable a more chronological unfolding; it also means that the opera begins in the Underworld and reaches in Heaven in the final act.
Hippolyte et Aricie, RCT 43 (with a libretto by Abbé Simon-Joseph Pellegrin) was Rameau's first opera and therefore also his first tragédie lyrique; it is a piece that therefore formed a vital part of his operatic journey and, indeed, set him on the path to operatic greatness. The first modern performance was in 1903, in Geneva; a 1908 Paris performance used a score edited by Vincent d'Indy. The primary source is Racine's Phèdre, although Rameau's version includes a happy ending, with Hippolyte rising from the dead.
The production is by Marcio da Silva, who also takes the role of Thésée. The small stage space is used to great effect, with a swing at the back on which L'Amour (Katherine McRae) often observes the action. The stage space and multiple entrance points provide all that is needed to take this story of humans and Gods and Goddesses to transportative levels; this, and some excellent, atmospheric lighting (there is no separate credit for this, so one assumes it was part of a combined effort). Simple props serve well, thanks to the Designer, Christian Hey – the message is: the emotion is in the voices.
While the couple of Hippolyte and Aricie, and their trials and travails, power the action, Thesée (Phèdre's husband) also has a large role to play, as does Phèdre's passion for Hippolyte. Phèdre commits suicide (she seems to stab herself in the neck in this production) while Diane protects the lovers, enabling their eventual union after rising from the dead.
Rameau's score contains a huge amount of music that is simply beautiful. Elegant and graceful, it is also capable of conveying the deepest of emotions. Take, for example, Aricie's Act II aria 'Temple sacré, séjour tranquille', sung in the Temple of Diana. Its simplicity of utterance belies the sophistication of its melodic material. The singer taking the role of Aricie was the astonishing American-Italian soprano Juliet Petrus, who exudes a purity, both vocal and dramatically, entirely apposite to the role. (The programme booklet tells us, interestingly, that she is "the leading Western interpreter of contemporary Chinese vocal music.").
The role of Hippolyte is written for an haute-contre. The English tenor Kieran White, who has recently debuted as a soloist with Ton Koopman in Bach's St Matthew Passion and studies with the distinguished haute-contre Jean-Paul Fouchécourt in Lyon, has the perfect combination of stamina and expression. His voice is clear and expressive. His touching Act IV aria, 'Ah! faut-il, en un jour' revealed the extent of his lyric talents. The combination of White with the Aricie of Juliet Petrus was perfect casting; one could really invest in their love, their movements often choreographed as mirror images. Their voices blended beautifully in the tenderest, love-drenched moments
The character of Phèdre was taken by the Korean-American soprano Alexandra Bork, who exudes stage presence, her vengeance aria 'Périsse la vaine puissance' eminently convincing, her Act III pleas for mercy 'Cruelle mère des amours' dramatically gripping. Brazilian bass Marcio da Silva, who studied in Toulouse, France, was a fine presence and in commanding vocal form as Thésée, who in Act I is found in the Underworld, pleading for the life of his friend Prithous. Of the smaller roles, Angharad Davies (who will join the Aurora Festival in Stockholm as a Young Artist) was a stand-out, her Priestess strong vocally and dramatically; also, Jessica Summers, as Une Matelote, exuded vocal confidence. John Holland-Avery was a strong Pluton.
We were told prior to the performance that Helen May (Diane) had experienced some health problems that day but would still sing. I'm not sure I would have known if I hadn't been told: her final Act 'Peuples toujours soumis à mon obeissance' held the authority it needed. A fine selection of singers, therefore: I am particularly keen to hear more of the singers for the two titular characters and Alexandra Bork.
The reduced orchestra (no hunting horns here) comprised two violins, two violas, one cello, a harpsichord and an archlute/Baroque guitar. The instrumental contributions obviously play a vital part in Rameau's word, but here there were far too many instances of false intonation. The spirit was there, but not always the execution, sadly. The voices carried the evening triumphantly, though, the choruses brilliantly done, with huge character as well as vocal prowess from the soloists.
Incidentally, the 1968 recording of Hippolyte et Aricie has been released on Decca Eloquence this year (review to follow): the cast includes Robert Tear as Hippolyte, Angela Hickey as Aricie and John Shirley-Quirk as Thésée. A DVD of the Glyndebourne production conducted by William Christie with a cast including Christiane Karg (Aricie), Stéphane Degout (Thésée) and Sarah Connolly (Phèdre) is reviewed on MusicWeb International here; with what is obviously a controversial production set against musical excellence, it sounds mouth-watering. All of this enthusiasm would not be possible, of course, without Grimeborn's Hippolyte et Aricie; it was an enthusiasm felt as one once more negotiated the 'scenic' route to the train station, and one that continues on.
Colin Clarke