United Kingdom Grimeborn Opera Festival 2019 [1] – Wagner, Das Rheingold: Soloists, The Orpheus Sinfonia / Peter Selwyn (conductor). Arcola Theatre, London, 31.7.2019. (JPr)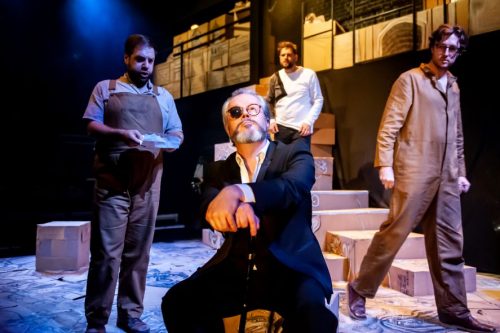 Production:
Director – Julia Burbach
Designer – Bettina John
Lighting designer – Robert Price
Assistant directors – Lysanne van Overbeek, Paula Paz
Design assistants – Laetitia Maes, Megan Stilwell 
Cast:
Wotan – Paul Carey Jones
Alberich – Seth Carico
Fricka – Marianne Vidal
Freia/Woglinde – Kiandra Howarth
Flosshilde – Angharad Lyddon
Wellgunde – Claire Barnett-Jones
Loge – Philip Sheffield
Fasolt – Andrew Tipple
Fafner – Dingle Yandell
Donner – Gareth Brynmor John
Erda – Harriet Williams
The Grimeborn Opera Festival advertises itself as bringing to its audiences 'Bold new versions of classic operas. Rarely-seen and long-forgotten works. Brand new pieces from the most exciting up-and-coming composers, musicians and companies. Whether it's your first or your latest opera experience, you'll be right at home.' Indeed their annual seasons genuinely do seem to contain something of interest for all music lovers (for full details click here).
Attracting me this summer was Das Rheingold as possibly the first in a series of Ring opera performances in coming years. This was in Graham Vick and Jonathan Dove's chamber version for 18 players created for City of Birmingham Touring Opera in 1990. It originally was the first half of two – still fairly epic – evenings totalling some 9plus hours that was called The Ring Saga and toured halls and sports centres up and down the country. In 1992 The Wagner Society – that I was in charge of at the time – awarded Vick's enterprising touring group the prestigious Sir Reginald Goodall Memorial Award. It is interesting to see how things sometimes come full circle – cycle? – as these Arcola Theatre performances are in part funded by the current Wagner Society.
Although this edition has been widely performed in Europe and the USA, apart from being used at Longborough Festival Opera at the turn of last century(!) it has not subsequently been seen complete in the UK since then. These Rheingold performances are the first in London since the early 1990s. As here, it is ideal for any company with a limited budget but who wants to explore the essence of Wagner's Ring.
Few critics anywhere comment on the 'hidden gem' of the annual Bayreuth Festival and their introductory Wagner performances for children (Wagner für Kinder). I have been there whenever I can and last year they condensed the entire Ring (review click here) into about two hours including a short interval. This Das Rheingold reminded me very much about those performances in one of Bayreuth's barn-like rehearsal stages and all that was lacking at the Arcola was the laughs for those young, or young-at-heart.
With the audience on three sides of the fairly intimate Studio 1 there is an in-yer-face performance from a talented roster of singers with CVs as good – and better in some cases – as for those who sang the opera recently at Longborough (review click here). The accomplished Orpheus Sinfonia – sensitively conducted by Peter Selwyn – lacked the string sonorities Wagner's original score demands. However, Rheingold's musical highlights such as the Descent and Ascent into Nibelheim, as well as, the Entry of the Gods in Valhalla had considerable impact and sounded as if considerably more than the 18 musicians were involved.
Experienced director, Julia Burbach, suggests how 'we find ourselves in a world of cardboard, a classic upstairs-downstairs story, connected by a staircase linking the world of the gods and that of the dwarfs, the privileged and the less privileged. The story is triggered by a man stepping into a space that looks like something one might find in a Dalston back alley. Boxes and boxes, harbouring possessions, awaiting collection or already having been discarded. Every character searches for a way to calm their soul, to fill a void, to satisfy a hunger…and we are left with the feeling that castles built in the clouds are not the answer but that the search of inner peace continues.'
Burbach and her designer Bettina John use a very limited budget as best they can. Cardboard is indeed everywhere and often covered in chalk drawings. The 'staircase' becomes a ziggurat of cardboard boxes linking/separating an upper balcony – the realm of the Gods – and the hoi polloi down below. All credit to the singers for their mountain goat-like agility in going up and down from one level to the other. Alberich seems someone from the streets with aspirations to get a better life for himself and the Gods treat him with pure distain in their lust for even greater wealth and power. There were missed opportunities in Burbach's storytelling and as the opera went on it became more of a routine Rheingold semi-staging, assuming you can accept Wotan's spear is now a walking stick and Alberich's 'gold' is little more than polystyrene packing 'peanuts'! Loge's entry is botched, Alberich's transformation into a dragon or toad seems only in his mind and, of course, there is no rainbow bridge.
From the singing point of view there was little to choose between this Rheingold and that recently at Longborough, if anything, Arcola's is the stronger team. They were led by a remarkable trio of Rhinemaidens (Kiandra Howarth, Claire Barnett-Jones, Angharad Lyddon) who are amongst the best I have ever heard. Howarth doubled as an appealing Freia. Singing firmly Seth Carico was an unusually youthful Alberich and his interpretation can only grow with repeated performances. Paul Carey-Jones has a rich, mellow baritone voice and his Wotan is weak-willed in the way of most these days. However, I prefer Wotan to be more self-assured and in command of himself and those around him. Andrew Tipple did not make as much of Fasolt as Dingle Yandell did of Fafner: Yandell is definitely a name to watch out for in the future. Gareth Brynmor John was a solid Donner, though Philip Sheffield was rather uncharismatic in the pivotal role of Loge. Marianne Vidal impressed as Fricka and, as Erda, Harriet Williams rose late on from amongst the audience to sing her 'Warning' with portentous dusky tones. She almost 'stole the show' in the way the very best Erdas often can.
Jim Pritchard
For more about what is on at the Grimeborn Opera Festival click here.