France Itinéraire Baroque [1]: Opening Concert – Bach and his Successors: Klaus Mertens (baritone), Ton Koopman (harpsichord). Église Abbatiale Saint-Cybard de Cercles, France, 25.7.2019. (CC)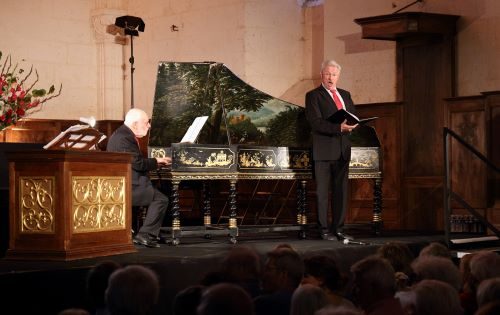 Bach – Toccata in G, BWV 916; Schemellis Gesangbuch: Dir, Jehova, will ich singen, BWV 452; Jesu, meines Glaubens Tor, BWV 472; Brunnquell aller Güter, BWV 445. Kommt, Seelen, dieser Tag, BWV 479
Gottfried Heinrich Stölzel – Anna Magdalena Notenbuch: Bist du bei mir
Bach – Anna Magdalena Notenbuch: Wer nur den lieben Gott lässt walten, BWV 691; Goldberg Variations, BWV 988: Aria; Sechs Praeludien: No. 4, Prelude in D, BWV 936; Anna Magdalena Notenbuch: Willst du mein Herz mir schenken ('Aria di Giovanni'), BWV 518; Cantata, Amore traditore, BWV 203
Handel – Cantata, Dalla Guerra amorosa, HWV 102a
C. P. E. Bach – Keyboard Sonata in D, Wq 70/5, H 86; Geistliche Gesänge, W1 197, H 749: No.28, Lobesang; No.7, Gottes Größe in der Natur; No.27, Danklied
Mozart – Andante in F, K 616; Lieder: Die Zufriedenheit, K 473; Im Frühlingsanfang, K 597; Das Veilchen, K 476
This was a welcome return to the Périgord Vert for three of the four days of Baroque Itinéraire (with a return to London on the final day to enjoy Messiaen at the Proms). The Festival proper was prefaced by a 'Concert de Printemps' (Spring Concert) given at the Église Notre-Dame de la Paix, Riberac where the Jeune Choeur de Dordogne was joined by soloists from the Amsterdam Baroque Orchestra under Peter de Groot for an evening climaxing with the Pergolesi Stabat Mater (Susan Jonkers, soprano and Clotilde Cantau, mezzo). The original opening concert of the main festival was originally slated in to be Ton Koopmen with his wife, Tini Mathot in music for keyboards, entitled 'From Handel to Haydn'. They were to have been joined by Klaus Mertens who, because of Mathot's indisposition, took to the spotlight in works by Bach, Gottfried Heinrich Stölzel (1690-1749), Handel, C. P. E. Bach and Mozart.
The first night of the 2019 festival was thus a little more muted than in previous years: just the two performers. In 2017, it was Celebrons Telemann! with the Amsterdam Baroque Orchestra; that band returned with Tilman Lichdi in 2018 for mixed Baroque fare.
The evening began with the Bach G-Major Toccata, BWV 916 played on a portative organ by Koopman, its sections clearly delineated. Koopman's florid approach was most effective; this is a fairly complex work that includes moments of near jubilation. Fascinating to hear the contrast with the relative simplicity of Dir, Jehova, will ich singen from a Musikalisches Gesang-Buch published by Georg Christian Schemelli (it is also known as Schmellis Gesangbuch); Koopman here on a harpsichord by the Dutch harpsichord maker Willem Kroesbergen, Mertens in most eloquent form. Ever stylish, Mertens's voice is in fine form, his approach ever confident. Koopman returned to the organ for the ornate chorale Wer nun den lieben Gott lässt walten, BWV 691.
The lovely Brunnquell aller Güter from the so-called Schmellis Gesangbuch, with the chorale melody with the bass soloist and ornate decorations on the organ, led to the lovely air Kommt, Seelen, dieser Tag, BWV 479, now with harpsichord and delivered with a real spring in its step (to hear its polar opposite, incidentally, try Nina Dorliak and Sviatoslav Richter, easily locatable on YouTube).
The Stölzel is an excerpt from the Anna Magdalena Notenbuch, too, one of the most famous of Bach's pieces ('Bist du bei mir'), heard here with organ. Interesting to hear the Goldberg 'Aria' thereafter, the sprightly D major Prelude, BWV 936 and the short 'Willst du dein Herz mir schenken'. The secular cantata Amore traditore is for low voice and obbligato harpsichord and was composed during Bach's years at Köthen. It comprises two arias with a central recitative (the latter nearly operatic in this particular performance). The performance by Mertens and Koopman was joyous – a flavour can perhaps be obtained by the same performers in a Euroarts video available on YouTube.
Away from Bach for the second half: Handel, C. P. E. Bach and Mozart (taking the festival into Classical territory) to close. Handel's cantata, HWV 102 can have one or two prefixes: 'a' denotes low voice, 'b' high voice. Handel wrote it in Italy, its bright demeanour finding the very best in Mertens, not least in the rapid passages. C. P. E. Bach's D major Sonata (Wq 70/5) is a glorious, exuberant piece, played with real flair by Koopman. Perhaps Koopman's excellence in C. P. E. is overshadowed by his excellence in J. S.? His Warner recordings show a real understanding of this Bach son's unpredictable music. Wonderful, then, to have a selection of three of C. P. E. Bach's splendid songs with harpsichord, Mertens's eloquence at its height.
A bouquet of Mozart to end, interestingly accompanied by harpsichord after the Andante in F, K 616 with rather forced rubato. But the songs exuded a fine purity, Das Veilchen a pre-echo of Schubert's Heidenröslein. One encore: the lovely An Chloe, K 524.
Colin Clarke