Portugal Festival Verão Clássico 2019: TalentFest I: Heleen Goeminne (soprano), Anna Quadrátová (mezzo-soprano), Xabier Gullón (clarinet), Marrianne Liu, Eva Li, Seohee Min (violins), Miguel Sobrinho, Dana Lee (violas), Ayoun Kim, André Gunko, Sebastian Mansell (cellos), Caroline Peach (double bass), Wouter Valvekens, Florent Ling (pianos). Sala Luís de Freitas Branco, Centro Cultural de Belém, Lisbon, Portugal. 30.7.2019. (LV)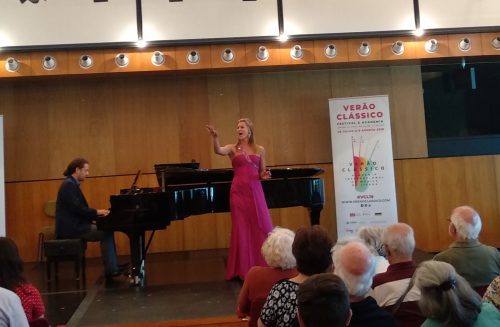 Schubert – Sonata Arpeggione D.821: 1. Allegro moderato
Chopin – Fantaisie Op.49
Adolf Mišek – Sonata Op.6 No.2: 1. Con fuoco
Massenet – 'Werther, Werther' (Werther)
Jörg Widman – Fantasie
Johann Strauss II – 'Mein Herr Marquis,' (Die Fledermaus)
Rebecca Clarke – Sonata for Viola and Piano: 1. Impetuoso
Rachmaninoff – Cello Sonata Op.19: 1. Lento – Allegro moderato
Bartók – String Quartet No.1 Op.7: 3. Allegro vivace
Ravel – Violin Sonata No.2: 2. Blues – Moderato. 3. Perpetuum mobile – Allegro
The day after nine stars of the classical music world gave the brilliant opening MasterFest concert of the Lisbon's fifth annual Verão Classico Festival e Academia, 14 students from ten countries took center stage for the first of six TalentFest showcases.
In repertoire that ranged from Schubert to Widmann, the young players — some of them headed for exciting professional adventures — put the results of their master class coaching to the test. It was like roaming the halls of a great conservatory and hearing possible stars of the future play an attractive mix of repertoire — some of which you only get to hear while traveling — done with flair and professional-level chops.
Like André Gunko playing the first movement of Schubert's Arpeggione Sonata with earnest simplicity — using open strings to good effect, giving full value to the notes, and hitting a gorgeous F on the C string.
Like Caroline Peach playing a tour de force by the legendary Czech double bassist Adolf Mišek in spectacular fashion, proving she knows her way around the instrument, and making even the sad, silly, sentimental lyrical episodes seem emotionally real.
Like Anna Quadrátová singing the famous 'Werther, Werther' aria with a wonderfully sad voice, her lovely lower range opening up naturally and seamlessly, ending with moving, barely audible final notes.
Like Xabier Gullón taking on Jörg Widmann's fantastic Fantasie and managing all the multiphonic blasts, slurs, shrieks, crooning, squeaks, spiral flutings, true pianissimos, and magical liquid runs with breathtaking virtuosity.
Like Heleen Goeminne — dressed dangerously in pink as if she were headed for a late-night champagne supper — flirting, laughing and breaking hearts in the Die Fledermaus showpiece, 'Mein Herr Marquis'. Her magnetic stage presence and her melting tone had the young men in the student section looking shyly away and blushing, and the young women laughing as well.
Like Miguel Sobrinho, with Wouter Valvekens a seriously imaginative partner, taking the 'impetuoso' of Rebecca Clarke's Viola Sonata seriously — drenched in emotion, poetry, and a Portuguese take on the English light that shines through the score, swinging into the last upsurge of melody and ending with arpeggios of ghostly delicacy
Throughout the concert, the budding young stars were cheered on by their comrades and the overflow audience as well. Imagine, it was just the first of six such concerts, with the last two featuring the prize winners.
Laurence Vittes