Argentina 20th Anniversary Grand Gala: Soloists, Chorus and Orchestra of Juventus Lyrica / Antonio Maria Russo (conductor), Teatro Colón, Buenos Aires, 7.9.2019. (JSJ)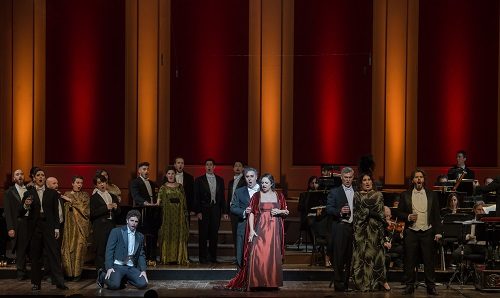 Production:
Director – Ana D'Anna
Costumes – María Jaunarena
Lighting – Gonzalo Córdova
Chorus – Hernán Sánchez Arteaga
What an achievement! Juventus Lyrica, born in 1998 and launching its first production the following year as a platform for young, up and coming singers, who at that time had few such performing opportunities, has now completed its 20th season.
Despite the odds, including more than one financial crisis, the company, through a lot of hard work and 'cutting the cloth', has not only weathered the years but gone from strength to strength. In that time, it has realised 100 productions involving 2,400 artists, some of whom, such as baritone Fabián Veloz and mezzo Guadalupe Barrientos have gone on to build international careers and others national, the development of programmes for the youth and children reaching more than 30,000 individuals, and the support of a loyal and enthusiastic audience including a growing base of new subscribers.
To mark the occasion and in the first collaboration with the Teatro Colón, Juventus Lyrica was able to put on a 'grand gala' on this illustrious stage. Its dual role to celebrate these achievements and to serve as a fundraiser for the future. Presented on two nights, testimony to the standing of the company is that both were sold out.
With the participation of 26 soloists, a 20-strong chorus and a reduced orchestra in the hands of co-founder maestro Antonio Maria Russo, we were treated to nearly 30 arias and extracts from some of those 100 productions. From the earliest Don Giovanni to the latest Magic Flute, and including works from Bizet, Donizetti, Gounod, Leoncavallo, Offenbach, Puccini, Rossini, Verdi as well as the more 'operetta-tic' Lehar and Strauss, all were acted and in dress, in many cases by the original protagonists.
And among them baritone Armando Noguera, who was involved in the earliest productions and travelled from Europe to participate, to tenor Pablo Urban, who debuted as Alfredo earlier this year.
What a wonderful panorama and reminder of productions seen, which was warmly received by all present.
So to the future. The current times are as challenging, if not more so, than faced in the past. But while Argentines are fed up with the recurrent crises, they are nothing if not resilient. With the next generation, the able María Jaunarena, daughter of co-founder Ana D'Anna also actively involved in the company, the prospects are bright. Here's to the next 20 years!
Jonathan Spencer Jones