United States Glass, Barber, Prokofiev: Kelli O'Hara (soprano), New York Philharmonic / Jaap van Zweden (conductor), David Geffen Hall, New York City, 18.9.2019. (BH)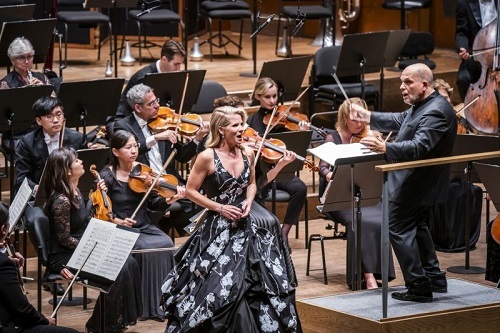 Glass – King Lear Overture (2019, world premiere)
Barber – Knoxville: Summer of 1915, Op.24 (1947; rev. 1950)
Prokofiev – Selections from Romeo and Juliet, Suites Nos. 1 and 2 (1935-36)
In 2018, the New York Philharmonic began the season with two provocative and unusually satisfying world premieres: Filament by Ashley Fure, who made adroit use of David Geffen Hall, and scarcely a week after that, Everything Must Go by Conrad Tao, who envisioned an imaginative prelude to Bruckner's Eighth Symphony.
One year later, Jaap van Zweden again launched the proceedings with a commission, the King Lear Overture by Philip Glass. Earlier this year, Shakespeare's classic appeared on Broadway — starring Glenda Jackson — and the composer contributed incidental music for an onstage string quartet. But his restless mind had additional ideas, and after spending 'extended time with the play,' Glass created the new overture, scored for a very large ensemble.
After a single hearing, the result seemed a slight departure from the Glass beloved by millions. The composer's familiar arpeggios bubbled up, and yes, the trademark intervals — lots of major thirds — were in evidence. But a hardworking percussion contingent (most notably, bells and a woodblock) added piquant accents, and the overture found its creator in a more densely episodic mood than usual. After the final flourish, van Zweden went offstage to fetch the 82-year-old, who was greeted with a loud standing ovation.
Is there a more rhapsodic American vocal work than Barber's Knoxville: Summer of 1915? The composer's disarming melodic intuition, coupled with James Agee's fluid, pungent words, make seductive listening. Agee's texts alone are worth reading separately. Who else would include words like 'aestival' and 'stertorous,' not to mention multiple sequences with alliterative and rhythmic appeal? Each phrase shimmers like an arabesque:
the faint stinging bell;
rises again, still fainter;
fainting, lifting lifts,
faints foregone;
forgotten.
Those of a certain age likely grew up with Leontyne Price's classic reading; those of another (like me) fell in love with Dawn Upshaw's version, the centerpiece of her 1988 recording. So why doesn't Knoxville appear on concerts more often? The lustrous soloist, Kelli O'Hara, gave part of the answer: Barber's gentleness is deceptively hard to sing. The range often floats in a high tessitura, with scant relief, though the soprano showed no signs of strain. The fifteen-minute score requires lung power, often in service of a casual, even playful mood. But as van Zweden carefully shepherded the ensemble, O'Hara magically vaulted the soaring lines up to the ceiling. I don't expect to hear a more voluptuous reading anytime soon.
To close, van Zweden offered nine excerpts from Prokofiev's Romeo and Juliet, in handsomely sculpted phrases, with the orchestra plunging in, alert and rested. Intense contrasts in 'The Montagues and the Capulets' alternated between ghostly resonances and heat that burned like the sun. The eerie elegance of 'Dance of the Girls with Lilies' gave way to piercing anguish when Romeo discovers Juliet's tomb — emotion that was slightly upstaged by an amusing outburst. Thinking this was the end, an audience member blurted out 'Bravo!' followed immediately by a quietly penitent, 'sorry.' A slight grin from van Zweden found its counterpart in brief audience titters, but it was all in good fun.
Bruce Hodges