Germany Verdi, Un ballo in maschera: Deutsche Oper Chorus and Orchestra / Ivan Repušić (conductor), Deutsche Oper Berlin, 23.9.2019. (JMI)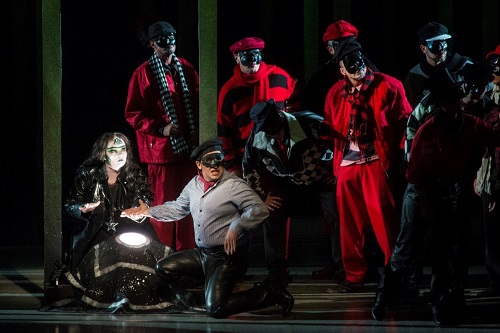 Production:
Direction – Götz Friedrich
Sets & Costumes – Gottfried Pilz / Isabel Innes Glathar
Cast:
Gustavo – Dmytro Popov
Amelia – Irina Churilova
Renato – Thomas Lehman
Ulrica – Judit Kutasi
Oscar – Meechot Marrero
Cristiano – Philipp Jekal
Horn – Patrick Guetti
Ribbing – Timothy Newton
Judge – Jörg Schörner
The Deutsche Oper's new season features programs with a number of big stars: the season opened with Anna Netrebko in a concert version of Adriana Lecouvreur. Piotr Beczala had also been scheduled to appear in two works, Un ballo in maschera and La traviata, but unfortunately had to cancel due to a vocal cord problem. This meant it was necessary to resort to last-minute substitutions, with all the problems that can bring.
Götz Friedrich created many productions for the Deutsche Oper over the years, and this one, which opened in 1993, has been revived some 94 times. The truth is that the production is not particularly interesting except for the final scene of the masked ball. The first scene is rather plain with a sort of dressing room for the king; the set for Ulrica's dwelling is bare as well. The same is true for 'l'orrido campo': empty, with a group of skulls on the ground. Renato's house is small and somewhat elevated, as if it were a small theater, but it then opens completely in the final scene of the ball (where there are attractive costumes).
Friedrich's stage direction doesn't go beyond narrating the plot. I did note that at the end of the opera the dying Gustavo/Riccardo rises up to ceremoniously greet the people on stage before finally falling to the ground.
The musical direction was in the hands of Ivan Repušić, a frequently seen figure in the Deutsche Oper pit in recent years. His conducting was correct but more routine than bright. Both the orchestra and the chorus gave solid performances.
Tenor Dmytro Popov was the replacement for Piotr Beczala in the role of Gustavo, and his performance did not meet my expectations. I had the opportunity to see him play this character in Toulouse five years ago, and his performance was magnificent then. His voice did not have the same brilliance this time, nor did it project properly.
Amelia was played by soprano Irina Churilova, whose performance was perhaps the most satisfactory of the cast. Her voice is attractive, especially in the middle range, and she was well suited to the role.
Baritone Thomas Lehman sang the part of Renato, and he was less convincing. His voice is a little small and narrows somewhat at the top. It works well in the middle but becomes weak in the lower notes, and he invariably sings in forte with a lack of nuance.
Mezzo-soprano Judit Kutasi was correct in the part of Ulrica though without much brightness, and soprano Meechot Marrero did well as Oscar, singing her two arias properly. Philipp Jekal, Patrick Guetti and Timothy Newton all were fine in their roles.
José M. Irurzun