United States Schoenberg, Bartók: Nina Stemme (soprano), Katarina Karnéus (mezzo-soprano), Johannes Martin Kränzle (baritone), Nancy Allen (harp), New York Philharmonic / Jaap van Zweden (conductor), David Geffen Hall, New York, 26.9.2019. (RP)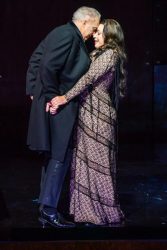 Schoenberg – 'Erwartung' from Vier Lieder Op.2, No.1; Erwartung Op.17
Bartók – Bluebeard's Castle Op.11
Production:
Director, Sets & Lighting – Bengt Gomér
Costumes – Per Backjanis
Videos – Per Rydnert
There is much praise to be heaped on Jaap van Zweden and the New York Philharmonic's foray into staged opera with Schoenberg's Erwartung and Bartók's Bluebeard's Castle. The evening was as musically, visually and dramatically exciting as any in an opera house, but one thing made it extraordinary – the sheer beauty of Nina Stemme's voice as Judith in the Bartók. I've heard Stemme often in opera and recital, but never before has her soprano sounded more ravishing. The first hint of what was to come was her natural, beautiful performance of Schoenberg's song 'Erwartung' to the harp accompaniment of Nancy Allen, which served as a curtain-raiser to these two unsettling operas.
This was the US stage premiere of Bengt Gomér's production of the two operas which he conceived for the Royal Stockholm Philharmonic Orchestra. A platform over the rear of the orchestra served as the stage. In spite of the orchestra's prominence, it receded visually into the darkness, in part due to the shiny black covering of the stage floor, but sound-wise it was another matter. In the Schoenberg, the musical textures were crystalline, intricate details in the score were revealed and the dissonances collided exquisitely. In Bluebeard's Castle, the orchestra reveled in Bartók's exotic colors – swirling harp arabesques, brooding string playing, ominous brass and the whirls of the wind machine – moments of unsurpassable beauty.
Instead of a dark forest, Gomér set Erwartung in an operating theater where a shrouded form lay on a gurney. Before a note sounded, a surgeon probed it, eventually extracting what appeared to be a bullet, perhaps foreshadowing a murder. A photographer with a vintage camera documented the procedure. Later, the white sheet was pulled away and a dead stag revealed. A sense of disbelief settled upon what we had just witnessed in a bizarre departure from the libretto, where it is the woman's lover that she stumbled upon.
Mezzo-soprano Katarina Karnéus was every bit as compelling in the Schoenberg as was Stemme in the Bartók, capturing the mental fragility of the distraught woman combatting unseen and unknown demons dramatically and vocally. Her brilliant voice glistened as she plunged ever deeper into the psyche of the woman.
The operating table was removed and the space transformed into a chamber in Bluebeard's castle. Seven women draped in blood-red veils sat staring into the audience. It began with Karnéus appearing on stage to read the prologue to Bluebeard's Castle in grand style, repeatedly raising an old-fashioned, brass megaphone to her lips when she spoke the words, 'Ladies and Gentlemen'. The set was dominated by a large frame. Much of the time, it was the portal into a long, dank, seemingly endless passageway. At others, it became the doors that Judith opened to reveal Bluebeard's torture chamber, weapons, treasures and, ultimately, his previous wives.
It would have been enough to simply bask in the glory of Stemme's voice, but there was also her complex characterization of Judith to savor. Stemme was resolute as the young bride fleeing from her family and unflinchingly entering Bluebeard's castle. Evidencing a steely determination with strong erotic overtones, she demanded the keys to the doors, each of which she opened with a mix of curiosity, intrepidness, wonder, fear and triumph. Upon opening the seventh door, Stemme joined Bluebeard's wives, now unveiled, staring resolutely into the audience, as her husband lay on the floor.
Baritone Johannes Martin Kränzle's Bluebeard was remarkably human, not just a stock villain. I had empathy for his Bluebeard, especially when he implored Judith to ask no questions and simply love him. This Bluebeard, as much as his wife, was a victim of fate. Kränzle, who cut a debonair figure in white tie and tails, sang with equal elegance and authority. As dazzling as Stemme was, Kränzle, together with Gomér's deft directorial touch, provided the setting which let her shine.
I have only heard van Zweden conduct a few times and mostly in adventuresome repertoire. He led these performances with his usual attention to detail and communicated the grand sweep of the emotional arc of the two operas. I was equally impressed by his willingness to be in the service of the drama. Rather than a grand entrance to tumultuous applause, he walked onto a dark stage and simply took his seat before Karnéus read the prologue to Bluebeard's Castle. That spoke volumes.
Rick Perdian
For more about the New York Philharmonic click here.