United Kingdom Weimar Berlin: To the Cabaret!: Dagmar Manzel (singer), Simon McBurney (narrator), Loré Lixenberg (mezzo-soprano), Gerard McBurney (creative director), Amelia Kosminsky (projection director), Caroline Moores (production/stage manager), Philharmonia Orchestra / Esa-Pekka Salonen (conductor). Queen Elizabeth Hall, London, 23.9.2019. (CC)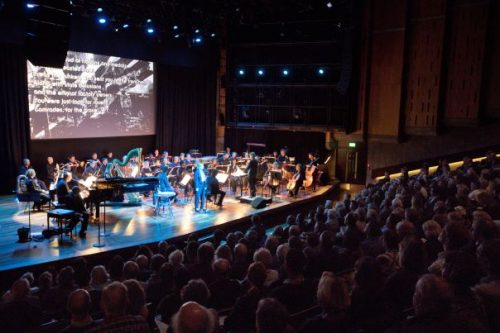 Works by Schulhoff, Weill, Holländer, Eisler, Dessau, Heymann, and Abraham formed the musical mainstay of this multi-media triumph, all topped off by a free cabaret in the foyer for afters. The event over-ran from its projected finishing time, but no-one cared: the experience was mesmerically unpredictable.
A cinema screen was in constant use with black-and-white images of the Berlin of the Weimar Republic. The main singer Dagmar Manzel, herself Berlin-born, was joined by the supreme narrator Simon McBurney (a replacement for the originally announced Toby Jones, who had 'other commitments'), and the astonishingly off-the-wall Loré Luxembourg.
Manzel sat at a table, a bottle of wine and a glass, from which she occasionally quaffed, in front of her. To the side, McBurney the narrator, commanded our attention. As he spoke, those projected images reinforced his tale while providing a thrilling backdrop to the Philharmonia's performance. The screen also held English translations of the German lyrics, so vital to this music. Insert into this mix the wildly unpredictable Loré Lixenberg (her sung orgasm was something else in Schulhoff's 1919 solo voice piece Sonata Erotica) and you have all the ingredients for a unique experience.
Conducting baton-less for a change (and not quite as eloquent of gesture without it), Salonen led a warmly affectionate set of performances. Arguably some of the grit this music demands was missing from the orchestra, but caught up in the moment it all felt so right.
The music veered from the well-known to the more obscure, from slinky tango to smoky nightclub grey. Perhaps the most famous song was 'Ich bin von Kopf bis Fuß auf Liebe eingestellt' (known to surely all English speakers as 'Falling in love again') delivered with terrific intimacy by Manzel. Over the course of the evening, we tracked cabaret's course; towards the end, a reading of a Joseph Roth feuilleton, in which the author states that cabaret was no longer changing the world, signified the beginning of the end of our journey. The challenge of this evening was always to project that force of the music, to feel that that these sounds had the power to change the course of history; largely, it succeeded.
As the music moved to that farewell, there was a reference to cabaret 'floating like a soap bubble over all our difficult lives'; we were told the story of Count Harry Kassler in 1933, drowning his sorrows with a friend and two prostitutes in a pub while jackboots sounded outside, a photo of Hitler projected, hauntingly behind.
It was a nice touch to add a foyer cabaret performance after, offering further saturation in this wonderfully bittersweet world.
Colin Clarke