United States Brahms, Dvořák: Giora Schmidt (violin), University of Cincinnati College-Conservatory of Music Philharmonia Orchestra / Mark Gibson (conductor), Corbett Auditorium, Cincinnati, OH. 20.9.2019. (RDA)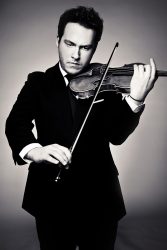 Dvořák – Slavonic Dance in C Major, Op.46, No.1; Violin Concerto
Brahms – Symphony No.2 in D Major, Op.73
It is quite remarkable that on the same September day, two orchestras would open their seasons in a mid-sized, midwestern city. One is a professional ensemble and conductor, each with a world-wide reputation (the Cincinnati Symphony Orchestra with Louis Langrée). The other is a terrific student group, the Philharmonia Orchestra at the University of Cincinnati College-Conservatory of Music (CCM), led by the superb conductor, Mark Gibson.
Once again, I sing the praises of the young musicians being trained at CCM, but a few facts must come before anything else. More than anything else, Dvořák's Slavonic Dance in C Major, Op.46, No.1 requires an easy, dance-like way with its wonderfully irregular furiant rhythm. The unfailingly masterful Gibson and the musicians delivered that in abundance, plus Bohemian exuberance and joy.
The composer's Violin Concerto is arguably one of the most difficult in the canon, but without doubt one of the most beautiful. Infused with an outpouring of melody that never ceases throughout its three movements, the concerto was given a soulful, impassioned reading by the Israeli-American violinist Giora Schmidt, now on the CCM faculty. And Gibson, who listens closely to any soloist, supported Schmidt throughout the work's forty minutes of quintessentially Czech Romanticism.
On the second half came Brahms's Second Symphony, a bucolic and wistful 1877 mid-career work. The composer was unusually cheery when he wrote it while on holiday, while misleading his publisher before sending the manuscript: 'My work is so melancholy that you will not be able to stand it. I have never written anything so sad…this score must be dressed in mourning'.
In a superb reading, the CCM players alternated delicacy with bold assertiveness. This kind of triumph by brilliant young musicians is a frequent occurrence at CCM in music-wealthy Cincinnati, and we count our blessings.
Rafael de Acha