Hungary A Music Sojourn in Hungary – artists, amongst others, Hungarian Radio Symphony Orchestra, Radics Band, Szalonna Band, Plácido Domingo (tenor), Central European String Quartet: Various venues in Budapest and Szeged. (AK)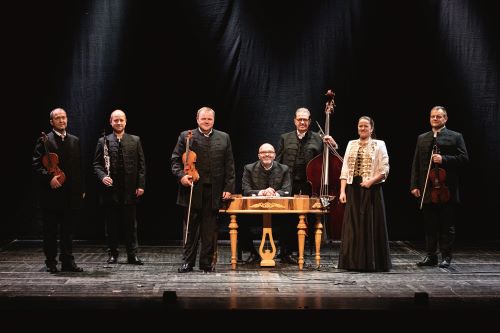 23rd August 2019, 'The Hungarian Violin', concert hall of the Vigadó, Budapest
The aim of this concert was to highlight the diversity and changing culture of violin playing in Hungary. It was also a celebration of various genres in the 19th and 20th centuries.
The first half of the concert featured an ensemble of Roma musicians (Ferenc Radics and his Band) and a Hungarian National Folk Ensemble (Szalonna and his Band). Both bands performed with astonishing virtuosity and from memory throughout. The Roma band – with seven violins, one cello, two basses, two clarinets and two cimbaloms – focused on influential Hungarian Roma violinist composers János Bihari (1764-1827) and Gyula Farkas (1921-1990) as well as on Franz Liszt's perception of Hungarian Gypsy on hearing János Bihari in 1822. Unfortunately the Radics band, especially their leader, were so heavily miked up that the intrusive extra sound diminished my appreciation both for concept and execution. I do not understand why there was need for any microphones at all, let alone for each player. The venue, the beautiful and old Vigadó (where Liszt performed not quite two centuries ago) needs no extra technical input for audibility. Fortunately the seven-member Szalonna Band –  led by István Pál and consisting of two violins, one viola playing traditional 'dűvő' rhythm  (as well as doubling on violin), one gardon, one bass, one clarinet (doubling on tárogató), one cymbalom as well as their  excellent solo singer Eszter Pál (the sister of the leader) – were more discreetly miked. Their performance, especially the contribution of their exuberant but clearly fully rounded leader, was as astonishing as informative and enjoyable. Their presentation of Hungarian folk music from various parts of Hungary (as well as from Transylvania) was fully credible and truly beautiful. The two bands shared a cimbalom player: the older of the two cimbalom players from the Radics Band played also with the Szalonna Band. I do not know if he was a Hungarian Roma musician or just a Hungarian musician but he fitted perfectly in both bands. This sharing proved that, although they are distinctive, there is much in common between Hungarian Roma music and Hungarian folk music.
The second half of the concert was dedicated to classical violin playing, influenced by Hungarian and Roma music as sampled in the first half. Composers included Ferenc Vecsey, Jenő Hubay, Sarasate and Bartók. All compositions performed were written for solo violin and orchestra. The soloist throughout was József Lendvay. He is from Roma origin but had thorough classical training and is a highly respected international solo violinist. Fortunately he was not miked at all; neither was the Hungarian Radio Symphony Orchestra accompanying him. The sound was perfect both from the soloist and the orchestra. However, I was struck by the irony of not only the orchestra playing from music but also the soloist. Having seen all music played from memory by all performers in the first half of the concert, watching the classically trained Lendvay of Roma origins playing his solos from music was strange. In fact, there was even an extended pause between the Slow and Fast sections of Bartók's First Rhapsody to allow time for Lendvay to turn his pages.
The conductor for this concert was Alpaslan Ertüngealp, a Greek musician brought up in Turkey but living and working in Hungary. He conducted with care, self-effacing sensitivity and skills; the orchestra responded with discipline and musicality. Appearing only in the second half of the concert and functioning only as accompanists, conductor and orchestra could have been tempted into taking a relaxed attitude. However, their delivery was fully professional in the best sense of the word.
28th August 2019, Plácido Domingo concert, Szent Gellért Fórum, Szeged
This event was as uplifting as puzzling for many aspects.
The occasion was marketed as the opening celebration of a new youth centre, 'built with priority support of the government and owned/operated by the Diocese of Szeged-Csanád'. This Catholic project includes a huge football pitch with a capacity for 8000 spectators.
The artistic input for the occasion was presented by Plácido Domingo Classics; the concert took place in the huge football stadium. Tickets for the event were highly priced, possibly aiming for raising monies for charitable causes. Many from the audience – including myself – came from Budapest to either hear Domingo or to be part of the celebration attended by many dignitaries from the government. Special Domingo trains and Domingo buses brought people from Budapest (although I travelled with the regular train from Budapest to Szeged).
It is hard to comprehend the connection between Domingo and this project. Did Domingo contribute financially to the project or did he receive a fee for his participation? Was Domingo aware that he was going to sing in a huge football pitch, which was totally unsuitable for his art? Was he aware of the strong government involvement in the project? I wonder how many Domingo concerts are attended by so many specialist government bodyguards: here there were several dozens of them, ready to defend the cause (whatever it was on this occasion).
The vast pitch was unused for the concert. At one end of the huge space a stage was set up for orchestra and soloists but it was a long way from the spectators sitting around the pitch. Several large screens were set up for vision; even from VIP seats large screens were the only way to watch the programme. (More by accident than by design, I was sitting in the VIP rows.)
Domingo was generous with his musical contribution. He sang during most of the three-hour programme. He delivered the superbly high standard which he would have aimed at on any concert hall or any opera stage in the world. He took care of every note, every phrase and sang with a variety of tone colours. Arguably perhaps it was over the top in this football pitch scenario, but Domingo presented his arias and duets as if in full-length fully staged opera performances: although dressed in his concert attire, he was in character throughout. His three-hour marathon did not sound or look like as if delivered by a 78-year old man. He was strong, charismatic and fully in control. Towards the end he even did some gentle but fully credible dancing in a number form Lehar's The Merry Widow.
I cannot understand Domingo's declared enthusiasm for his main vocal partner for this concert. To me, soprano Ana Maria Martinez sounded over-stretched and slightly off pitch in almost all her operatic numbers although she did much better in lighter numbers. She also failed on the dramatic side: Domingo sang to her in all relevant operatic moments (as required by the operatic plots) but in her responses she was singing to the audience.  There was a chill running through my spine when – in 'Lippen Schweigen…hab mich lieb!' ('Lips are silent…Love me') from Merry Widow – Domingo acted the part of the man (Danilo) in love: it was perfect theatre. My emotions run in a different direction when in one of his duets with his son Plácido Domingo Junior, father and son performed a John Denver number including words like 'what is love' and 'memories of love'. The two Domingos were in perfect harmony both musically and dramatically; I felt I was witnessing a deeply moving family union or reunion. And yes, Domingo Junior is very good in his genre (of non-classical music) although he does not reach his father's stature in any dimension.
As if singing through the evening was not tiring enough, Domingo Senior also conducted the participating orchestra in the first movement of Grieg's Piano Concerto in A minor. The piano soloist was Szeged-based 15-year old Soma Balázs-Piri, a winner of the annual Hungarian Virtuoso competitions in which Domingo has some artistic as well as financial interests. Balázs-Piri impressed with his musicality and maturity although his arms seem not yet strong enough to tackle loud romantic outbursts. Domingo was more than competent as conductor.
The written programme for the event did not entirely correspond with what we heard but, for sure, arias and duets from Andrea Chenier, Tosca, La traviata, The Merry Widow and Kálmán's Csárdáskirálynő (Czardasfürstin) were included as well as Spanish and non-classical songs.
The irony of mismatch in the event was highlighted (for me) in an excerpt from Swan Lake's finale. Three dancers (Prince Siegfried, Odette and Odile) were squashed on the stage, which was occupied by the MÁV Symphony Orchestra and conductor Eugene Kohn, while there was a vast unused space (that is the football pitch) just next to it. I estimated that several hundred swans – whether white or black – could have danced there to great effect.
30th August 2019, Central European String Quartet, Mirror Room of Festetics Palace, Budapest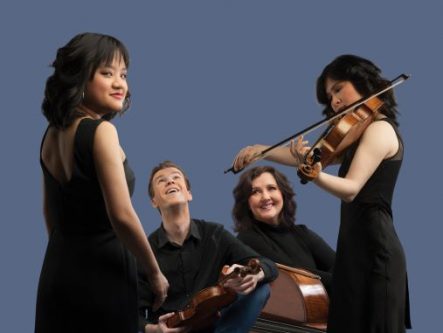 The 150m2 and 150 capacity Mirror Room of the former palace has eight large mirrors, no carpet and easily flowing sound. Wherever one looks, a mirror shows people in the room. Wherever one sits, there is no problem with acoustics.
The Budapest-based young Central European String Quartet consists of an American-Chinese leader (Miranda Liu), a Japanese viola player (Haruka Nagao) and two Hungarians (Máté Soós violin, Judit Szabó cello). Leader Miranda Liu is 23-years old and has been the leader of András Keller's Concerto Budapest orchestra for the past four years. 30-year old Haruka Nagao won great many competition prizes as violinist and has been leader of the Budapest Opera House for the past three years. In this group she plays viola and – I hasten to add – she produces the most beautiful viola sound one can wish for. 20-year old second violinist Máté Soós graduated from the Franz Liszt Music Academy and University just three months ago but his playing is mature beyond his years. Cellist Judit Szabó is the veteran in this group, having been a member of several string quartets and orchestras as well as being a professor of chamber music at the Franz Liszt Music Academy. It is a credit to her likely self-effacing modesty that she does not stick out from the group in any way: they are lucky to have her.
The opening number, Debussy's Quartet in G minor, Op.10, was too big in sound. Leader Liu seemed more an orchestra leader, which she is, than the interpreter of expressionist sounds. On the other hand, Nagao's viola solo in the third movement was sensitive and truly expressionist. In the eight pieces from Bartók's 44 Duos for Two Violins, second violinist Soós was more idiomatic than Liu in Bartók's folk song style. Janáček's String Quartet No.2 ('Intimate Letters') was more suited to Liu's style although her somewhat harsh tone slightly spoiled the cellist's sensitive, repeated cries of lament in the brief Andante section (figure 9) of the fourth movement.
For the final number, Ravel's Introduction and Allegro, the quartet was joined by flautist Noémi Győri, clarinettist Csaba Klenyán and harpist Klára Bábel. The tone was set, literally, by the sensitive tone production and excellent team work of the woodwind duo. Bábel's delivery of the big harp solo was fully committed, fully romantic and fully credible. For me this number was the most balanced interpretation in the evening. However, I am certain that the tireless Miranda Liu – leading a symphony orchestra, leading her quartet, organising festivals and masterclasses – will navigate her artistic progress satisfactorily.
Agnes Kory