United Kingdom BBC PROM 56 – Ravel, Ireland, Tabakova, Debussy, Granados, Wagner and Grainger: Leon McCawley (piano), Nathaniel Anderson-Frank (violin), BBC Concert Orchestra / Bramwell Tovey (conductor), Royal Albert Hall, London, 31.8.2019. (AS)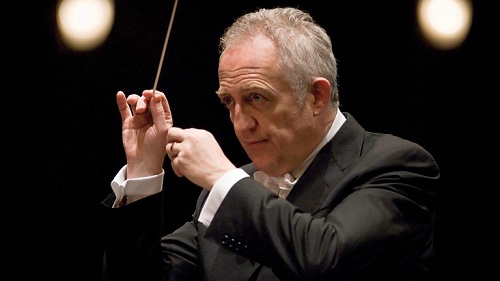 Ravel – Rapsodie espagnole
Ireland – Piano Concerto
Tabakova – Timber and Steel
Debussy (orch. Wood) – Préludes, Livre 1 – 'La cathédrale engloutie'
Granados (orch Wood) – Danzas españolas – 'Andaluza'
Wagner (arr. Wood) – Wesendonck Lieder – 'Träume'
Grainger (arr. Wood) – Handel in the Strand
Ravel – La valse
Now aged 66, Bramwell Tovey is a good example of a group of talented British conductors who have been neglected in their native land but who have pursued successful careers elsewhere. Tovey's name is much better known in Canada and the USA than it is in the UK, or it was until he became Principal Conductor of the BBC Concert Orchestra last year.
The BBCCO is the Corporation's maid of all work, since its activities range from full-scale classical concerts to BBC Radio 2's 'Friday Night is Music Night': it records television programme soundtracks and it plays at popular music festivals. If that versatility suggests playing standards of a routine kind, the orchestra is in fact a highly accomplished body, and has been for some time. The only slight drawback is that it has slightly fewer string players than a full symphony orchestra. This was noticeable from time to time (at least in the hall) during the evening's performances, since several of the works played featured prominent scoring for brass and percussion, and their efforts tended to overwhelm the string sound.
The concert was designed to celebrate the 150th birth centenary of the Proms's founder-conductor, Sir Henry Wood, and it included three substantial 'novelties' (in Sir Henry's words) that he had introduced to Prom audiences. It also included four short pieces played in his orchestrations or arrangements.
This kind of repertoire has disappeared from today's concerts. Programmes containing short pieces are frowned upon in these days, especially if they are of a lighter kind, and audiences have usually come to expect long and often very serious symphonies, concertos and tone poems.
With a seeming inevitability on the part of the BBC, the programme had to include a new work. Dobrinka Tabakova is a Bulgarian-born composer in her late thirties who now lives in London. Her tribute to Wood (Timber being an allusion to his nickname and Steel to the industrialisation that preceded his 1869 birth), aims to create 'a sense of drive, movement, progress', and that it does. Predictably Tabakova employs a large percussion section, including three xylophones, marimbas and so on; the tempo of the piece is unvaryingly fast and furious and very episodic. Its ear-tickling orchestral and rhythmic devices were quite attractive and the work passed by pleasantly enough.
Sir Henry's 1919 orchestration of Debussy's Prélude was a real curiosity, a monstrosity in fact, whose elephantine orchestral proportions, with bells resounding in the hall's gallery, made the piece sound somewhat Russian and a million miles away from the poetry and mysterious atmosphere of the original piano piece. His orchestration of Granados's popular 'Andaluza' was on the other hand very felicitous, if not particular Spanish in sound; and Grainger, who did so many arrangements of his pieces himself for all manner of ensembles, would have probably liked Wood's large-scale treatment of Handel in the Strand.
It was the conductor Felix Mottl who orchestrated Wagner's Wesendonck Lieder for soprano and piano, and that is the version we usually hear in orchestral concerts. In Wood's faithful-sounding adaption of the final 'Träume' for violin and orchestra, the accomplished soloist was the BBCCO's leader, Nathaniel Anderson-Frank.
John Ireland is one of those early- to mid-twentieth British composers whose music is seldom played live, but has been quite extensively made available through commercial recordings. It was depressing to read that his once quite popular Piano Concerto had not been played at the Proms since 1993, but it now received an ideal performance from McCawley, Tovey and the orchestra. There can be a tendency for rhythms to become a bit too insistent in the first movement, which leads to a feeling of heaviness, but though the ebb and flow of Ireland's rhapsodic but slightly melancholic invention was clearly defined on this occasion, accents were lightly applied and the music emerged in all its highly individual beauty. McCawley's tone quality was conspicuously lovely here and in a most poetic account of the slow movement. The tempo of the main part of the finale was taken rather more quickly than the composer would have liked (he said it should be something of a jog-trot), but it seemed just right as played here, and hopefully this performance as a whole will have won many new friends for a very significant concerto.
No special pleading is needed for Ravel's music these days, and two of his most popular works (both introduced to the Proms by Sir Henry) began and ended the concert. Tovey's performances were completely sympathetic and perfectly in style. He didn't attempt any very personal intervention by way of interpretation, but both works were very satisfactorily served by him and his excellent players.                                                                                  
Alan Sanders