United Kingdom 2019 Glasgow Cathedral Festival –Bruckner, Mozart: Mhairi Lawson (soprano), Beth Taylor, (mezzo-soprano), Christopher Bowen (tenor), Brian Bannatyne-Scott (bass), Orchestra, Glasgow Cathedral Choir, Glasgow University Chapel Choir / John Butt (conductor), Glasgow Cathedral, 28.9.2019. (SRT)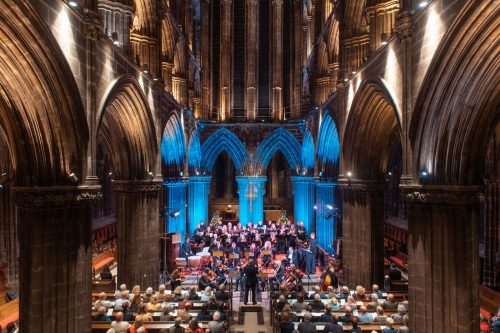 Bruckner – Mass No.2 in E Minor
Mozart – Requiem (with three movements by Gregory Spears, UK Premiere)
Just how much Mozart is there in 'Mozart's Requiem'? Actually not that much. We are so used to hearing Süssmayr's completion, the most established one right from the off, that we forget that there's probably more Süssmayr in it than Mozart. Mozart himself completed the first couple of movements, but the gaps start cropping up pretty quickly after that, so you need the intervention of another musical mind to put the work into anything like a performing edition. That also means, naturally, that lots of composers since Süssmayr have decided to give it a go, and lots have made a success of it. So, it is an enterprising and not at all controversial touch for the 2019 Glasgow Cathedral Festival to finish with what they had billed as 'A New Mozart Requiem', featuring the UK premiere of the 2013 music written for the Sanctus, Benedictus and Agnus Dei by Gregory Spears.
The problem with it, however, is that Spears's music isn't Mozart's Requiem at all. The ambition of Süssmayr in the 1790s and, even more so, later scholars like Robert Levin, was either to realise Mozart's thoughts or to create something that is in keeping with what he would recognise. Spears, on the other hand, does his own thing so defiantly that he abandons nearly all links to Mozart's world and gives us three entirely different pieces. Going into that from Süssmayr's Hostias is a bit of a shock, and unfortunately, Spears's 'own thing' sounded pretty derivative to me. His Sanctus sounded like Karl Jenkins had crashed into Philip Glass with shards of Nico Muhly poking through the texture. The Hosanna's strings seemed to be impersonating Arvo Pärt, and the Benedictus seemed to be poking fun of pastoral Cimarosa before a Michael Nyman pastiche appeared out of nowhere. Knowing references to Süssmayr's Benedictus or Offertorio fugue only underlined the slightly smug wink about the whole thing, so that not only is the lurch from Süssmayr to Spears an anachronistic wrench, but the whole thing ended up sounding a bit misguided.
Which is a pity, because the rest of the Requiem sounded pretty good. The choirs of Glasgow Cathedral and Glasgow University Chapel sounded solid, even if the tenors and altos were a little overwhelmed in places, and the (bespoke and unnamed) orchestra sounded good in the space, even if the brass dominated, though I shouldn't complain when the trombones were played as expertly as here. John Butt, who is Gardiner Professor of Music at Glasgow University, was a predictably strong presence on the podium, and if his speeds were on the fast side then they only really challenged the performers at the beginning of the Domine Jesu Christe. Mhairi Lawson's crystalline soprano balanced well the gravelly bass of Brian Bannatyne-Scott and the light tenor of Christopher Bowen, thought the standout solo was a fantastically powerful mezzo from Beth Taylor, the clear star of the Tuba mirum.
Choir and winds opened the concert with Bruckner's E Minor Mass, with well-focused singing and an overall sound that fitted the space of Glasgow's Gothic cathedral very well indeed. Even leaving aside the few instrumental fluffs, though, I will always wish that Bruckner had dispensed with his honky wind parts altogether in this work. His other masses are so much more assured, and the quality of his unaccompanied motets knocks this piece into the shade.
Simon Thompson