United Kingdom Mel Brooks, The Producers (lyrics and music by Brooks and adapted by Brooks and Thomas Meehan from the 1967 film): Ensembles and musicians of CODA (Croydon Operatic and Dramatic Association) / Joshua Hickin (musical director and arranger). Ashcroft Playhouse at Fairfield Halls, Croydon. 20.9.2019. (JB)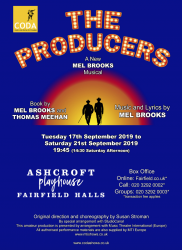 Production:
Stage Directors – Peter Bramwell and David Sanders
Choreographer – Aimee-Marie Bow (from Susan Stroman's original 2001 choreography)
Cast:
Max Bialystock -Kevin Gauntlett
Leo Bloom – Dominic Binefa
Franz Liebkind – Thomas Skinner
Roger De Bris – Peter Davis
Carmen Ghia – Mark Storey
Ulla Inga Hansen Bensen/Yonsen Tallen-Hallen/ Svaden-Swanson – Megan Claridge
Mark Ruffalo is possibly one of Hollywood's greatest exports – remarkably handsome, muscular and sexy too, especially in his most recently acclaimed role as the comic-book fictional character – the Hulk. The UK's Prime Minister took the Hulk title for himself, just a day ahead of talks with EU bosses.  It's hard to know whether Alexander Boris de Pfeffel Johnson intends this as a threat, or as a promise to the EU team on the other side of the negotiating table. Whichever way you look at it, the UK's Brexit, long-sustained comedy show, has now unquestionably morphed into farce. The ever-reliable OED says for farce: noun. 1. A comic dramatic work or genre using buffoonery and horseplay and typically including ludicrously improbable situations. 2. An absurd event: the debate turned into a drunken farce. You can see how Brexit ticks both meanings. And the dictionary then helpfully adds: ORIGIN MIDDLE ENGLISH 16th-century French lit late Latin farcire to stuff. That gives Bexit a third tick.
Mark Ruffalo tweeted: Boris Johnson forgets that the Hulk only fights for the good of the whole. Mad and strong can also be dense and destructive. The Hulk works best when he is in unison with a team, and is a disaster when he is alone. Plus he's always got Dr Banner with science and reason. Boris Johnson replied, The madder Hulk gets, the stronger Hulk gets. 
Political topicality was the very stuff of the Victorian and Edwardian Music Halls and Hulks abound in The Producers – whole choruses of them as well as two leads. Mel Brooks, who is New York Jewish, is still with us at the age of 93. Even as a boy he worked as comedian, writer and composer, strongly attracted to the all-together-now tradition of the Music Halls, called Variety Houses in America and with a bigger and therefore a somewhat less intimate presentation.
I must reprimand and praise in the same breath, CODA (Croydon Operatic and Dramatic Association) who have been working for over 75 years and are responsible for the present staging. But I needed my most powerful specs to get this necessary information. Recognising the original direction and choreography by Susan Stroman, it then says at the bottom of the same page in very small print, 'This amateur production is presented by arrangement with Music Theatre International (Europe).  All authorised performance materials are also supplied by MTI Europe.' (This refers to some costumes and sets: my highlighting.)
My praise is to the outstanding group of amateurs, at least two of whom were at the highest professional level. And my reprimand for CODA being so modest about their being amateurs. And yes, I do realise this must be at least partially about the complex business of performing rights.
Please allow me to address directly the very young and very handsome Musical Director, Joshua Hickin, oboist from Chetham's School, then Royal Academy of Music, who also works as an arranger, orchestrator and composer. When, as a music student, I got a commission to arrange Music Hall songs for a band, I consulted our orchestra professor, Henry Geehl, who advised me to visit Dolly (I think that was her name) at Francis, Day and Hunter in a very dusty shop in Charing Cross Road, who were the publishers of most of the Halls' repertory. Tell her I sent you said Mr Geehl and she will give you access to appropriate scores so you can see how it is done. She did. She also fed me interminable cups of tea. The instruments in your band, dear Joshua, would be all right for a trad jazz concert. But these instruments iron out the FUN for the Halls' music. And your band was too big. In the Halls, less is more. Your trumpeters didn't have the right set of mutes. The percussion section was far too big: one player is sufficient with the right set of sticks (maybe 2 players if tuned percussion is needed).
In 1972 Francis, Day and Hunter's entire catalogue was bought by EMI Music. There won't be Dolly – or tea probably – but you would find some genuine authenticity there for the FUN that this music always delivers. Most of the composers of the Halls' songs are no longer with us. But copyright goes on for 75 years after the composer's death. So, the archivists at EMI music will still be paying out royalties to those in the Francis, Day and Hunter catalogue.
You can hear the instruments if you watch the 2001 film.  But as this was made as a Hollywood Musical, some of the finer nuances are missing in the instrumentation. (Both the original 1967 film and 2001 Musical are available on YouTube [with paywall].)
The Producers has lost non of its original, inspired energy. From its genesis in 1967 New York, through the Hollywood Musical of 2001 and the amateur celebrations at the Ashcroft in 2019, the show remains alive because of Mel Brooks's ingenuity in intelligently exploring a theme which would remain an evergreen across all those years: the shifting sands of capitalism. Gore Vidal held that Moses was the inventor of double-entry book-keeping, what Gene Wilder as Leo Bloom memorably calls 'creative accounting' in the 2001 movie. Wilder/Bloom also follows it up by insisting, to 'play it straight, straight, straight'. The Big Boys – sometimes with a smirk- still remind themselves of this. We laugh, not because this is true, but because it is real.
1967 was also before the age of political correctness. In 2019 the British Board of Film Classification (in 1967 it was called the British Board of Film Censors – a revelation in itself) would not have allowed a movie in which two Hulks – in order to cheat the Broadway entertainment industry, were putting on a play that they required to be a flop, called Springtime for Hitler – complete with a chorus of Hulks, though the brand name wasn't around then. I remember leaving the 1967 cinema helpless with laughter, with a friend who said, It was a bit ingenuous of them to be sure it would flop. Let's go and make the movie.
More humorous 'incorrectness' when Ulla, the bombshell 'secretary' who has three elaborate names, in part because she doesn't speak English, bursts into a lively song and dance routine with Be a smarty, Come and join a Nazi party. Megan Claridge is dazzlingly glamorous as Croydon's Ulla and gives the part all she has got, which is really quite a lot. Generosity is an actor's prime requirement and Ms Claridge has buckets of it.
That generosity is matched and even surpassed by Dominic Binefa playing Leo Bloom, who joins Ulla in that song and dance routine. I am sorry that Lindsay Kemp is not still around, Domenic. He would have made you an instant star. Comedy is the hardest thing to play in dance and you do it superbly – that nonchalant, too-easy cheekiness is a gift of the gods. Please take care of it and let us see a lot more of you. Mel Brooks has also given you some of the play's best lines and your sense of timing in delivery is spot on. That is a musical talent, sir. Give me Domenic Binefa to Gene Wilder any day.
Kevin Gauntlett as Max Bialystock, the other crook in the partnership, is not at Binefa's level. That is largely because of the way the part is written. Bialystock is the goon to Bloom's amazing discovery of things. A Laurel and Hardy duo in fact. Kevin Gauntlett is admirable in all his dreamy interventions which are many. His dancing is lumbering compared with his partner's. But that again is how the part is written too. So a very convincing Bialystock, at its very best when he turns on the false charms for the old lady sponsors.
Peter Davis seemed to have as much fun playing the over-the-top, camp Roger De Bris as we in the audience enjoyed his delivery of the gloriously daft role. Mark Storey was equally convincing as his sidekick, Carmen Ghia.
Thomas Skinner is so convincing as Franz Liebkind, author of Springtime for Hitler that an audience could be forgiven for thinking that he existed in real life. One of the many double-take roles. And Mr Skinner unravels the takes beautifully.
Jack Buckley
For more about CODA (Croydon Operatic and Dramatic Association) click here.