Switzerland Lucerne Festival [9] – Haydn, Britten, Rachmaninov: London Symphony Orchestra / Sir Simon Rattle (conductor), Kultur- und Kongresszentrum (KKL) Luzern, Lucerne, 10.9.2019. (JR)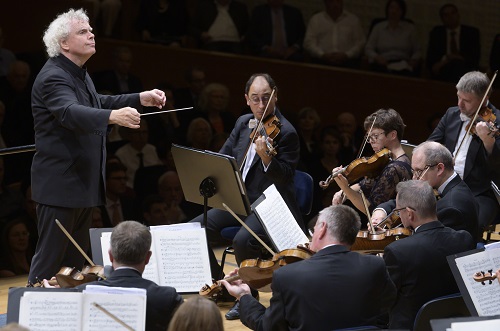 Haydn – Symphony No.86 in D major
Britten – The Young Person's Guide to the Orchestra Op.34
Rachmaninov – Symphony No.2 in E minor Op.27
The first concert by the London Symphony Orchestra at the Lucerne Festival this summer featured Barbara Hannigan and challenging works by Hans Abrahamsen and Oliver Messaien.
I attended the LSO's second concert, which had an attractive and digestible programme; something relatively old, something relatively new, and something Romantic. These were clearly three works dear to Rattle's heart: he needed no score for any of them.
This choice of programme meant that modern instruments had to be employed for the Haydn and this took away the authenticke period feel that can add so much nowadays to performances of the baroque. There were no hard timpani, no hard mallets, and some vibrato. This was smooth, modern Haydn. Rattle had the small number of brass and woodwind stand, enhancing the atmosphere of a courtly dance. Haydn is full of wit but the joy had some trouble coming to the surface in this performance: I kept thinking of Sir Roger Norrington, nowadays in his swivel-chair, asking the audience to hold on to their seat-belts and turning swiftly to the audience, with a twinkle in his eye, whenever there was mirth in the music. Rattle is a more serious music-maker, his face often contorted into a grimace while he mouths I (and his players) know not what; there is rarely a hint of a smile during any work. The orchestra played with élan and rhythmic incisiveness in the first movement; the Capriccio left me cold. Rattle swayed elegantly through the Menuet, and then gave us a spirited, animated Finale. It was politely received, but no more.
Podium and baton arrived for Britten's Young Person's Guide to the Orchestra; this is frequently played in the UK but is a rarity outside English-speaking lands. My Swiss neighbours did not know it all; Britten's War Requiem and his Violin Concerto do get occasional outings in Switzerland, and very rarely a Peter Grimes. The rousing tune itself is a Rondeau theme from Purcell's incidental music to a play, Abdelazer. It is an ingenious, playful work, with a dazzling fugue to finish and the orchestra had a whale of a time. The audience were most appreciative; for many, they had discovered and enjoyed a new work. For the many children in the audience, they had also learned the sound of many instruments. The Festival has a policy to encourage childrens' attendance; it was only a pity that they had been packed into the back rows, which had, I guess, not been sold. Children would benefit much more from seats above the orchestra or in the Choir.
Rachmaninov's Second is probably his most popular, though there is much in the other two symphonies to admire. Finally, the orchestra could fire on all cylinders and their opulent sound impressed. There was much ardent yearning from the strings in the opening movement, scampering finger work later on. There were rather too many brass fluffs for comfort in the first movement but they redeemed themselves as the symphony progressed. In the lush slow movement the clarinet solo was brilliantly and tenderly executed by Principal Chris Richards, a worthy successor to now retired Andrew Marriner. Richards was the only instrumentalist to be picked out by Sir Simon at the close of the piece. After a vigorous Scherzo, the exuberant and stirring Finale brought us some mesmerising string playing, irrepressible melodies galore including the effect of pealing bells (cleverly created by downward scales falling at different rates).
I have been very fortunate at the Lucerne Festival to hear, on almost successive evenings, many of the world's top orchestras under their high-profile Chief Conductors. The quality of the LSO's playing on this evening was such that they demonstrated clearly that they belong in the top flight of orchestras, even if they do not quite have the bloom or precision of Berlin or Vienna.
Rattle threw us a morsel of an encore, introduced by him loudly and in German (full marks): all two minutes of an orchestrated version of Satie's gentle Gymnopédie No.1. It relaxed us for our journey home.
John Rhodes