United Kingdom Lammermuir Festival [2] – Mascagni, Zanetto & Wolf-Ferrari, Susanna's Secret: Soloists, Orchestra of Scottish Opera / David Parry (conductor). St Mary's Parish Church, Haddington, 21.9.2019. (SRT)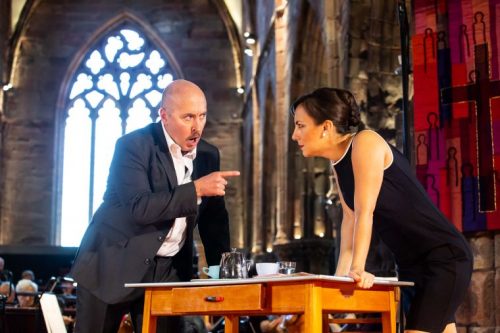 Zanetto
Cast:
Silvia – Sinéad Campbell-Wallace
Zanetto – Hanna Hipp
Susanna's Secret
Cast:
Countess Susanna – Clare Presland
Count Gil – Richard Burkhard
Director – Rosie Purdie
Opera has never been a massive component of the Lammermuir Festival, but their first collaboration with Scottish Opera last year went so well that, this year, they decided to repeat the partnership.
The festival's central problem with opera is finding a venue: the Lammermuir Festival mostly operates in little churches and hidden halls, so proscenium theatres are thin on the ground. One of their most noteworthy successes, therefore, has been the way that, both last year and this year, Scottish Opera have adapted the soaring medieval church of St Mary's Haddington to fit their needs perfectly. Last year, the orchestra required for The Burning Fiery Furnace was fitted neatly inside the set, but that needed only about a dozen players. For this year's Mascagni and Wolf-Ferrari, which require a much bigger orchestra, some clever scaffolding hid the orchestra way towards the east end while the staging took place beneath the crossing. They even managed some supertitle screens!
Director Rosie Purdie wisely adopted a minimalist approach to these two works which rely for their impact upon character rather than staging. Costumes for both operas were mostly contemporary, but sufficiently distinctive to differentiate the characters, and entrance and exits were well controlled with minimal fuss.
And the operas? They are remarkable contrasts, but that meant they made surprisingly effective companion pieces. Zanetto finds Mascagni at his least Mascagni-ish. There are no vengeful peasants or bloodthirsty aristocrats: instead it's a gentle character piece, set in Renaissance Florence, where the courtesan Silvia, laden with ennui and disillusionment, meets the wandering musician Zanetto and, rather than seduce him, rejects him to preserve his innocence and, thereby, rediscover some of her own. Sinead Campbell-Wallace sang Silvia with the right balance of vocal glamour and faded grandeur, and Hanna Hipp played Zanetto with wide-eyed charm, her stylish mezzo contrasting well with Campbell-Wallace's bright soprano. The music itself is a fairly consistent arioso style, but it is full of Mediterranean warmth, and it's evocation of the characters' emotional states is very skilled.
However if Mascagni's opera is a Renaissance fresco then Wolf-Ferrari's is a glass of prosecco or, perhaps more fittingly, a whiff of smoke. The plot of Susanna's Secret is lighter than air, and focuses on a husband's misunderstanding when he smells cigarette smoke in his house. He assumes that his wife is having an affair, but disaster is averted only when he realises that she herself is the smoker. I guess you could read the story's dark underbelly and interpret in the light of our #MeToo age; or at least, you could if it was not for Wolf-Ferrari's music which is uproarious fun and gorgeously orchestrated to boot. Scottish Opera secured the same singers who so notably succeeded in it at Holland Park this summer (review click here), including Richard Burkhard, fresh from his triumph as Scottish Opera's Papageno. Teaming up with Clare Pressland, they both sang beautifully and, importantly, acted the parts by embracing them for the froth they are.
David Parry conducted both scores as though they deserved the same conviction that others would bring to Verdi or Puccini. The orchestra responded to him beautifully, and the blend in the church acoustic was remarkably successful, with only very occasional balance issues in parts of Susanna. In short, this was a great success. I think we can now safely say that the Lammermuir Festival have solved their opera problem. Further collaborations must, surely, be in the offing?
Simon Thompson