James Lisney talks to Robert Beattie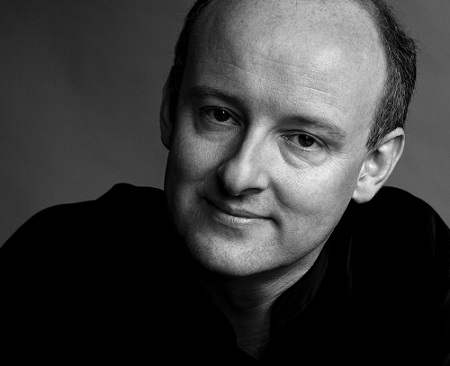 I first met James Lisney at the Lot Music Summer School where I was one of his piano students.  James gave two recitals during the course and I remember being particularly entranced by his performance of the Schubert Piano Sonata in B Flat; I told him at the time that I thought this performance placed him amongst its finest interpreters.  James is also a perceptive Beethovenian and I was fortunate to have him taking me through my paces in Beethoven's Piano Sonata in D Op.10 No. 3.
James made his Wigmore Hall debut in 1986 and received a very favourable review from The Times which referred to his "exquisitely controlled performances".  Since that time, he has performed in many prestigious venues across Europe and the Americas, including a residency at Carnegie Hall.  He has an exceptionally wide repertoire which ranges from baroque masterpieces to present day composers such as Jan Vriend.
James is about to embark on a programming concept entitled ENDGAME which will initially focus on the late piano works of Haydn, Beethoven, Schubert and Chopin.  In these early programmes, he will be performing the last three piano sonatas of Haydn, Beethoven and Schubert together with Beethoven's Diabelli Variations, Schubert's Impromptus and Klavierstücke D 946 – and Chopin's works from Opus 60 onwards.  I asked him about his approach to these works and where he would be performing them – as well as his wider activities.
Robert Beattie:  You are about to embark on a series of concerts entitled, ENDGAME which will focus on the late piano works of Haydn, Beethoven, Schubert and Chopin.  What drew you to these composers and these works?
James Lisney:  I have always been drawn to 'late style'.  Focusing on such works helps to create perspective, highlighting the final trajectory of qualities apparent in earlier music.  The desire to 'start at the end' was a feature of my student repertoire; I presented the last sonatas of Schubert and Beethoven at an age when it was customary to programme the (supposedly) more accessible early and middle period works.  When I competed for the Chappell Gold Medal at the Royal College of Music, I performed Beethoven's Sonata in A Flat Op.110; Louis Kentner was on the judging panel and asked me afterwards how long I had been learning the sonata.  I told him that I had been playing it for three months and he said he had been trying to get to grips with it for sixty years – but that it was important "to start before one was ready".
I must add, however, that the ENDGAME concept is not only about 'late style' but will be free to explore the 'game' aspects and also the use of the word 'end' to include both starting and finishing places.  Once I started to think about these concepts, I found much to interest me and it was a problem to reduce the projects to manageable proportions.
RB:  Returning to Louis Kentner, I believe he used to sit very low at the keyboard.  I was intrigued at how he managed to generate such power when he was sitting so low.
JL:  Yes, he used to sit on a kitchen stool that had been cut down; I remember putting it in place for him when we (a group of students, not necessarily his pupils) were performing Liszt's Hexameron at the Queen Elizabeth Hall.  He was very relaxed at the keyboard, possessed a superb technique and exhibited a gentle modesty: he told me, for instance, an anecdote about how he performed Bartók's Second Concerto for the composer and exaggerated the percussive aspects of the score before eliciting the admonishment "too much BARTÓK!"
RB:  Where will you be performing the ENDGAME recitals?
JL:  I will be performing in Prague, Cambridge, St George's in Bristol, Brussels, Schleswig-Holstein and at various locations in France.  I will also be performing at the 1901 Arts Club in London, a small venue that provides a welcome opportunity to play for a small audience, a setting that perhaps provides the ideal scale of expression for this repertoire,
RB:  The works you are playing are among the most celebrated in the repertoire.  What new things will you have to say about them?
JL:  I would not say that my approach is 'new' as such, but I do have the desire to represent the extraordinary implications of these texts in a very detailed manner – no easy task – and with the determination to avoid any lazy assumptions that have evolved in the performance reception of this music; I believe that this is a healthy philosophy to apply to any music that we undertake – and not exclusive to me.
Areas that are of particular importance to me are the implications of the phrasing  – making the music both sing and speak – and the range of articulation that I see makes this music distinctive; the search for tempi that represent the specific affekt that the composer is seeking (often quite unlike some traditional performance tempi); and the use of pedal techniques that are perhaps a little unusual for many pianists (and listeners) who developed their sensibilities in the latter part of the twentieth century.
I am sometimes rather surprised at the results of these 'researches' into the scores but I am encouraged to find that much of what I discover chimes with authoritative performances by artists whose heritage was based in the nineteenth or early twentieth century.  The sort of people who inspire me (not in details but in the approach of how they develop their interpretations) include Rosalyn Tureck, Claudio Arrau, Wanda Landowska, Ernst Levy, Glenn Gould, Friedrich Gulda, Josef Hofmann and Shura Cherkassky.
RB:  I am sometimes very surprised by Chopin's original pedal markings.  In his second Étude from Op.25, the piece can sound very blurry if you use his original pedal markings although they were, of course, originally conceived with 19th Century pianos in mind.  I think I am right in saying he doesn't use the pedal at all in the last movement of the 'Funeral March' Sonata except for the last bar.
JL:  'Blur' is an essential part of pedal technique and, for me, it sounds just the same on modern and period instruments; as Konrad Wolff wrote, "the laws of acoustics apply regardless of the quantity or the quantity of sound involved".  I have performed this music on instruments (both period and superb modern copies) that are relevant to each composer in ENDGAME and I find that my readings 'work' on the older instruments as well as upon the huge range of modern instruments.
Chopin's pedal markings are remarkable for their accuracy and for the detailed variation of sound that they release.  The 'Funeral March' Sonata you mention is a masterclass in this respect: the long pedals at the start of the first movement; the long breathed pedals of all the descending dissonant passages in the Scherzo; the minimal pedalling of the march, with its sublime, richly pedalled trio'; and the harsh reality of the un-pedalled finale.  I see these distinctions as essential to the music and, perhaps, they are rather different from the standardised, constant use of the pedal which is commonly advised in conservatories. Much (not all!) of present-day pedagogy has the danger of creating a homogenous sound world for different composers, individual works – and appears to me to be more concerned with 'cosmetics' rather than the meaning of the music'; the similarity of airbrushed models.
This is decidedly not a 'new' approach that I am outlining; rather, a way of playing that was accepted by those that taught and inspired me – those such as John Barstow and Phyllis Sellick, her teacher Isidore Philipp and his influences directly from Chopin, Liszt, Saint-Saëns, Czerny et al.  A body of piano knowledge that was a supra-national lingua franca that served a wide range of pianists and composers over many decades – and that has, perhaps, been somewhat lost to a generation that wishes to win competitions, gain 'recommended recording' tags etc.
RB:  In what way will your approach to the late sonatas of Haydn, Beethoven and Schubert differ from those of other artists?
JL:  There is always a danger for performers to interpret 'late', 'great' works with excess pomposity or pseudo-profundity, misplaced valediction and maudlin sentimentality etc.  Much of what I have examined in ENDGAME has been in my repertoire, in my life, for up to forty years and it appears to me to be a rich repository of human experience, passion (in all its meanings), distilled and potent communication, drama, wit, tragedy, redemption – all things that we welcome in great literature and theatre. This music continues to fascinate performers and audiences alike as it is honest, universal, concise and authoritative in its expression.
RB:  Gould's playing of some of the middle period Beethoven sonatas and concertos is exceptionally fine but I have reservations about his performance of the late sonatas.  I seem to recall that Gulda adopted some very swift tempi.
JL:  Well, Gould, whatever the interpretative course he was taking, knew his music intimately and possessed the abilities to communicate something that resounds in the mind for decades; you cannot ask for more than that.  As for Gulda, yes, he took fast tempi – with tight rhythms – but it is now something we are really used to, through the exposure to the 'so called' Early Music movement. Today he simply sounds like an extraordinarily great musician and, in my opinion, a rather more valuable one than many much-lauded names from his period.  I sense that his music making is, perhaps, not better appreciated as he was a victim of prejudice or simply that the music business felt the need to promote other names.
RB:  You have become particularly closely associated with the music of Schubert.  There are many different approaches to his piano music.
JL:  There is a wide range of performing styles in Schubert's music and I feel that, during the last seventy years or so, the music has inspired a great freedom in interpretation – in a way that is not the case in Beethoven.  My concentration upon the Schubert piano sonatas started during the 1990s and I was particularly inspired by the Weiner Ürtext edition of Martino Tirimo.  Its appearance coincided with a radio interview that I heard with Sir Charles Mackerras, where he argued that the editions of the Bohemian composers he interpreted so distinctively contained many so-called 'inconsistencies' of phrasing and articulation.  He abhorred the tendency to standardise these markings (the dreaded 'editing or performing by analogy') and instead decided to gain the rewards of being the advocate of this plethora of differences.  Schubert appears, to me, to work best in this way; his is a constantly evolving musical narrative – a sonic exemplar of the Heraclitus quote, "You cannot step twice into the same river; for other waters are ever flowing onto you".
Seen like this, Schubert's music loses much of its vulnerability to criticisms of excessive length, needless repetitions (what on earth are interpreters thinking about when they skip the repeat in the final sonata?!) or unimaginative recapitulations.  It is a tough task to develop one's memory and technique to incorporate and validate the constant changes in the music – but one that exposes a composer of even great stature, much like the restoration of faded Old Masters.  There is much to marvel at under the surface, myriad details that reflect the rhythms of speech or the textures of fine chamber music.
RB:  Which performances of Schubert do you most admire?
JL:  I particularly love Curzon's performance of the D Major and B Flat piano sonatas.  I also loved Richter's performance of the G Major Piano Sonata at the Royal Festival Hall many years ago where he played the first movement very slowly.  His interventionist approach to this first movement opened new worlds of expression and I try to encompass some of this at a more flowing tempo.  Strangely, I think that his tempi are wrong for nearly every movement – but I love hearing his performance of this work; Walter Gieseking, for me, goes even further in revealing the stature of the work.
RB:  I remember being at the same concert.  Which of Chopin's late works will you be performing at the Endgames recitals?
JL:  I will be performing the Barcarolle, Polonaise-Fantasie and the Op.62 Nocturnes.  I will also be performing some of the late Mazurkas and Waltzes towards the end of the cycle of concerts together with Beethoven's Diabelli Variations.
RB:  You will also shortly be embarking on a series of chamber music recitals with your daughters, Joy and Emma.  Can you tell us about them?
JL:  I have always performed with my daughters and we decided recently that it was time to concentrate more fully upon the trio repertoire.  Which is why we are starting (in November) by performing Messiaen's Quatour pour la fin de temps with the clarinettist Michael Whight(!).  As a trio, we are marking Beethoven 2020 with a Beethoven cycle and will also bring a Messiaen/Beethoven programme to the Southbank Centre in March.
RB:  How do you find performing chamber music with members of your family?  Is it easier or more difficult than practising with people who you know less well?   
JL:  It is extremely easy and hugely pleasurable; a discourse of equals.  In purely rhythmic or coordinative aspects, it is the easiest I have experienced and this leads to great spontaneity.  We have a great responsibility to each other and we feel that each concert is an event, something that is a snapshot in time of how we are all developing – or, in my case, ageing!  I sense that it is a symbiotic relationship that inspires us all equally.
RB:  You have been spending some time teaching recently.  Does this influence the way you approach different pieces of music?
JL:  I have been increasingly teaching adult amateur pianists and it is inspiring to see how important music is in their lives.  I have been teaching doctors and lawyers and they have helped me to look at music, texts or the body in fresh and new ways.  Different professions can develop radically different thinking skills and this is something that is very stimulating for me.  I can offer them my experience of how to learn fast, accurately, independently, authoritatively – and it is amusing how often they reply that it is simply a case of being honest and using professional values to gain the most valid results.  Confidence brings communication.
Given that my summer schools are now given in the glorious Le Vert in South West France – where you and I met those many summers ago – it brings us full circle in our discussion!
RB:  Thanks very much for talking to us.  Can I wish you all the best with the forthcoming series of recitals.