Angela Gheorghiu talks to Michael Cookson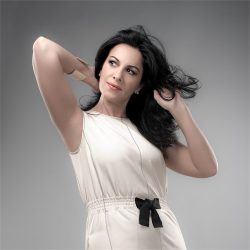 Clearly relishing the beautiful summer weather in Dresden, the day I met Angela Gheorghiu for interview at her hotel she was looking cool in her blue and white striped summer dress, straw hat and wearing sandals. Bringing her family with her the Romanian soprano was in rehearsal for a few days preparing for her appearance in her signature role as heroine Tosca in the revival of Johannes Schaaf production at Semperoper. This is my report (click here) from what was one of the finest performances I have encountered in an opera house, a special Tosca with Gheorghiu in imperious form.
I am sure many people can vividly remember in 1994 the BBC clearing its evening schedule to broadcast live from Covent Garden, Angela Gheorghiu's sensational performance as Violetta in La traviata. Conducted by her champion Sir Georg Solti one newspaper hailed her appearance as 'A Star is Born'. From that day I have followed the fortunes of this Moldavian soprano, a train driver's daughter, who married engineer Andrei Gheorghiu and was later rather publicly divorced from the temperamental French/Sicilian star tenor Roberto Alagna. Gheorghiu stated 'It's been quite an eventful ride'. Hailed as the successor to Maria Callas, The Sunday Times described Gheorghiu's voice as 'a liquid instrument of great lyrical beauty with gleaming spun-gold notes.' Was it really almost a decade ago that from the comfort of my Odeon cinema seat I watched the live stream from Royal Opera House with Gheorghiu in her prime singing the title role in Cilea's Adriana Lecouvreur opposite Jonas Kaufmann? Her velvety, dark-tinged voice has a special quality that can move the stoniest of hearts and together with her refined acting ability she can command the stage. In my view I acclaim her as the greatest soprano of her generation. Gheorghiu is not only an exceptional singer and performer, she is noticeably bright and intelligent with a gift for languages, and a keen awareness of the traditions of her profession, but on meeting her it is the impassioned side of her character that stands out like a beacon.
My interview begins by mentioning the last time I saw her perform which was in the Staatsoper Berlin production at the Schiller Theater performing her signature role of Tosca. Gheorghiu was singing opposite an exceptional young tenor, Teodor Ilincăi as Mario. For my review click here.) It was only back in September 2016 and Gheorghiu quickly states that in her profession she enjoys being able to give talented performers opportunities and promote their career. She will point out to her colleagues, the intendent and conductor those with exceptionally talented voices and Teodor Ilincăi is one such example. 'I am in no doubt that I have this kind of nose.' I ask whether conductors can spot up-and-coming stars of the future? 'They can't always. Conductors have their own profession and we singers have our own.' My response is to ask if this is down to instinct and she agrees. Openly she acknowledges that in her private life she has made many mistakes in judging people and that professional lives and private lives are very different but where her profession as an opera singer is concerned, she doesn't make this type of mistake. 'When I say a singer is the best, it is true!'
Not surprisingly, Gheorghiu talks about having worked with her former husband Roberto Alagna for more than eighteen years, experiencing with him a partnership in her personal life and working professionally together regularly as a duo. A look at their performing schedule and discography demonstrates just how often they worked together. Gheorghiu says that it was Roberto's idea to sing together so regularly but her intention was to be a married couple rather than sing together. 'Being a married couple is not always the most suitable professional partnership, especially when working at the highest possible level. The best idea is to sing with one person not because you are married but because you want to make music with that person. These are very different circumstances as our private life is one thing and the stage work is another; they are completely different.' She can see this with the lives of her colleagues while Roberto for example is still of the same mind today, wanting to work with soprano Aleksandra Kurzak his wife. Gheorghiu believes for her this situation is wrong as she feels the need to have the liberty to make music with everyone and believes it is good for her music to be a free spirit. 'It's best to have a peaceful relationship at home rather than to let the professional one intrude.' She laughs when explaining that this is her ideal situation, but that the ideal situation doesn't always occur in life. This is a subject she is clearly happy to discuss as it occurred some years ago and is now able to look back on the experience, as there is no singer/partner next to her on stage. She admits having learned from it, but one senses the strength of the emotional pain it still brings. Gheorghiu reiterates that now she is 'A free spirit and feels liberated, able to judge matters more objectively. When the opportunity arises to encounter and help someone talented, I believe in trying to help them with auditions as opportunities in the opera world are so small.'
It was at this point that I reminded Gheorghiu that the following day Plácido Domingo was singing the title role of Nabucco in David Bösch's production at Semperoper, which is just over the road. She demurs warmly 'Yes, I hope to see him. Maybe tomorrow. I need to let him know that I'm here, you see opera singers don't really like surprises [she laughs] they prefer to know beforehand, and I want to be a good colleague.' (Click here for my report from the next day's performance of Nabucco and Domingo after the interval had to withdraw through illness.)
I am curious about the pressure cooker environment of the opera world that Gheorghiu works in, together with the scrutiny she is constantly under. Her response is tempered, saying 'I'm being used to this kind of pressure having started out so young. It wasn't really a surprise because everything that happened to me, I wanted to happen. All very quickly too. It was in 1992 when I first met Georg Solti and the La traviata at the Royal Opera House with him was two years later.' She agrees when I mention that it is hard to believe it happening today that in December 1994, television channel BBC2 interrupted its schedule for a live transmission featuring her as heroine Violetta in Richard Eyre's new production of La traviata under Solti from the Royal Opera House. It must have been a dream I say to her. But she plays it down. 'It wasn't really. People in the music world often say, nobody told me or what a surprise, but it wasn't a surprise for my career taking off like it did as I wanted it to happen and had worked for it.' Entirely focused, Gheorghiu clearly never thought even for a second that the success that happened wouldn't happen.
After studying for six years at the National University of Music Bucharest when 18 Gheorghiu started doing television and big concerts. Then between 18 and 24 the prominent roles began coming – Violetta (La traviata), then Butterfly, Anna Bolena and Magda (La rondine). 'It was absolutely clear that the Romanian public were used to large, significant voices.' With ultra-confidence she thought if she could achieve success in Romania then she could achieve it abroad. 'I was always sure', she explains. Another piece of luck happened when she was a student, which was marrying the son of an important musician, part of an elite family of musicians in Romania, and that is why she is a Gheorghiu. 'There were two brothers, the pianist Valentin Gheorghiu and Ştefan Gheorghiu a violinist, and I married Andrei, who is Ştefan's son.' Being part of this eminent family of musicians, who were friends of many of the world's finest musicians she explains was quite wonderful for her and so many people came to the house. She remembers Ştefan being on the jury when the American soprano Jessye Norman had won a competition in Munich and he came home telling us all about the world of music and in such detail too. Helpfully she heard all this music talk in her home, how to make a career, to understand the constraints and deal with people in the music world which was all so helpful. Gheorghiu stresses that Ştefan and the family still thank her for staying friends, for keeping the Gheorghiu family name, and maintaining the family's association with the music world whilst no longer married to Andrei.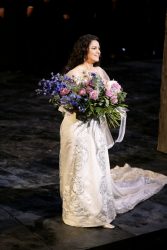 Probably Gheorghiu's most famous signature role is the tragic heroine Tosca from the Puccini opera. I ask her how she manages to keep her performances fresh and I find her response fascinating. 'I never sing in performance too often, although the media can give the impression that I'm singing all over the place, but I'm careful to balance how much I sing and take lots of breaks. I have high standards. I need to have meaningful productions and a good opera house in which to sing.' Gheorghiu is clearly selective and discriminating about the engagements she accepts. Singing Tosca all over the world she strives to fit in with modern, updated productions and understands modality but stresses a dislike for ugly and unreasonably difficult to understand productions. 'Everyone must know that when an opera singer signs a contract, we have the title Tosca by Giacomo Puccini written on the page and I must find the actual production of Tosca just as it is written in Puccini's score.' Following Gheorghiu's strong reaction to so-called 'updated' productions I describe to her the Michael Sturminger 2018 production of Tosca from Osterfestspiele Salzburg that I have seen (review click here). Sturminger moves the action from 1800, the time of Napoleon Bonaparte's victory at the Battle of Marengo, to a Mafia-like underworld of present-day Rome. Serving as a prologue to Act I immediately before the music starts in an underground car park, shots are fired, and sirens wail as Angelotti who is under arrest is being transported in an Italian Police vehicle, before being sprung in an ambush. Angelotti then runs up a metal spiral staircase to appear in the Church of Sant'Andrea della Valle. In Act II the twist is when Tosca stabs Scarpia with a large knife, she and the audience are supposed to think Scarpia is dead, but he is not. Later in Act III instead of throwing herself off the Castle ramparts, Tosca is startled to see an injured Scarpia appear and they simultaneously shoot each other with handguns. Tosca and Scarpia both fall down dead as the curtain closes.
Gheorghiu looks shocked and says she knows of this Sturminger production, seemingly incredulous why anyone would want to change this wonderful opera. 'No one would want to change or alter a Caravaggio painting. Along with Tosca we are talking about masterpieces here. If you want a different story, then you need to go to a different composer.' She asks me what I thought of the production and my response is that I have mixed feelings. Part of me thought it worked well. On the other hand, part of me feels it sacrilege to change a work of art like a painting, yet we do change our greatest operas.
Over the years I have heard mention of Gheorghiu performing the role of Desdemona from Otello. I wondered if this is a role she would sing. 'To tell you the truth I would like to sing the role of Otello more than Desdemona.' It seems she is saying that Otello is not only the starring role but also the better role. With Desdemona being the subordinate role maybe Gheorghiu doesn't wish to be deferential to the tenor who has the title role. She says that in the past that is why she didn't want to sing Gilda from Rigoletto, for instance. 'Like Desdemona the heroine's actions seem too stupid, they are the limit, the women can only explain their actions because they are in love with someone. They refuse to understand, making stupid decisions, they are the limit. In spite of everyone around saying things like, take care, watch out, be careful, the heroines refuse because they are in madly in love.'
Gheorghiu remembers the first time she was to sing in Otello, it was with Domingo in a new production at the Salzburg festival and Abbado was conducting. 'It was many years ago now and I had to cancel because I decided the role of Desdemona was too early for me. There are some roles that I have considered and are the next step which are Manon Lescaut and Elisabeth de Valois (Don Carlos) but I want to keep the freshness in my voice because if you use it in something very tough and demanding you lose the freshness and I don't want that. With my voice like it is today to sing the role Tosca I have to make more and more sacrifices, such as saying no and making people unhappy with that, c'est la vie. At my age I understand my limits and must be cautious so that no one can sing in my place. So, I'm glad that I have the possibility of singing new roles as well as the existing roles that I have been singing for years. It's not easy deciding which new roles to do. My regular roles in Tosca, Traviata and Bohème are the best roles, absolutely.'
Gheorghiu's viewpoint on the right time for opera singers to retire interests me. When I ask this, I sense her bristling slightly as if I am referring to her particular situation but actually, I am talking generally. 'Opera singers when they are young all commonly say that when the time comes, they will know when to retire. But when they do, typically they are so unhappy to leave the stage. They don't enjoy staying at home and miss being engaged and being on the stage.'
What fascinates me, too, is how a singer's voice changes over the years. I ask if her voice has changed? 'Not much. However, if anything it is more powerful, but it's hardly changed. Thinking back to Luciano Pavarotti and singers from a past generation, the factor he considered as being the most important was keeping the voice fresh. If your voice changes, it's not because something better is happening it's because something is wrong. When a singer has the possibility of singing the major roles you must have a very fresh voice. I prefer to have Aida and Tosca and all the big roles, and this even applies to tenors not just sopranos the importance of having a fresh voice to sing a role. I don't believe it's necessary to become a mezzo-soprano to sing Aida; I don't believe that. Also, physiologically sometimes women have a change of voice after giving birth. Sometimes a soprano can even become an alto or mezzo-soprano. My voice hasn't changed much as I have got older, slightly more powerful but I have more courage to give more to my performances. In the past I have been reluctant to give everything to my performances as if I wanted to finish my performances relatively fresh, as if I could almost sing it again straight after. I'm not tired after a performance, I don't want to be, and I don't want to damage my vocal cords.'
Undoubtedly, she is an extremely disciplined singer and is reaping the benefits. Gheorghiu says she sets herself extra rules for new roles. 'In my career I have said no, far more than yes, for offers of roles. Because I am always aware of my limits and also throughout my very demanding life, because when I was with Roberto everything was doubled emotionally; having to have my emotions doubled in every respect. Coping with all that was very hard because actually when you sing you feel you have a loss of power and draining of emotion.' At this point Gheorghiu becomes notably fervent. 'You see I am a very emotional person. My colleagues know this, but the public don't.' Highly sensitive? I ask. 'Oh, yes, very sensitive. Too much. On stage, too much. My colleagues all say I should try to be cooler or more composed. But I say how? How?' You can't change the way you are, I respond. 'No, I can't, because this is something inside of me. Like it's eating away inside. Everything I do, my costumes, my make-up, everything that I sing. I am emotional, but many others who are singing by comparison are empty inside. I have said to some, wake up. They can be this kind of cool on stage, but I certainly can't. It's not because I'm better than them, I cannot say that. It's because that's what I'm like. Everyone has their own character; everyone has their own way of dealing with things. I believe the public understand me, more than my some of my colleagues at times.' Gheorghiu talks about being let down in her professional life by certain colleagues even by some that she has helped a lot in their careers, an attitude which she doesn't understand and feels hurt by.
Gheorghiu has clearly been personally offended in her career and she brings up the subject of her sensitivity to criticism in the press. 'I don't know if critics generally know this but from 1996, I have made a point of never reading reviews. I really just want to see which picture has been used to accompany the review. I don't need critics to tell me my bad points which I am aware of better than anyone. Thousands of people, audiences write to me giving me their opinion and praise me. And trust me when I go on stage, I try so badly to always do my best. I never go on stage to do even the tiniest thing wrong. Who would want to face an audience and purposely do badly. When the public listen to an opera singer on stage the singer has undertaken many years of study and experienced auditions. It is the intendent of the opera house who has signed the contract with the singer and is in charge, so in effect he is responsible. Then the next fault is the singer's own colleagues and also the conductor. So, everyone in the opera house who have signed contracts have a joint responsibility. I try to explain that when a big artist makes a mistake it's not their fault, it's only human, it's an accident, so they should not have to make a statement about a slip-up. In addition, I'm also against audiences that boo an opera singer as it's humiliating in front of other people. If you don't like a performance, then I say don't applaud. I'm speaking generally when I say to offend a singer in front of their friends and colleagues is a horrible thing, this is an affront to someone who has made a mistake without deliberately wanting to.'
I ask Gheorghiu about the days of the claque – people hired to applaud or heckle especially in the era of Grand Opera – and she responds rather succinctly. 'Oh yes, back in time the claque in France and Italy, people who ask for money. But I personally have never encountered that. This sort of mafia style-approach to want to take money off artists is very wrong.'
In interviews if I have the opportunity, I like to ask performers about their concert rituals or particular routines. Some artists can be quite guarded about this aspect but Gheorghiu was happy to talk. She explains that her main routine is to sleep as much as she can on the day of the concert. 'I can't eat, it's not because of fear of the performance, it's just that I have no appetite. But what I do is to warm up my voice and I always do my own stage make-up, and these routines all help me in my overall preparation. Then I put on the dress and I'm ready to perform. It's as simple as that.' I wonder if she suffers from pre-performance anxiety. 'I have nerves of course but I'm not sure if they are good ones or bad ones, and excitement too. I try to put all that into my performance, put them into my overall sound to make it all feel alive. The text is never just words to me, I have something to say and together with the music it's part of me. It's a desire to impress and please everyone which is the reason that I go on stage. The reason to be an opera singer is to please and to entertain audiences, that is my aim and why, at 14, I started out on this career. It's important to be myself in music that has been sung by the stars before me. I am aware that to do my best, I don't sing too loud, or too high and I try to make my performance as theatrical as possible, because I believe in theatre. I don't have or have never had a pianist, coach or vocal teacher because everything I learn myself, from the age of 18 I've been my only teacher.'
On a lighter note I ask about any amusing episodes that she has experienced on the stage. Immediately Gheorghiu says 'On two occasions I've missed my entrances completely. Once I was in my dressing room and nobody called me, so I missed my entrance in La bohème and again it also happened in Carmen. At Covent Garden they stopped the performance and at The Met, New York they continued the performance without me (laughing).' On another occasion there was a concert for my friend Luciano Pavarotti it was at Modena and during the concert I was singing La Wally and in the orchestra there was complete mess in the middle of the aria and I was unaware whether to continue or to stop. So, I decided to say stop and my good friend Franco Zeffirelli who I adore, was in the front row stood up and shouted "Brava Angela". Yes, it was a mistake in the orchestra, this can happen in performance. Another occasion that she found extremely amusing was again with Luciano Pavarotti at the Hollywood Bowl, Los Angeles. After the concert she was backstage with Roberto, and Luciano explained he was planning an all-tenor concert and that she could perform too as she is better than a tenor and must be there. She explained laughing 'He meant that I have the same mentality as a tenor.'
I am curious if Gheorghiu has ever sung in English, and am taken by complete surprise when she says 'when I was eighteen I sang this on television in Romania.' She begins to sing me a few lines from the Henry Purcell song 'Music for a While'. 'You see at school we learnt English, German, Italian and French.' I ask her if she had been taught Russian in Romania, but she explains there was no Russian as it was the generation before her who were supposed to learn Russian. 'Actually, now I'm sorry that I didn't learn Russian as it has another alphabet, Cyrillic script, and I know that it would have helped me singing Tchaikovsky for example. You know that in my career I have sung in twenty-eight different languages including Chinese, Russian and Greek but it's very tough as you need to learn from the beginning. Now I prefer to sing in the languages that I understand perfectly. If I sing in Russian, well it's not the same as I need to know the full details, the meaning of the words, that's my view.'
Looking at Gheorghiu's future plans there appear to include more Tosca performances in Johannes Schaaf's staging for the remainder of 2019 into 2020 at Semperoper, Dresden, and then Tosca directed by Alvis Hermanis at Staatsoper Berlin in 2020. Gheorghiu announces to me that she has recorded in the studio a recital album containing new repertoire with pianist Alexandra Dariescu that is be released later this year on Decca. 'As you will know this is a very exposed way of recording without an orchestra as a partner, so it's just me and the pianist, which is a way that I love to record.'
Michael Cookson
For more about Angela Gheorghiu click here.