United Kingdom Fleabag (written and performed by Phoebe Waller-Bridge): Directed for the screen by Tony Grech-Smith and broadcast live from the Wyndham's Theatre, London, to Cineworld Basildon, Essex, 12.9.2019. (JPr)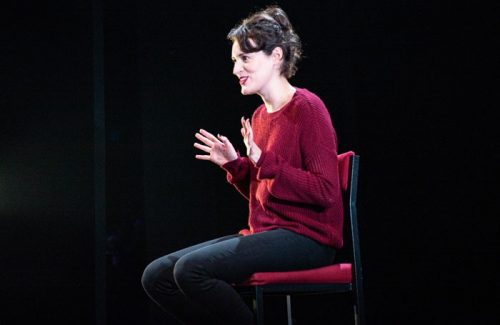 Production:
Director – Vicky Jones
Designer – Holly Pigott
Lighting designer – Elliot Griggs
Sound designer – Isobel Waller-Bridge
I was slow to 'embrace' the cultural phenomenon of Phoebe Waller-Bridge and the world of her creation, Fleabag. I still have never seen the first BBC series but was captivated by the second one. That was something of a TV sensation, but its success was superseded by all the buzz surrounding – what she followed this up with – her writing for the first season of Killing Eve. In that two women – one an outré female assassin and her female pursuer is the other – have a love-hate relationship that is clearly more love than hate. The significance of her involvement is clearly illustrated by the fact that Killing Eve's second series was not quite as good as its first because the writing duties were given to others. Recently Waller-Bridge has been asked to help improve the script of the, seemingly beleaguered, new James Bond film, No Time to Die.
Fleabag began as a one-woman show at the 2013 Edinburgh Fringe Festival before coming to London's Soho Theatre and, more recently, a short run at the SoHo Playhouse in New York. In mid-August the multi award-winning play settled in at the Wyndham's Theatre in the West End for the 30 performance that Waller-Bridge claims will be her last. All tickets for the run were sold as soon as they became available and it was thanks to the enterprising National Theatre Live that those without a ticket could see Waller-Bridge's performance live from the theatre to their local cinema and at a cost somewhat cheaper than visiting London's West End. At the Cineworld Basildon there were two full cinema screens and I am sure this success was replicated everywhere in the world Fleabag was being shown.
The premise is a simple one and there are no gimmicks in Vicky Jones's staging. What we see – in Tony Grech-Smith's often extremely close camerawork for the screen – is Waller-Bridge in her cosy red sweater sitting bathed in light on a stool.  She rarely moves off it and during Fleabag's 70 minute or so duration there is nothing added apart from a few lighting and sound effects, as well as, an occasional disembodied man's voice. The premise is that Fleabag is being interviewed for a new job, but it soon becomes an extended monologue as she talks directly to the audience in the theatre – or down the camera lens – in the way that is familiar from the TV series. It is not giving anything away to say that the interview does not go well and soon we hear one of the signature lines from the play as Fleabag explains 'I'm not obsessed with sex. I just can't stop thinking about it.'
Fleabag emerges as the bittersweet tale of one woman against the world with some laughs along the way as Waller-Bridge often challenges you to find funny something that perhaps – in other circumstances – you might not. This includes how her best friend, Boo, was been tragically killed in a road accident to leave her in sole charge of their guinea pig-themed café, which isn't making any money. Her thoughts turn to trying prostitution. Harry, her on-off boyfriend has left her once again and shows no sign of returning this time. She could ask her more uptight sister, Claire, for the money, but they are not that close and there was once an unfortunate incident with Fleabag and Claire's alcoholic husband, Martin. Her mother is dead, and her father is making a life – all too hastily for Fleabag's liking – with her godmother. As the play's blurb has it 'Fleabag may seem over-sexed, emotionally underdeveloped and narcissistic, but that's just the tip of the iceberg'. As the play continues her vulnerability becomes plain for all to see as her emotional state unravels before our eyes.
What we see is the 2013 original and perhaps a little updating might have been useful especially with a nod to #MeToo. For instance, her masturbatory thoughts about Barack Obama were rather outdated! Elsewhere there is lots about pornography, cocks, gangbangs, and arseholes that could offend those easily offended yet Waller-Bridge brings a certain air of innocence to uttering her words that is totally disarming. She charms you with a talent for voices and as a physical comedian: never more so than when flirting with her eyes on the tube with someone she hooks up with and describes – and portrays pinch-mouthed – as a 'rodent', explaining how he is only handsome from the eyes up. There are also standout moments – in more than one sense – as she discusses her late mother's large breasts and also reveals the tortuous gymnastics required in a toilet cubicle to feed an ex's obsession with 'selfies' of her vagina.
Waller-Bridge can move from one mood to another in the space of a few words and – as I wrote earlier – bittersweet is the lasting impression of something so brutally honest about the life and sexual mores of millennials. For all her obvious faults Fleabag is the friend many crave; doing the things we would never be brave enough to do; saying out loud the things we would rather keep to ourselves; whilst at the same time being fiercely loyal and someone you know you could rely on if necessary.
Jim Pritchard
For more about National Theatre Live click here.