New Zealand Mozart, Gao Ping, Janáček, Schumann: Tony Chen Lin (piano). Newberry's, Whangarei, New Zealand. 15.9.2019. (PSe)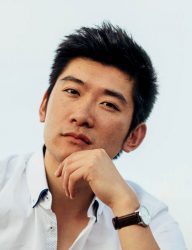 Mozart – Fantasy and Sonata in C Minor, K. 475/457
Gao Ping – 'Daydreams', a suite for piano
Janáček – Sonata 1. X. 1905 'From the Street'
Schumann – Fantasie in C Major, Op.17
Readers of my reviews of recitals presented by Whangarei Music Society in association with Chamber Music NZ might have noticed the change of venue. Newberry's has a large, light, airy room with a capacious dais at the front, comfortable seating for 300 or more, a decent grand piano, and spacious reception area. Compared to the Old Library, the acoustic is dry; nevertheless, for chamber music it is passable.
Born in China, New Zealander Tony Chen Lin (I'm not sure of his proper surname, so I'll just say 'Tony') studied at Canterbury University (NZ), Freiburg Hochschule für Musik (Germany) and the Liszt Academy (Budapest). As well as being an accomplished, mature and well-travelled pianist, equally happy as a recital soloist, chamber musician or concerto soloist, Tony is also a teacher, conductor and composer (see his website). Judging by the comprehensive, evocative and literate essays he provided, he is also a pretty good programme note writer.
Stylistically, I would describe Tony as 'emotive but not emotional', by which I mean that he permits himself the latitude to express emotions freely but, unlike some, doesn't 'agonise' over the keyboard – apart from looking down in extremely quiet moments he 'lets his fingers do the talking'. Although I am all for it, others may consider his attitude to 'latitude' a bit contentious. This recital's opening item exemplifies the point.
Mozart's Fantasy and Sonata in C Minor, K. 475/457 is a concatenation of two independently conceived pieces that, as the song says, 'go together well'. Tony's note suggested that they 'foreshadow Beethoven in their dramatic gravity and intensity of expression'. Judging by his performance, I would say it was rather more than 'foreshadow': sometimes sounding so Beethovenian that, when some reassuringly pure, undiluted Mozart emerged, I would feel a slight twinge of relief.
A cynic might suggest that Tony could have been deliberately 'playing up' the parallel. A couple of years ago, that cynic might easily have been me. However, last November I heard Ben Booker and the Northland Sinfonia play Mozart's Piano Concerto No.20 in a way that startled me. I commented, 'Never have I been made so aware of the evolutionary progression from Mozart to Beethoven: usually we hear only about Beethoven as a revolutionary, yet on this showing Mozart, if only he'd been blessed with a reasonable lifespan, might well have ended up as a participant in Beethoven's revolution'. So, if Tony surprised me more (which he did), it was only in degree rather than kind. Perhaps this is symptomatic of the (possibly surreptitious) emergence of a new Mozartian HIPP movement? Is the traditional portrayal of Mozart, even at his most strenuous, as all grace, elegance and pretty refinement being challenged? Well, why not 'Mozart with muscles'?
Tony's performance was simply tremendous. Certainly, he did allow himself some latitude, more 'romantic' flexibility of tempo than Mozart notated in his scores (we are all aware, are we not, that in those days composers left far more to performers' discretion than latterly?). It is to Tony's credit that he never sacrificed the flow of the argument, no mean feat when the music's nature is somewhat 'stop-start'. In fact, the sheer dramatic sweep of the performance was irresistible, from the blazingly fast first movement – which by dint of Tony's pin-point precision was not rushed but disarmingly fleet-footed – to his beautifully judged, subtly shaded second-movement Adagio, 'leisurely' as marked rather than languid.
Nothing could have been more contrasted than Tony's second item, written especially for this tour (it will get 14 performances in 3 weeks!). Gao Ping, whom Tony describes as '[his] good friend and former teacher, … one of China's most esteemed composers', explains his Daydreams thus, '[They] germinate from small, simple daily things … [that], though unimportant, nevertheless form the basic colours of our lives'. Apparently, Daydreams emulates Chinese literature's long tradition of 'quotidian vignettes', brief tales on mundanities, in which he who seeks may find hidden beauty.
Two of the six movements were dance interludes, though I would defy anyone to dance to the latter's rather Bartókian furiosissimo. Twilight flickered, its flurrying notes possibly hinting at the glinting lights of passing cars; Song without Words flowed, allusive of Debussy's impressionism, suggesting perhaps a casual gaze at drifting clouds – but justified by Tony's singing (rather mellifluously) the tune of a song whose words he had forgotten. Wind Prayers, chant-like, accompanied Tony's singing of a prayer which translated as, 'Come, wind' (a prayer, apparently, that anyone in Beijing might utter on a polluted day – on this occasion, I can confirm its efficacy). The highlight was a hilarious reflection on Man's love affair with the mobile phone, in which Tony intoned (not sang), with considerable feeling, the words of a man who has actually left his mobile phone on a taxi seat, but believes that his true love has jilted him for the cab-driver!
Janáček's Sonata 1. X. 1905 'From the Street' – or, at least, the two movements of it that by a minor miracle survived – is one of those works I have often heard of, but never heard. Dedicating his performance to the victims of the Christchurch mosque massacre, Tony gave a singularly moving performance. The first movement's motivic melody strained over a nervous left hand, crescendi boiled up, climactic surging and heaving made all the more intense by his astute balancing of the hands. In the rent loneliness of the second movement, its brief motive rang like bells of bone; the climax evolved feverishly into brutal chords over massive, rumbling bass. The final, extended tolling was played with supreme sensitivity.
Finally, we heard Schumann's Fantasie in C Major, Op.17, a work whose anguished first movement reflected the Mozart Fantasy. Schumann's anguish, of course, was occasioned by his enforced separation from his beloved Clara. Months later, when he was in a less depressed frame of mind, he added two movements looking to help raise funds for a Beethoven memorial and (we can conjecture) starting to dream of plans to outwit the implacable Mr. Wieck.
Tony, who here had latitude incorporated in the score, devoted his brilliant technique to exposing every corner of Schumann's expressive intentions. The first movement seemed an uncomfortably realistic cycle of raging fits – of passion and agony – yielding to periods of exhausted musing, provoking further eruptions of impotent fury. Tony imbued the second movement's bold march with considerable swagger, adeptly elucidating the myriad details twinkling in the woodwork, including, towards the end, a hint of the character of a bridal procession – this last would perhaps have been clearer had he not speeded up. Tony brought to the finale a wonderful sense of serene continuity, spinning a succession of cosy couches under the turning of the tender melody – a blissful sequence broken but once, by an optimistically assertive chordal climax.
The encore was as unusual as it was welcome, in that it was a piano duet. Perhaps wisely, to help him play the second of Schumann's Pictures from the East, Op.66, he invited the assistance of – and, indeed, played 'second fiddle' to – his lady-friend and companion on this tour, Yenting Wang. It was a lovely 'lollipop' to take home from this memorable, and quite revelatory, recital.
Paul Serotsky