United States BBC PROM 59 – Berlioz: Soloists, Monteverdi Choir, Orchestre Révolutionnaire et Romantique / Sir John Eliot Gardiner (conductor). Royal Albert Hall, London, 2.9.2019. (CC)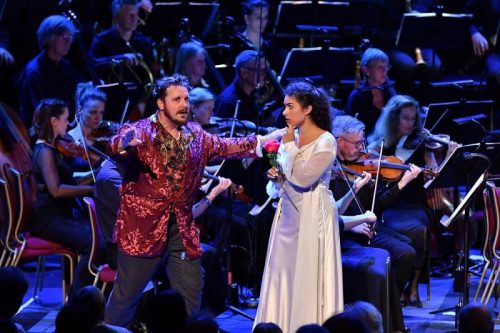 Berlioz – Benvenuto Cellini, Op.34 / H.76 (composite Paris and Weimer versions, compiled Gardiner, based on Bärenreiter New Berlioz Edition. Semi-staged).
Production:
Stage director – Noa Naamat
Lighting designer – Rick Fisher
Costume designer – Sarah Denise Cordery
Cast:
Benvenuto Cellini – Michael Spyres
Teresa – Sophia Burgos
Ascanio – Adèle Charvet
Giacomo Balducci – Maurizio Muraro
Fieramosca – Lionel Lhote
Pope Clement VII – Tareq Nazmi
Francesco – Vincent Delhourne
Bernardino – Ashley Riches
Perseus – Duncan Meadows
Pompeo – Alex Ashworth
Innkeeper – Peter Davoren
Berlioz's vast epic understandably doesn't get out much, given the demands on resources and, indeed, on stamina – but when it does, it tends to be memorable. I attended one of Sir Colin Davis' performances at the Barbican in 1999, with Sabbatini in the title role, also featuring Elizabeth Furtral and Robert Lloyd. The LSO recently issued a 10 CD + 6 SACD boxed set, Berlioz Odyssey (review), which included Davis's June 2007 account, with Gregory Kunde and Laura Claycomb, Robert Lloyd (again) and Laurent Naouri. Great line-ups all. Fast-forward to 2019, and a period-instrument performance under Sir John Eliot Gardiner of awe-inspiring scope. It comes as the climax of a multi-season exploration of Berlioz by Gardiner.
Gardiner's compiled score, based on the 1996 Bärenreiter Urtext New Berlioz Edition, is largely based on the 1838 version, with later 1852 Weimar revisions incorporated. Berlioz called Benvenuto Cellini an opera semi-seria, and indeed comic elements rub shoulders with the emotions and spectacle of grand opera. Receiving only four performances in the 1838/9 season at the Paris Opéra, it was nevertheless championed by Liszt, who revived the work in Weimar.
The piece is hugely ambitious, conceived and executed with characteristic aplomb and vision by Berlioz. Performing with the instruments of Gardiner's orchestra enables the rawness of sonority to make maximal effect. Having the orchestra stand for the Overture was immediately striking; close your eyes, though, and what was so striking was the woodwind detail available – much like restoring an old painting and seeing it suddenly in vibrant colour. Rasping horns added edge; coupled with superb oboe solos from Michael Niesemann, this set the tone of an evening full of vibrant life. The orchestra's contributions were pretty much faultless throughout, the brass full-bodied and imposing, the strings capable of staggeringly nimble negotiations. Special mentions also for the plangent but piquant cor anglais of Rachel Chaplin and the superb ophicleide of Marc Girardot in the 'Cavatine de Poirot' are in order.
Talking of colour, Rick Fisher, the lighting designer, made effective use of bathing the stage in a variety of lights, while stage director Noa Naamat used minimal props to good effect, even if the smoke and mirrors of the statue's creation demanded something of a leap of the imagination.
The role of Cellini is incredibly taxing. Tenor Michael Spyres is no stranger to taxing roles, his Berlioz Faust two years ago notable; his Mitridate at Covent Garden was also strong. This might have been the ultimate challenge, and Spyres certainly has a heroic edge to his voice, but is capable of great tenderness, too.  From his first entrance, vocal strength radiated. If there was some strain audible as the opera progressed, Spyres worked brilliantly with it to provide a stunning assumption of the role, his 'Sur les monts les plus sauvages' a clear highlight.
The female lead, Teresa, was taken by the Puerto Rican-American soprano Sophia Burgos, who has sung Anne Trulove in The Rake's Progress with Jurowski. Her 'Entre l'amour et le devoir' revealed a voice of both freshness and purity. The fact is, there were no weak links in the casting. As Fieramosca, baritone Lionel Lhote seemed to grow into his part, his tricky scene two 'Ah! Qui pourrait me resister' superbly negotiated. The strength of ensemble was immense: the rapid-fire, almost patter-song trio in the second scene of the first act between Cellini, Teresa and Fierrabosca was impeccable.
A Proms Debut Artist, lyric mezzo Adèle Charvet took the trouser role of Ascanio and stole our hearts, if not the show. She has great stage presence and fabulous vocal confidence. The opera kicks off with Balducci, grumpily preparing for an audience with the Pope – luxury casting here, with Maurizio Muraro, amazingly a Proms Debut Artist. A regular visitor to the Met (and bringing back memories of a fine Don Basilio Barbiere at Covent Garden in 2014), Muraro owned the stage as Teresa's father.
The Innkeeper is a comedic role, brilliantly nasal in Peter Davoren's reading while the Pope (Clement VII, since you ask) was the beautifully resonant Kuwaiti-German bass Tarez Nazmi, who has sung Philip II Don Carlo at St. Gallen, a mouth-watering prospect – he has the right voice for it. And Ashley Riches, who is nothing if not consistent in his excellence across music of all centuries, gave his all as Bernardino.
The Chorus inevitably plays a large part in proceedings, and the members of the Monteverdi Choir threw themselves into the drama, dancing, drinking, waving their arms hither and thither, all the time delivering perfectly balanced contributions, sometimes at high vocal velocity. Those moments were the most thrilling, superbly together no matter what physical pyrotechnics were being enacted.
What a BBC Proms season it has been so far; and the Vienna Philharmonic hasn't even arrived yet. And what a privilege to hear this Cellini and know that the very next night Bernard Haitink will give his last London concert (his last concert ever, apparently, will be given in Lucerne this month).
Colin Clarke