United States Donizetti, Don Pasquale: Soloists, Berkshire Opera Festival Chorus and Orchestra / Brian Garman (conductor), Mahaiwe Performing Arts Center, Great Barrington, 27.8.2019. (RP)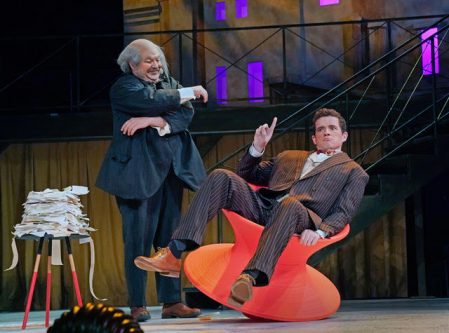 Production:
Director – Jonathon Loy
Sets – Stephen Dobay
Costumes – Charles Caine
Lighting – Alex Jainchill
Hair and Makeup – Beckie Kravetz
Choreographer – Stephen Agisilaou
Chorus master – Geoffrey Larson
Cast:
Don Pasquale – Craig Colclough
Doctor Malatesta – Emmett O'Hanlon
Norina – Deanna Breiwick
Ernesto – Matthew Grills
Notary – Siddharth Dubey
'That was wonderful!' the woman next to me exclaimed to no one in particular as the curtain fell on the Berkshire Opera Festival's Don Pasquale. It was indeed a delight, a frothy mix of bel canto and slapstick that kept me smiling for over two hours. Interspersed with the laughter, however, were scenes so touching that they brought a lump to one's throat.
The sight of Craig Colclough as Don Pasquale, a man in his seventies, spruced up and rejuvenated by the thought of domestic bliss and perhaps even children to fill his house, was heartwarming. He wasn't a delusional old fool but a Don Quixote pursuing an improbable and unexpected dream of happiness. Another such moment came when Deanna Breiwick as Norina looked at her 'husband' with an expression of tenderness and compassion, briefly ruing her harsh treatment of him. It was fleeting but real, and such moments elevated this Don Pasquale from melodrama to magic.
But when director Jonathan Loy aimed for laughs, he went for broke. The trio of male characters – Emmet O'Hanlon and Matthew Grills rounded out the cast – were light-footed, rubber-faced comedians of the first order. The zenith of their escapades was Colclough and O'Hanlon spitting out the Act III patter song with astonishing precision. The only thing missing was a bit of soft-shoe, although they hammed it up after the first go-round in true vaudeville fashion, earning a reprise of their tongue-twisting vocal acrobatics.
Coclough's curmudgeonly bachelor may have appeared fusty, but he spun vocal gold. He has a lyrical bass-baritone with a cavernous resonance to the lower range that gave Don Pasquale vocal bite as well as warmth. As Doctor Malatesta, O'Hanlon was the perfect foil to Colclough's Don Pasquale, with an ever-present devilish twinkle in his eye and a constant smile (sometimes a smirk) on his face. O'Hanlon's razzle-dazzle mix of voice and style perfectly suited Donizetti's charming con man.
Matthew Grills has a warm vibrato and the ping, or squillo, of a true Italian tenor. He also has mastered bel canto style: phrases arched beautifully, high notes boomed effortlessly and his voice throbbed with emotion. It was all the more delicious that Grills' Ernesto was a self-absorbed, preening, feckless dandy. This Ernesto left no doubt as to why Don Pasquale cut his nephew out of his will.
As Norina, soprano Deanna Breiwick assumed many guises – from a naïve and bashful convent school girl to a hellcat wife on a spending spree and a gamine-like dominatrix in black leather and stockings who both terrorized and titillated Don Pasquale with a teasing crack of her whip – and she was sensational in all. Precise coloratura, luscious tone and a decent trill are hers to command.
When Breiwick dropped her cape in the final scene, she was a vision in peach frills and flounces. Suddenly a red head, she brought to mind Beverly Sills (there is a publicity photo of Sills in an almost identical gown). I took it as a tribute to the great American diva, whose last role at the Metropolitan Opera was Norina. Given Garman and Loy's reverence and affection for the past, I can't help but think that I'm right.
The action was more or less updated to the turn of the twentieth century. The former was reflected in the costumes, while the chairs that served as the barometer of Don Pasquale's domestic happiness were the 'less'. His comfort zone was a worn recliner, replaced by a scarlet, modern sculpture of a chair when Norina bulldozed her way through his life. He didn't so much sit in the architectural wonder which resembled a spinning top, as flail about in a desperate attempt to maintain his equilibrium.
Multiple visual slights of hand were employed to create a sense of spaciousness on stage. A domed Italianate building loomed high above, serving no practical purpose but providing depth; and a platform, connected to the floor by a flight of stairs, ran across the width of the stage. A few sticks of furniture served for Don Pasquale's parlor, while Norina's boudoir was furnished with a vanity table and a screen draped with wigs and attire befitting a woman of many guises. An arbor with twinkling lights suggested the garden where young love triumphs.
Amazingly, the stage did not appear crowded even with the orchestra tucked off to one side. Loy knows how to keep an audience focused on the singers, as does Garman. The overture lacked some sparkle, but once the singers were on stage it all took flight. Garman kept the orchestra light and transparent while maintaining perfect balance and coordination between singers and musicians.
The chorus had its star turn in Act III when, as Don Pasquale's servants, they lamented the constant comings and goings in his house, marveled at the money being spent and took a certain amusement in the old man's predicament. Loy is as skilled at moving a chorus about the stage as he is at keeping the focus on the principals. As the scene ended, they descended from the stairs to the foot lights like a flock of ravens to harangue the audience. The motion and the music were perfectly in sync.
Perhaps it was the Shakespearean undercurrents to Colclough's Don Pasquale or the garden scene which could have easily served as Windsor Great Park, but never has the musical and dramatic arch that spanned from Rossini's Il barbiere di Siviglia to Verdi's Falstaff seemed so evident to me. Donizetti's comic masterpiece is smack in the middle of the three and, in the Berkshire Opera Festival's winning production, every bit their equal.
Rick Perdian