United Kingdom Vincenzo Lamagna (after Adolphe Adam), Giselle: Dancers of English National Ballet, English National Ballet Philharmonic / Gavin Sutherland (conductor). Sadler's Wells, London, 24.9.2019. (JPr)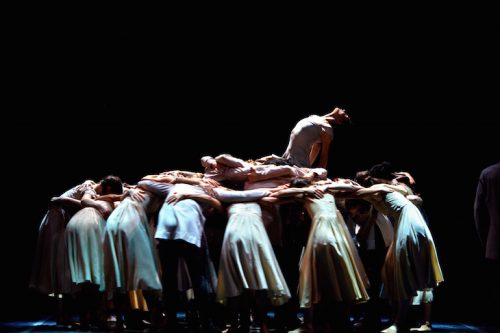 Production:
Direction and Choreography – Akram Kham
Rehearsal Director – Mavin Khoo
Visual design and Costumes – Tim Yip
Lighting design – Mark Henderson
Sound designer – Yvonne Gilbert
Dramaturgy – Ruth Little
Cast:
Giselle – Tamara Rojo
Albrecht – James Streeter
Hilarion – Ken Saruhashi
Myrtha – Sarah Kundi
Bathilde – Isabelle Brouwers
Landlord – Fabian Remair
Akram Khan's 2016 award-winning Giselle for English National Ballet is back in London for another sold-out run and more standing ovations as it continues to conquer the dance world. This is despite having also been seen in cinemas and available on DVD. Following performances in Auckland, Dublin and Hong Kong last season it will visit Madrid, Barcelona and Paris in coming months. Khan's eagerly awaited Creature for ENB arrives in 2020 and is – of course – inspired by Mary Shelley's Frankenstein.
The 'traditional' Giselle – we all know and love – was premièred in Paris in 1841 and since then it has become a fixture in the repertory of the world's leading ballet companies. Act I begins in a bucolic Rhineland village at harvest time populated by happily smiling grape-picking peasants. One of them is Giselle who has won the heart of the nobly born Albrecht who is in disguise and living among the villagers. Ultimately he betrays her, and she dances herself to death. The second act took its inspiration from the legend of the Wilis as recounted by Heinrich Heine. They were young brides-to-be who died before their wedding day and cannot rest peacefully in their graves so that each night they must rise at midnight to dance and take their revenge on any passing man.
I have highlighted before that Ruth Little, Khan's dramaturge, explains how this reimagined Giselle retains 'the narrative structure of the 19th-century … and adapts it to the circumstances of a community of migrant workers ("the peasants" of the original version) … The impulse to renew the story of Giselle is rooted in the precarious situation of migrants and refugees everywhere today'. Also, how 'Khan's revision of the story draws a connection between Manchester, centre of the global textile industry in the 19th and early-20th centuries, and Bangladesh, birthplace of Khan's parents…'. Little concluded that their Giselle 'is a work of rituals and cycles, suffused with the memory of movement, the violence of inequality, and the resilience, capability and desires of the human body.'
Vincenzo Lamagna's rather over-amplified orchestral music – with added electronic sound effects and hints of Adolphe Adam's original Giselle score – is often an honourable pastiche of the marvellous work for cinema of his compatriot, the legendary Ennio Morricone. Because of some additional vocal elements during Khan's boisterous Act I 'folk dance', what is heard could have come straight out of The Good, The Bad and The Ugly. I do not tire of repeating that, as before, it was impeccably played by the English National Philharmonic under music director Gavin Sutherland.
Dominating an otherwise bare stage is Tim Yip's huge wall which can flip over menacingly and represents a monolithic class barrier – with its haunting image of handprints spattered across one side – separating the haves (factory owners) from the have-nots (workers). The migrant factory workers push at the wall as Khan's Giselle begins and when left alone on the stage at the end Albrecht does this too. Giselle is part of this community of 'Outcasts' whilst Albrecht – who pretends to be one of them – is, in fact, one of the wealthy Landlords who we first encounter, outlandishly dressed, late in Act I after a factory hooter blares (a representation of Giselle's original hunting horn). The local garment factory is closed causing the Outcasts to seek work by migrating elsewhere. Albrecht's duplicity is only apparent as Act I draws to a close and he rejects Giselle even though she is carrying his child. Hilarion – who is described as 'a shape-changing "fixer"' – is torn between the worlds of privilege and poverty mainly because of his infatuation with Giselle.
For me, despite appreciating the wonderful sense of community Khan has created, the movement in Act I is so full-on and relentless that it is easy to overlook some of the storytelling that this Giselle still needs. (This can be often due to often rather gloomy lighting.) Lost in the throng is when Giselle becomes aware that the dress Isabelle Brouwers's haughty Bathilde – Albrecht's real fiancée – wears is one she made and, even more crucially, if you looked away at the wrong moment it is possible to miss the revelation that Giselle is pregnant. Nevertheless, a standout moment remains when we see Giselle drowning in her emotions amongst the Khan trope of her compatriots' linking and writhing arms.
Khan employs a movement language which is uniquely his own; there are the hand gestures of Kathak fused to a restless physicality with its moments of balletic virtuosity and lyrical mobility. Occasionally it alludes discreetly to choreography we recognise, as well as, references to the passing of the shuttle during loom weaving.
In Act II the Wilis are the ghosts of factory workers who according to Ruth Little 'have laboured, and too many died'. Their bamboo canes 'refer to the structure of the hand loom and early weaving machines' that were superseded by mechanisation whose sounds infuse – or more rather haunt – Lamagna's score. Highlighted by their first appearance, the Wilis generate a real sense of menace and foreboding that during this act is gripping and visceral.
The Wilis are an intimidating coven dominated by a 'Queen', Myrtha, who towering en pointe 'resurrects' Giselle. They use their bamboo – that they often hold in their mouths or bang on the stage – as weapons to wreak their vengeance on unwary men. They dance very little apart from forming the lines familiar from the (original) ballet blanc Wilis, whose music is frequently heard in this much more musically lyrical act. Hilarion arrives to seek forgiveness. He is confronted by a furious Giselle and we learn (spoiler alert) how she dies after being brutally raped by Hilarion. He is now remorseful as it seems he truly did love her. Hilarion is sentenced to death and dies from blows delivered by the canes.
Albrecht has appeared, almost unnoticed, during all the drama of Hilarion's brutal murder. Albrecht has his own poignant sorrowful solo at the start of Act II. His interaction with Giselle has many references to her as the elusive vision in a 'traditional' Act II. Giselle ultimately resolves to spare Albrecht from suffering the dreadful fate that befell Hilarion and this requires her to confront the implacable Myrtha. As the last vestiges of 'life' appear to drain from Giselle as she is cradled in Albrecht's arms, she retains just enough strength to impale herself on one end of her cane with Myrtha on the other. They disappear into darkness as the wall descends a final time to shut Albrecht out from the underworld.
Tamara Rojo was once again Giselle and – if understandably she does not now tackle all her former roles – this is one she appears capable of performing for as long as may wish. Leading her own company from the front there is currently little evidence of any diminishing of Rojo's considerable technical prowess. She brings all her experience of dancing in more familiar Giselle productions to her affecting portrayal of the wronged young migrant. As before she was strongly partnered by James Streeter in the slightly under-choreographed role of the conflicted Albrecht. Maybe it was just me, but he seemed to have found an increased depth of emotion and a clearer willingness to show Albrecht has seen the error of his ways. (Perhaps Khan has revisited this character during intervening years?).
Previously Hilarion was performed by the talented Cesar Corrales (who has subsequently somewhat vanished into the ranks of the Royal Ballet), but Ken Saruhashi brought a greater sense of clarity to Hilarion's motivations than I appreciated before and spun, tumbled and leapt to exhilarating effect. Sarah Kundi caught the eye as Myrtha even though she was significantly less glacial and domineering than Stina Quagebeur who created the role. The entire company remain on top form and, as ever, tirelessly dance this modern masterpiece tremendously well with confident and secure technique.
Jim Pritchard
For more about English National Ballet's forthcoming performances click here.