United Kingdom Massenet, Werther: Soloists, Orchestra of the Royal Opera House / Edward Gardner (conductor). Royal Opera House, Covent Garden, London, 17.9.2019. (JPr)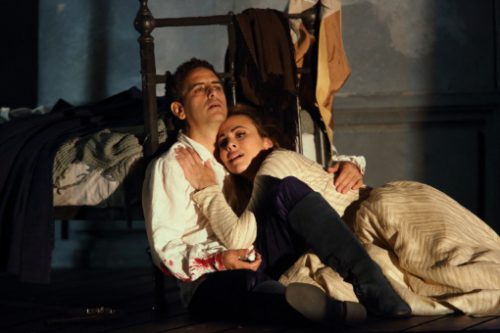 Production:
Director – Benoît Jacquot
Revival director – Andrew Sinclair
Set designer – Charles Edwards
Costume designer – Christian Gasc
Lighting designer – Charles Edwards
Cast:
Werther – Juan Diego Flórez
Charlotte – Isabel Leonard
Sophie – Heather Engebretson
Albert – Jacques Imbrailo
The Bailli – Alastair Miles
Schmidt – Vincent Ordonneau
Johann – Michael Mofidian
Käthchen – Stephanie Wake-Edwards
Brühlmann – ByeongMin Gil
After his 1884 Manon Massenet's compatriots changed their tune and instead of referring to him as 'the daughter of Gounod' they called him 'Mademoiselle Wagner' because of his perceived 'Germanisation'. That same year Massenet had a Werther libretto he could work with and in 1885, he began its composition. The opera is based on Goethe's loosely autobiographical novel The Sorrows of Young Werther. Its eponymous 'hero' is a rather feckless late eighteenth century German courtier who is prone to bouts of melancholia. The lovesick poet becomes infatuated with Charlotte, the eldest daughter of a widowed Bailli (Bailiff) who oversees a large estate at Wetzlar in central Germany near Frankfurt. (It was at Wetzlar where Goethe stayed for four months in 1772 on a visit that inspired his novel.) Charlotte and her younger sister, Sophie, have been left alone to raise their six siblings: crucially Charlotte made her dying mother a promise to marry Albert who – somewhat conveniently – is not around at the start of the opera. In post-#MeToo 2019 Werther probably would have been ordered to see a therapist or more likely Charlotte would have left her boring husband, Albert, and eloped with Werther to live happily ever after … or for a little while at least. However, in the nineteenth century that often wasn't possible for those in the audience for Massenet's 'drame lyrique' who were in similar romantic situations.
Crucially in 1886 Massenet went to Bayreuth and possibly saw Tristan und Isolde then – or at least he knew the opera well – because his Werther scenario mirrors that story of forbidden love: a man loves a woman, the woman is already betrothed to another, the man is fatally wounded as the woman rushes to be with him to confess she loved him all along. For Wagner the lovers are Tristan and Isolde; for Massenet they are Werther and Charlotte. In Werther there is the subtle use of leitmotifs underpinning the appearance of a character or reminding us of their conflicting emotions. Equally Wagnerian is the fevered romanticism and dense chromatism of Massenet's score. For a deliberate homage to Wagner you can hear the 'Forest Murmurs' from Siegfried throughout the 'Christmas Eve' orchestral interlude between Acts III and IV.
The opera's plot, therefore, is basically straightforward and intimate and all else is in the music with nothing more needing further explanation or illustration. Benoît Jacquot's 2004 production now gets only its third revival in 15 years. Against a cyclorama initially blue in Act I but now greyer (than before?) in Act II there is little to look at in the first act apart from a high wall and huge gate or in the second act a low wall with a gap for some steps leading away. Act III takes place indoors in a sparsely furnished room with only the obligatory harpsichord, a writing desk, as well as, a small table. Act IV is by far the most interesting with its La bohème-like garret which – in a coup de théâtre – emerges from the distance with snow gently falling because it is Christmas Eve. This happens rather cinematically as if we were beginning in longshot and going in for a closeup of the opera's tragic denouement.
There is an unfinished novel by Jane Austen that has been updated for a television adaptation currently having much success on ITV and although Werther is set in Germany, the sets, costumes, and relationships between the characters made me feel I was watching an operatic version of Sanditon. Austen's heroine is Charlotte Heyward and coincidentally – for me at least – her equivalent in Werther is also called Charlotte. After Massenet's opera had only one performance in 1894 it was not seen again at Covent Garden until 1977: indeed, the opening night of this Werther revival was only its 43rd performance there. At the time of writing many tickets remain unsold for the remainder of the run and that is a shame because this was one of the best evenings I have seen and heard recently from the Royal Opera. The late finish cannot help ticket sales as it is a long evening and with two intervals it really should have begun at 7pm (as before).
The tenor in 1894 was Jean de Reske; according to Clair Rowden in the programme George Bernard Shaw described him as an 'intelligent and diligent tenor of natural grace and distinction who made the roles [of Werther and Gounod's Roméo] his own by subtle characterisation, giving sensitive and beautiful renditions. For Shaw the perfection of his artistic integrity was equalled by his vocal prowess.' This perfectly describes Juan Diego Flórez in the title role who sings with considerable intelligence and unfailing musicality and there was a beauty to his singing that was the perfect antithesis to some of the 'can belto' I have heard too much of – at Covent Garden and elsewhere – in recent seasons. He brought much reflective and expressive shading to his arias, especially, his show-stopping Act III 'Pourquoi me réveiller?'. As Werther dies, Flórez movingly allowed the colour to drain from his voice as all good Mimis do in La bohème. He can hardly be blamed for any blandness in his characterisation of the lovelorn poet since Massenet really doesn't give his tenor much to work with. My only criticism of Flórez would be that – at least on this first night – his voice was lacking some tenorial heft.
Isobel Leonard was making her Covent Garden debut as Charlotte and was able to look like the 20-year-old she was supposed to be. In Act I Leonard was believably a flighty young girl – albeit one that is promised to another – who after her marriage must conform to the mores of the time and become the dutiful wife. This means that there must be a certain distance between her character and Werther; Leonard portrayed this well and only gave into her true feelings for him when it was rather too late and Werther was dying (spoiler: having shot himself with a pistol borrowed from Albert). Leonard's singing throughout the final two acts, as passion battled with regret, was overwhelming in its sincerity and commitment.
Because everything in Werther focusses on the 'will they-won't they?' relationship of the leading two characters everyone else cannot help but be overshadowed, especially since they all virtually vanish in Acts III and IV. The sparky Heather Engebretson was an absolutely delight as Sophie; Jacques Imbrailo sang robustly – with only the occasional hint of warmth – in the thankless role of the strait-laced Albert and this one-dimensional singing is more the composer's fault than his. Vincent Ordonneau (Schmidt) and Michael Mofidian (Johann) enjoyed themselves hugely as the local drunks and Alistair Miles was paternal and bluff as the Bailiff. He gets little to do apart from rehearsing his children in a Christmas carol and on this occasion the enchanting sextet of children would have given the Von Trapp family – who they share some first names with – a run for their money.
If this was a chance for Edward Gardner to 'audition' for the role of music director if Antonio Pappano finally relinquishes the post at the end of the 2022/23 season, then the Royal Opera should sign him up immediately. For me the orchestra has rarely sounded as good and Gardner's account of the score had a distinguished grandeur that never sank into over-sentimentalised or unduly mournful pomposity. There was some lovely orchestral detail and – as the production mostly succeeds in doing – Gardner kept all the overblown emotion carefully in check until cranking up the tension as the melodrama built inexorably to its tragic conclusion.
Jim Pritchard
For more about what is one at the Royal Opera House click here.