United Kingdom BBC Prom 75 – Last Night of the Proms: Jamie Barton (mezzo-soprano). BBC Singers. BBC Symphony Chorus. BBC Symphony Orchestra / Sakari Oramo (conductor). Royal Albert Hall, London, 14.9.2019. (MMB)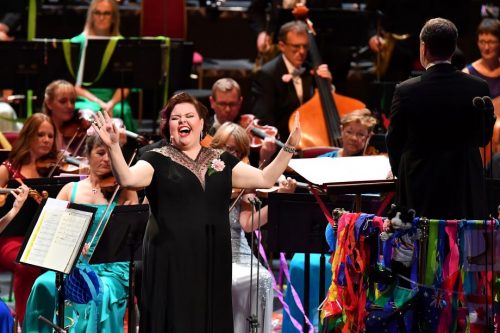 Included music by Daniel Kidane, Manuel de Falla, Laura Mvula, Elizabeth Maconchy, Edward Elgar, Georges Bizet, Camille Saint-Saëns, Giuseppe Verdi, Jacques Offenbach, Percy Grainger, Harold Arlen, Henry Wood, Thomas Arne and Hubert Parry.
The Last Night of this year's Proms ended a season that marked the 50th anniversary of the first human beings who landed and walked on the Moon, as well as the 150th birthday of the Proms founder and conductor Henry Wood. According to the programme notes, Wood gave over 700 premieres during his career. An astonishing number, which must be some sort of record.
The evening began with a new piece, Woke, by Daniel Kidane, commissioned by the BBC and performed for the very first time. It is a short, vigorous work with a rousing finale but it is not a 'comfortable' piece that one can listen to and relax with at the end of a working day. Kidane says himself in the programme notes that behind his urge to create an energetic piece was the wish for a subtle message – for us all to be more 'woke', concerning awareness of social and racial justice. He fully achieved his goal and started the Last Night with a bang. We were all then wide 'awake' and ready for the evening, which this year – not in terms of the music but of the audience – seemed a little more political than usual, with the number of EU flags clearly outnumbering the Union Jacks. Of course, one could be cynical and say it was because Promenaders (dressed in blue T-shirts with the catch phrase 'Thank EU for the music' printed on them) were offering free EU flags outside the Hall before the concert started. However, on the other hand, one only accepted a flag if one wanted it. The Promenaders were not being forceful.
I have been to various Last Nights before but never was there such a sea of blue with gold stars or such a sense of urgency in showing that music shouldn't have any borders and can unite people of all colours, backgrounds or nations. There was a special, palpable energy pulsating through the audience that I have seldom witnessed. It fully came to expression in the second half of the evening. It was touching, electrifying and contagious. I found impossible to resist the wave of warmth and enthusiasm emanating from everyone and engulfing the hall, transforming the public in a unique body of people standing together, from the gallery to the stalls and the arena, united by music; no divisions or arguments. I must say I was rather moved and allowed myself to be taken by the flood in a way that I had never done before.
After Kidane's new piece, we had Manuel de Falla's Suite No.2 from The Three-Cornered Hat ballet, setting the scene for a Spanish theme, confirmed later with Bizet's Carmen and Verdi's Don Carlo. Falla was followed by a charming rather short piece, named 'Sing to the Moon' by Laura Mvula. It is a song and, in this arrangement, was performed by voices only for the first time at the Proms. It is exquisitely beautiful and was movingly sung with grace and sensitivity by the BBC Singers. I found myself wishing it would last well longer than the brief four minutes it took to deliver it. Then came Proud Thames by Elizabeth Maconchy. The piece is not well known, and I must confess I had never heard it before. It was performed for the first time at the Proms, which, bearing in mind Maconchy died in 1994, is quite astonishing. It is an evocative, rather rich piece, almost cinematic in bringing the river to life through the sound of music. It is a fascinating, alluring work and if you have never seen the River Thames running through London you might be forgiven for thinking it must be stunning, with crystalline waters happily singing between its shores. The BBC Symphony Orchestra and Sakari Oramo clearly relished the piece and gave a superb performance of it. This was followed by another precious little gem, sadly too brief once again. It was Elgar's Sospiri (Sighs), which as the name indicates left everyone sighing for more. It is a tender, delicate and heart-breaking piece. The music penetrates the skin and leaves you sad and full of longing. It was perfectly performed with tangible feeling and emotion by the BBC Symphony Orchestra led by the excellent Oramo.
After the above, we came to the special guest of the evening, the extraordinary American mezzo Jamie Barton. She is the owner of a marvellous voice with a hint of darkness in the lower range, clear, powerful, warm high notes and an inherent dramatic quality. To top it, Barton is also an expressive actress and delivered one of the best, seductive Habaneras I have ever heard. Her performance of Bizet's famous aria 'L'amour est un oiseau rebelle' (Habanera) from his opera Carmen has seldom been topped. The audience's thunderous applause and shouts of bravo seemed to almost surprise Barton. She appeared genuinely touched and overwhelmed at the welcome, staring in awe at the impressive packed Royal Albert Hall. After that, she had us all at her feet. Carmen was followed by another femme fatale, namely Delilah with the beautiful and passionate aria 'Mon Coeur s'ouvre à ta voix' from the opera Samson and Delilah by Saint-Saëns. Again Barton did not disappoint. Her rendition was as superb as it was beautiful, ardent, tender and with a darker edge that made her singing breath-taking. Needless to say the audience were on their feet again. Then, followed the celebrated bravura aria for Princess Eboli, 'O don fatale', from Verdi's Don Carlo. Jamie Barton was simply spectacular. I dare say it has hardly ever been sung better. The first half of the concert concluded with the Triumphal March from Verdi's Aida, a rousing and striking performance of the BBC Singers, the BBC Symphony Chorus and the BBC Symphony Orchestra with Oramo in dazzling form.
The second half brings of course the anticipated and world-famous festivities of the Last Night of the Proms that make it so unique. It suitably began with the exciting, lively Overture of Orpheus in the Underworld by Jacques Offenbach. It saw the Promenaders jumping up and down, others dancing on their seats and even Oramo attempting at lifting his legs can-can style during the relevant part of the music. This was followed by a curious, unusual piece, performed for the first time at the Proms and composed by Percy Grainger – 'Marching Song of Democracy'. It is a loud, stirring work and somehow it gives one the feeling the arrival of democracy is unstoppable. Having originally come from a country crushed under a fascist dictatorship for forty-eight years, I felt a strong affinity with this piece. It resonated particularly with me and gripped the audience with its at times outrageous sounds. Again the BBC Singers, the BBC Symphony Chorus and the BBC Symphony Orchestra with Oramo gave an outstanding, spirited performance of it.
After the overwhelming, unstoppable 'March of Democracy', Jamie Barton returned to the stage to sing 'Somewhere Over the Rainbow' from Arlen's music to The Wizard of Oz. What can I say? Her singing was brilliant and she was as comfortable with the microphone as she was without it during the opera arias in the first half. Her rendition was moving and of great beauty. I dare say (at the risk of offending her fans) that not even the young, wide-eyed Judy Garland sang it better than Barton in this instance. She followed it with a sassy, vivid interpretation of Gershwin's fabulous and irresistibly 'danceable' 'I Got Rhythm' from Girl Crazy. Then came the traditional part of the evening with Henry Wood's Fantasia on British Sea-Songs but before it, Oramo paid tribute to the founder and conductor of the Proms. Jamie Barton returned once again to sing Arne's 'Rule Britannia!' and I must admit that it was one of the few times when I truly enjoyed it, as Barton just couldn't help it and sang it extremely well. She probably doesn't even know how to sing poorly!
After 'Britannia', followed Elgar's Pomp and Circumstance March No.1 in D major ('Land of Hope and Glory'), giving the audience the opportunity to sing their hearts out…twice. Fun aside, I have seldom experienced it sung with such heartfelt emotion. There was then Parry's 'Jerusalem', followed by The National Anthem in the Britten's arrangement, which always makes it sound like a truly exceptional piece of music. Finally, and to end in near tears begging for more, the audience joined hands, as well as the BBC Singers and BBC Symphony Chorus, and we all belted out the traditional, sad but somehow touching 'Auld Lang Syne'.
It remains to say that the BBC Symphony Orchestra and Sakari Oramo were splendid throughout. He is a good conductor for the Last Night and plays along with the audience, giving them much to enjoy. His speech was brief but important, pointing out the power of music as a force to heal and unite that has no borders or boundaries. Even if Oramo hadn't said it, it was patently obvious that this is the case. No matter how often I will visit the Last Night of the Proms, I cannot help but marvel at how so many different nationalities, without division or prejudice, come together at the Last Night to enjoy music and sing all the songs and anthems that used to only signify British nationalism but, I feel, today mean only celebrating music and singing in an international environment of like-minded people. The BBC Proms 2019 Season ended with a unique, seldom experienced atmosphere at the Last Night. Long live the Proms. I for one, cannot wait for the 2020 festival to arrive.
Margarida Mota-Bull