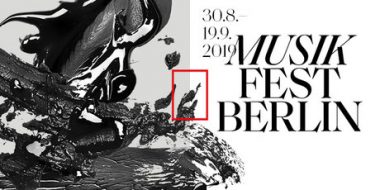 Germany Musikfest Berlin [9] – Lachenmann and Strauss: JACK Quartet (Christopher Otto, Austin Wulliman [violins], John Pickford Richards [viola], Jay Campbell [cello]), Junge Deutsche Philharmonie / Jonathan Nott (conductor). Philharmonie, Berlin, 15.9.2019 (MB)
Lachenmann – Tanzsuite mit Deutschlandlied

Strauss – Ein Heldenleben
It is extraordinary to think that Helmut Lachenmann's Tanzsuite mit Deutschlandlied, written in 1979 and 1980, is now almost forty years old; or perhaps, on reflection, it is not. When one considers how much Lachenmann, still considered dangerously outré by many fifteen or twenty years ago, is now not only accepted but welcomed and even loved as a grand old man of German music, and indeed the world's, it makes a good deal of sense. (It happens to them all.) The play between familiar material – a brief spoken and musical introduction involving the composer will have rendered it so to all – and what we, in the midst of its disintegration and reintegration, might consider its pasts and futures is not, Lachenmann advised, comical (komisch) but rather cheerful (heiter). The distinction can be a fine one, most likely lost in my attempt at translation. It was not, however, lost in this excellent performance from the JACK Quartet, the Junge Deutsche Philharmonie, and Jonathan Nott. Nor was Lachenmann's opening, Stravinskian acknowledgement: 'Wir Komponisten sind Parasiten' ('We composers are parasites'), referring not only to his use of Deutschlandlieder (Haydn, Bach, and others) but his remodelling of Morton Feldman's The Viola in My Life into a version of his own 'the music in my [German, bourgeois] life'. Indeed, he proceeded to acknowledge the Christmas Oratorio's 'Pastoral Symphony' as a song not only of his Existenz but his Heimat. (Think Edgar Reitz and Hermann Simon, if you will…)
A classic, then, of musique concrète instrumentale and of German music's self-reckoning received a performance worthy of such classical status, without losing any of its immediacy and excitement. The quartet's opening play with material from Haydn's imperial hymn left open the question of deconstruction or reconstruction: why not have both, and more? It also, crucially, bade us listen intently, as if pre-empting the late music of Lachenmann's teacher, Luigi Nono. So too did the full orchestra, when employed, its make-up at any one time constantly changing, yet never quite rejecting the concerto grosso-ish line-up. Webern's example was surely heard in the expert (both in work and performance) passing of lines between instruments, although the outcome rightly felt very different. Metrical transformations and restatements proved just as important as those of melody or harmony; this is, after all, a dance suite. Indeed, one had the impression almost of melodic lines rushing to grasp hold of metres, being carried forward upon them, transformed and yet also restated by them. When music from the gigues of two Bach French Suites is given the Lachenmann treatment, is it the gigue (an acknowledged dance in the ninth of the work's seventeenth parts) or Bach's notes that will endure? Does that question even make any sense? Even if it does, should one be asking it at that time? It was quite a ride, both immediate and mediated.
Lachenmann's enthusiasm for Strauss's Alpine Symphony is well known. I do not know what he thinks of Ein Heldenleben, but it made for a fascinating companion-piece: a self-reckoning of its own, of course, often bizarrely misunderstood as mere egotism. Nott seemed especially keen to emphasis the piece's symphonic qualities, the opening section 'Der Held', perhaps slightly slower, even sturdier, than often one hears, insistent in its grounding of the E-flat major to which it will, to which it must, return. Like Lachenmann in its way, it bade me listen. Not that there was any want of colour from the excellent young players, but this was clearly not intended as an orchestral showpiece. The opening of 'Des Helden Widersacher' was in turn quicker than is typically heard, affording greater contrast that yet had clearly evolved, even if one could not quite say how, from preceding material.  'Wir Komponisten sind Parasiten'; wir Kritiker auch… An organised chaos of carping woodwind melodies seemed almost to prefigure the birdsong of Messiaen, albeit with considerably more negative intent. Throughout these and other contrasts, Nott ensured continuity of line and sound, which is not to say unexciting, communication of fundamental harmonic rhythm, which far too often can be lost in performances of this music.
The concertmaster's solo in 'Des Helden Gefährtin' showed both dramatic flair and eminently musical phrasing: in a sense, emblematic of the performance as a whole. So too was the depth of orchestral string tone, which yet never overwhelmed nor came close to doing so. That was not the point – and the musicians, Nott certainly included, knew it. For there was similar depth to his conception of the piece overall: not necessarily without irony, but understanding that irony will better be expressed through underlying seriousness of purpose. The closing sections brought both a symphonic sense of arrival and, very much in Beethoven's Eroica footsteps, further development. Indeed, Strauss's invention here registered with uncommon skill; too often, this music finds itself unwittingly belittled as mere winding down or tailpiece. A dignified, close, nothing exaggerated, furthered poignancy that arose from the notes and the connections between them, affording apt comparison and contrast with the thinking, writing, and performance of Lachenmann.
Mark Berry