United Kingdom Prokofiev, Mozart, Alex Woolf, Beethoven: Elizabeth Watts (soprano), London Mozart Players / Howard Shelley, Jane Glover, Hilary Davan Wetton, Gerard Korsten (conductors). Phoenix Concert Hall at Fairfield Halls, Croydon, 18.9.2019. (JB)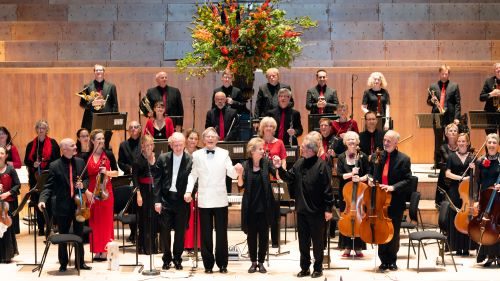 Prokofiev – Symphony No.1 in D, Op.25 'Classical'
Mozart – Two arias
Alex Woolf – Fairfield Fanfare (new commission, world premiere)
Beethoven – Symphony No.7 in A, Op.92
A wonderful gala opening! Glitzy and for the most part wholesome. Red carpet for royalty and Simon Callow delivering a long, boring diatribe. This actor has shown evidence of considerable intelligence on stage and film, but no matter what he affronts – roles, essays or speeches, it is always underscored with unavoidable pomposity. 1,800 seats – all of them taken! Prosecco drinks parties before the show and at the interval for press, friends and supporters of London Mozart Players – young and old in these crowded celebrations – the Mayor of Croydon in full regalia, Sarah Jones, Labour MP for Central Croydon and Martin Corney, Chair and CEO of the Whitgift Foundation. And many more I couldn't identify. An excruciating, ear-splitting junior school percussion band which drowned out most attempts at conversation. Seriously misplaced, whatever its merits.
Howard Shelley conducted Prokofiev's 'Classical' Symphony. His baton is as neat and tidy and well-shaped as his pianism – the role in which he has most frequently appeared with the LMP. Mr Shelley has made this gentle, somewhat satirical piece his own. His performance has that essential requirement of looking backwards as well as looking forwards. Easier said than done. But with an artist of Howard Shelley's order, every bar fell into its admirable, natural place.
We arrived in serious trouble with the two Mozart arias on the programme. Louise Alder was indisposed, and her place was taken by Elizabeth Watts who was trained at the Royal College of Music – a fine institution with outstanding singing teachers. However, Ms Watts appears to have three separate voices – for high, middle and low registers – each of which sits uncomfortably with the others. She has sung Zerlina in Don Giovanni and Susanna in Le nozze di Figaro, both light roles which call for little other than considerable vocal charm. Vocal charm was at a premium and to put it very simply, these Mozart arias are not for her.
Mozart used to play his own keyboard obbligato part with the Irish-born soprano, Nancy Storace (1765 – 1817), the younger sister of composer, Stephen Storace, for the aria, 'Ch'io mi scordi di te?' K 505, which part was beautifully played by Howard Shelley, the whole woven together with Jane Glover's baton. The LMP are truly at one with this frequent conductor, whose corners are always turned with musical elegance.
Even more trouble for Ms Watts in the Idomeneo aria, 'Zeffiretti, lusinghieri'. The Italian Mozart soprano, Eva Mei, is married to conductor, Gerard Korsten, and I wonder whether the LMP approached Maestro Korsten (who conducted the Beethoven symphony) to persuade his wife to step into this emergency. Ms Mei won the International Mozart Competition (her mother was her excellent teacher) in the 1990, giving her engagements with all leading theatres.
The young composer, Alex Woolf, explains in a programme note that the Fairfield Fanfare explores the particular musical energy and commitment which he has always enjoyed in the London Mozart Players. The piece is explosive, brief, and a sheer joy, energetically conducted by Hilary Davan Wetton. A good time had by all – audience and players.
But for me the real highlight of the evening came with Beethoven's Seventh Symphony in the second part. The relationship with the players and Gerard Korsten is truly astonishing. Only Antonio Pappano has this kind of relationship with his players. Maestro and orchestra are one. And this was the moment where all one thousand eight hundred of us became aware of the hall's unique acoustics. The walls themselves were talking to us. This was a moving back into an old and much-loved home. Every nuance was equipoise.
Suddenly a chamber orchestra had become a symphony orchestra. The 'conversation' between horns and double basses into the mysterious Allegretto was hauntingly beautiful. The orchestra is predominantly strings (8/6/4/4/2) with double woodwind, two horns, two trumpets, timpani. They are as skilled at listening to one another as chamber music players. Not a single passenger in this band! This was always the tradition from the first days with founder-conductor, Harry Blech. But it is the handloom weaver himself – the conductor – that must weave into a whole this exceptional talent. And Maestro Korsten's weaving together the diversity is a key element of the magic.
When Beethoven conducted the first performance himself in Vienna in 1813, he was obliged to encore the famed second movement – at the end of the four movements. We, the audience, did everything to try to bring this about. In an ovation, all the conductors of the evening and the players were brought back three times. But Gerard Korsten had clearly been made aware that late night transport was not as ideal as it might be in Croydon. So no encore.
But no one can ever take away a memory. The BBC recording of this concert will be made available on BBC Radio 3 on 4th October at 7.30pm and thereafter for 30 days on the new BBC Sounds app. This will not, of course, give you the Phoenix Concert Hall acoustics. For that you must pray for a repeat within the hall itself: hall talks to players talks to audience!
Jack Buckley
For more about what is on at Fairfield Halls click here.