United Kingdom BBC PROM 74 – Beethoven Night: Handel, Beethoven, J S Bach: Elizabeth Watts (soprano), NDR Radio Philharmonic Orchestra / Andrew Manze (conductor), Royal Albert Hall, London, 13.9.2019. (AS)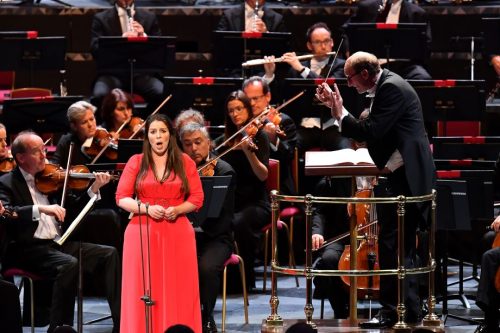 Handel (arr. Manze) – Music for the Royal Fireworks
Beethoven: – Concert aria, 'Ah! Perfido', Op.65; Fidelio – Overture; 'Abscheulicher!…Hoffnung, lass den letzten Stern'; Symphony No.5 in C minor, Op.67
J S Bach (orch. Elgar) – Fantasia and Fugue in C minor, Op.86
The NDR Radio Philharmonic Orchestra, based in Hanover, is not to be confused with the NDR Symphony Orchestra, based in Hamburg. The latter is the older, better-known and more prestigious body, but as it showed on this occasion the Radio Philharmonic Orchestra is itself a fine ensemble, excellent in all departments and with a particularly impressive, firm and even-toned brass section. Andrew Manze has been its Chief Conductor since 2014.
Previously, it was advertised that the performance of Handel's Fireworks music would be played in a version arranged by Manze himself, but the printed programme contained no such information – in fact there was no information at all about the version to be used. What we heard, in fact, was an efficient arrangement for a modest-sized symphony orchestra, lacking of course the 24 oboes, nine horns, nine trumpets, 12 bassoons, three sets of timpani and so on originally specified by Handel. Since the work was played in full-orchestra guise it seems a pity that Sir Hamilton Harty's splendid and once famous arrangement was not used, given the fact that Sir Henry Wood conducted it at the Proms on many occasions, and it could have been part of this year's series of celebrations to mark Wood's 150th birth anniversary. The performance under Manze was splendidly robust, forthright and thoroughly enjoyable on its own terms.
Enter the soprano Elizabeth Watts, resplendent in a vivid red dress, chosen perhaps to match the subject of a forsaken woman torn between anger and helpless love, as portrayed in Beethoven's concert aria 'Ah! Perfido'. Of this scena Watts gave a strikingly dramatic account. Not only did she sing with great feeling, but with superb technical control and a beautiful tone quality.
Elgar doesn't pretend to be faithful to the original organ work in his orchestration of Bach's Fantasia and Fugue in C minor, but he does convey its majesty and gloriously uplifting quality in his scoring for large orchestra, including all manner of unlikely percussion instruments in the Fugue. Manze's realisation of the Fantasia was perhaps a little too smooth, too much legato, but the Fugue was played in very vigorous fashion and made a splendid din.
After the interval and a sprightly performance of the overture to Beethoven's Fidelio, Elizabeth Watts reappeared, this time in a dark blue dress, to sing the 'Abscheulicher' from the same opera. Again, her performance was notable for its dramatic nature, its purity of tone and technical control and she well conveyed the combination of rage tempered by calmer moments depicted in the music.
Finally, we heard an account of Beethoven's Fifth Symphony whose drive and energy predictably produced an audience ovation. Yet it was also oddly unsatisfactory. At once the cutting short of the customary fermata at the end of the opening phrase gave an indication of things to come. The basic tempo of the first movement was well-judged, but there was a sense of hurry and the quality of the music-making was not exciting but excitable. The basic stability of the music was challenged by it being continually pressed forward. And so things continued throughout the performance: there was little tension or gravitas in the Andante; the fugue in the third movement sounded merely busy rather than monumental, and the finale seemed too easy on the ear, fast and furious, almost hysterical. The feeling of a great symphonic argument triumphantly resolved was not conveyed. Repeats were observed throughout the work.
As an encore Manze conducted two movements, 'Lentement' and 'Bourrée' from the Second Suite of Handel's Water Music. His conducting had vigour, strength and rhythmic vitality. What a pity those qualities had not been so evident in the Beethoven symphony.
Alan Sanders