Germany Der Ring des Nibelungen [2] – Wagner, Siegfried, Götterdämmerung: Staatsopernchor, Staatskapelle Berlin / Daniel Barenboim (conductor), Staatsoper Unter den Linden, Berlin, 26 & 29.9.2019. (JMI)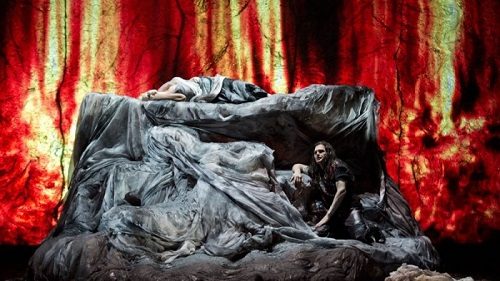 Production:
Direction – Guy Cassiers
Sets – Guy Cassiers and Enrico Bagnoli
Costumes – Tim Van Steenbergen
Lighting – Enrico Bagnoli
Casts:
Siegfried
Siegfried – Andreas Schager
Brünnhilde – Iréne Theorin
Wanderer – Michael Volle
Mime – Stephan Rügamer
Alberich – Jochen Schmeckenbecher
Fafner – Falk Struckmann
Erda – Anna Larsson
Woodbird – Serena Sáenz
Götterdämmerung
Brünnhilde – Iréne Theorin
Siegfried – Andreas Schager
Hagen – Falk Struckmann
Gunther – Roman Trekel
Gutrune – Anna Samuil
Waltraute – Ekaterina Gubanova
Alberich – Jochen Schmeckenbecher
First Norn – Anna Lapkovskaja
Second Norn – Ekaterina Gubanova
Third Norn – Anna Samuil
Woglinde – Evelin Novak
Wellgunde – Natalia Skrycka
Flosshilde – Anna Lakpovskaja
The third opera in the Staatsoper Berlin's Ring cycle, Siegfried, was wonderful: magnificent music and excellent vocal performances by the two main protagonists. As in the first two operas, the production is by Guy Cassiers. I had the opportunity to see it and write about it three years ago, and my opinion remains unchanged (review click here).
With his brilliant reading, Daniel Barenboim proved again that he is the greatest conductor of Wagner today. I will never forget his conducting in Act I and, especially, in the third act. The Staatskapelle Berlin gave a superb performance under his baton.
Andreas Schager was Siegfried, as he had been three years ago in this production. It requires a true superhero to overcome all the difficulties and demands of the character, and Schager achieved that with a broad, bright voice and no problems of tessitura. Simply put, he is a terrific Siegfried. Iréne Theorin interpreted the part of Brünnhilde, and she gave a good performance, as she always does. There was some excessive shouting in her singing, and I wondered why she needed to finish the opera with the top note, when she had problems there before.
It was a luxury to have Michael Volle in the role of the Wanderer. The great Wotan of today, he has a wide, attractive voice and is an outstanding interpreter as well. The Mime of tenor Stephan Rügamer was nicely sung, but I missed a more vivid stage performance. Jochen Schmeckenbecher is a real specialist in the part of Alberich, and his scene with the Wanderer at the start of Act II was especially intense.
Anna Larsson was Erda, and I still think that her voice is not what the character requires. She is a mezzo-soprano, and I prefer a real contralto in the part. Fafner was played by Falk Struckmann, who did well, as did Serena Sáenz as the Woodbird.
With Götterdämmerung, Der Ring des Nibelungen and my stay in Berlin came to an end. While the opera was marvelous overall, it fell slightly below what I had expected in both vocal and musical terms. The cast was not the same as three years ago, and the changes have not always been for the better. Once again, it was the Guy Cassiers production, which I had previously covered: (review click here)
Expectations run high when one comes to Berlin to see the Ring cycle, largely due to Barenboim's presence in the pit. To this one might add the fact that three years ago he was at his most brilliant in Götterdämmerung. This has not been the case on this occasion, although it must be said that it was still an outstanding interpretation; there is the objective result, and then there is the comparison with what one is anticipating. For my taste, he was at his best in the final act; however, his tempi were excessively slowed in Act I, the longest first act I have ever attended (two hours and four minutes).
Brünnhilde was again interpreted by Iréne Theorin, who always sings and acts with intensity and who would be one of the greats in history except for that shouting of the high notes. Everyone can give this detail the importance they choose, and I recognize that for me it matters a lot.
Andreas Schager was the best in the cast, amazing from beginning to end. Everything was resolved with ease, including the terrifying story that precedes his death where I have seen more than one tenor have huge problems. This was a performance to keep in one's memory.
Hagen was played by Falk Struckmann. This character needs to convey evil and threat, and that is achieved with the voice of a pure bass. Struckmann has always been a baritone, although he has lost, as happens with so many, his highest notes.
Gutrune was sung this time by soprano Anna Samuil, who is too light for the character; her voice runs well, but I prefer a more important voice than hers. Roman Trekel as Gunther fell short in vocal terms, and one missed Boaz Daniel, who sang the role three ago.
But I really liked the performance of Ekaterina Gubanova as Waltraute: the scene of the two sisters was among the best that this evening offered. Gubanova has a well-suited voice and sang with plenty of expressiveness and emotion: a splendid performance.
Good too was Jochen Schmeckenbecher as Alberich; he sang his scene with Hagen at the start of Act II perfectly. The three Norns were played by Anna Lapkovskaja (who also played Flosshilde), Ekaterina Gubanova and Anna Samuil, and all were good. Finally, Evelin Novak, Natalia Skrycka and Anna Lapkovskaja as the Rhinemaidens were faultless.
The audience gave a rousing reception to the artists in the final bows, with the biggest ovations and cheers for Daniel Barenboim, the Staatskapelle and Andreas Schager.
José M. Irurzun