United Kingdom Handel, Agrippina: Soloists, Orchestra of the Age of Enlightenment / Maxim Emelyanychev (conductor). Royal Opera House, Covent Garden, London, 23.9. 2019. (AK)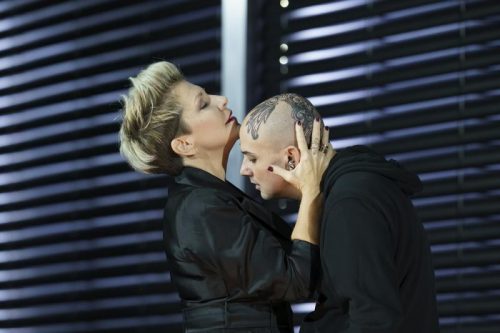 Production:
Director – Barrie Kosky
Set designer – Rebecca Ringst
Costume designer – Klaus Bruns
Lighting designer – Joachim Klein
Cast:
Agrippina – Joyce DiDonato
Nerone – Franco Fagioli
Pallante – Andrea Mastroni
Narciso – Eric Jurenas
Lasbo – Jose Coca Loza
Ottone – Iestyn Davies
Poppea – Lucy Crowe
Claudio – Gianluca Buratto
We were treated to some astonishing singing but Barrie Kosky's production, as well as the performance, was puzzling and contradictory.
The star attraction is soprano Joyce DiDonato in the title role. There is nothing puzzling and contradictory about her. She fully inhabits the taxing part of Agrippina which she delivers with virtuosity both vocally and dramatically. DiDonato's energy and resources seem endless, her evident joy of being on stage is infectious, and her communication with the audience is ever present, whether by clear action or subtle gestures.
In the opening of Kosky's production Agrippina and her son Nerone are presented as ever so close, possibly with sexual intent. Nerone also appears to be a freak and somewhat mad. Yet the words of the libretto tell us that Agrippina wants her son to be the next Emperor. Why? Does the possibly illicit love between mother and son blind Agrippina or is she after power by becoming the mother of the Emperor? For me such a strange representation of Nerone makes Agrippina's determination for him to be Emperor puzzling.
Kosky's characterisation of Agrippina at the end of the opera is also puzzling. After wearing attractive feminine dresses in Acts I and II, in Act III Agrippina appears in a suit. Why? Has she changed tactics in fighting the men around her – until then doing it by feminine cunning with sexual innuendos and promises – by becoming one of them? Agrippina achieves her ambition, her son Nerone becomes the Emperor. Kosky treats this victory as no reason for celebration. Handel celebrates Nerone becoming the Emperor and the marriage of Poppea and Ottone with the chorus 'Lieto il Tebro increspi l'onda' (Let the Tiber ripple its waters).  Juno descends from Heaven to bless the happy couple and various dances follow. Kosky opts for an altogether different ending. The music is a slow orchestral movement with an oboe solo from Handel's L'Allegro, il Penseroso ed il Moderato. We see Agrippina pensively and sadly retiring to her chamber and sitting motionless. Kosky may regard achieving the wished for power as something lonely and sad but this is not what Handel and his librettist wrote.
The Royal Opera dispensed with its regular orchestra for Agrippina; we had the Orchestra of the Age of Enlightenment in the pit. They are a period ensemble, their string players use gut (as opposed to metal strings in modern ensembles of any size). Gut strings are not only authentic for Handel but they produce mellower sounds than metal. Ironically, Rebecca Ringst's set for this Agrippina production is a metal box which expands into various directions during various scenes and which rotates a great deal during many of the scenes. A long metal staircase is also an important feature: the singers are required to go up and down several times. Unfortunately going up and down, that is often running up and down on this metal staircase, creates quite bit of metallic noise. The set itself also creates its own metallic noise while rotating around. Yet the orchestra in the pit plays on gut to avoid a harsh sound on their instruments. The contradiction is bewildering.
The orchestra did their best to be heard in spite of their relatively small number compared to ROH's regular ensemble. For instance, three double basses were spaced out strategically in three parts of the orchestral pit, violins sat in the middle instead of the side and the two oboes were immediately up front next to the conductor. I certainly heard them in the stalls. But I am not sure if the solo singers still had good audibility while they were far too often on the top of the metal box that is at least 30 meters above the pit (and while they were running up and down on those metal stairs). For whatever reason, to my ears, singers and orchestra did not blend into an integrated ensemble: they seemed to just co-exist. It is possible that the fault lied partly with the young Russian conductor, rising star Maxim Emelyanychev.
Emelyanychev seemed to favour faster than fast tempi. For instance, the slow introduction to the Overture lost its strength in its repeated dotted rhythms, while the Allegro section was unplayable and inaudible in Emelyanychev's speed. The notes were of course played but had no chance to be heard and digested as musical sounds. I was also puzzled as to what musical style was followed. Baroque hemiolas (that is two bars of three being emphasized as three bars of two) were stressed strongly like in the tutti cadences in Claudio's aria 'Cade il mondo' but elsewhere romanticism seemed prevalent. Melodic solo cello lines were played with each note getting full value and warmth, rather than following traditional Baroque musical diction.
Baroque style was represented by countertenor Iestyn Davies (singing the part of Ottone). But let alone the style, he delivered superb musicality of the highest order throughout. This, in turn, made his character fully credible. Countertenor Franco Fagioli managed to portray Kosky's image of a camp and lunatic Nerone, and brought the house down with his virtuoso rendering of 'Come nube che fugge dal vento'. Bass Gianluca Buratto is fine on all fronts but the part of Claudio may not be within his vocal register: he almost did not make some of his very low notes. Soprano Lucy Crowe, on the other hand, had occasional problems with her top notes but with the amount of notes she had to sing it is no wonder if some did not come off. Hats off to Crowe for delivering an enjoyable rendering of her taxing part of Poppea.
Kosky seemed to have focused a great deal on portraying the individual characters in the plot. To my mind, he overdid the stupidity of the men (while evidently paying tribute to the apparent strength and resourcefulness of the women). Kosky did not shy away from elements of farce and what some might regard as fairly cheap jokes. In the scene where Poppea played off three men against each other, the doorbell was represented by a very loud and harsh quote of 'Hallelujah' (from Handel's Messiah). Was this fun or somewhat tasteless intrusion into the Agrippina score? I laughed at each appearance of this bell sound as I also did when at one point in her rise to power Agrippina turns into a pop celebrity and she (DiDonato) sings 'Ogni Vento' with a microphone to the gallery. On reflection, I recall these moments as unnecessary intrusions.
The audience loved the performance as I also loved much of the singing. But for full enjoyment of a Handel opera I long for more than metallic structures on stage. Furthermore, I need strong rhythm in the musical direction, as I experienced in the Handel operas conducted by Charles Mackerras at English National Opera some forty-five years ago.
Agnes Kory