United Kingdom Knussen, Britten, Tchaikovsky: Julia Fischer (violin), London Philharmonic Orchestra / Vladimir Jurowski (conductor), Royal Festival Hall, London, 27.9.2019. (CS)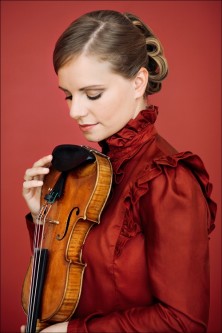 Knussen – Scriabin settings for chamber orchestra
Britten – Violin Concerto Op.15
Tchaikovsky – Symphony No.6 in B minor Op.74, Pathétique
The programme that Vladimir Jurowski assembled for the opening concert of his penultimate year as Principal Conductor of the London Philharmonic Orchestra was characteristically astute in construction and included works which reflect his own personal musical concerns.
Britten's Violin Concerto was 'representing' the LPO's 2019 Isle of Noises series, which comprises 'landmark classics inspired by the British Isles 1689-2019'.  Well, the Concerto was written during 1938-39 while Britten and Pears were in the US and Canada, and it was premiered in New York by the Spanish violinist Antonio Brosa, under Barbirolli, on 28th March 1940.  But, no matter if the Concerto doesn't quite 'fit the theme', it's a work which – along with Britten's Cello Concerto and the Double Concerto for Violin and Viola – Jurowski has frequently advocated, and which he recorded in 2018 with Arabella Steinbacher on the Pentatone label.
It's also a work in which rhythmic and structural devices – ostinato and Britten's trademark passacaglia form – take precedence over melodic and harmonic arguments, although the soloist's opening solo, above a bassoon ostinato, is striking and the concluding Passacaglia has some surprising, troubling harmonic twists.  As always, Jurowski evinced an assured appreciation of the architecture of the work, communicating this with economical precision and punch.
The conductor's structural discernment was equalled by that of violinist Julia Fischer, whose vision of the work was confident and sure.  In the first movement, Moderato con moto, Fischer took charge from her first entry, with Jurowski quelling orchestral outbursts.  Fischer's playing was astonishingly precise and unruffled, her intonation immaculate and her tone bold.  Incisiveness seemed the touchstone, especially in the cadenza of the Vivace second movement, which seemed hungrily to imbibe the energy generated by the preceding, mammoth orchestra climax and launch off with super-charged intensity.
But, Fischer's intensity is prevailingly of the cerebral kind.  I found her performance technically remarkable but emotionally rather cool.  The structure was commandingly delineated, but I hear more emotional and tonal variance in the work.  Fischer's authority was consummate, the stratospheric harmonics of the cadenza remarkably true; but the 'wildness' of the Vivace was, for this listener at least, rather too controlled, the devilish dance never threatening us with a crazed release.  The subsequent Passacaglia did possess a deeper emotional freedom and intensity: the waltz variation unfolded with nuanced lilt, and Jurowski conjured dark brass colours.  Fischer's poise in the ambiguous closing section made this disturbing music, which fades into quasi-inconclusiveness, quite compelling.
What I missed, however, was a strong sense of communication between soloist and orchestra.  Not once did Fischer give any indication, visually, of her response to and involvement in the orchestral 'background' – I hesitate to use the term as it certainly is not 'just' a canvas for the soloist.  Of course, I'm not suggesting that Fischer was not musically engaged – she could not have given a performance of such conviction had it been so – but frequently she seemed to be wholly absorbed in the development of the violin's own material, contained within an introspective sound-world.  Even in her encore, the Sarabande from Bach's D minor Partita, Fischer seemed somewhat 'cool', playing to herself rather than to us.
There are, of course, times when understatement and restraint are themselves richly communicative.  So, it was at the start of the Concerto, which opened, in a quasi-homage to Beethoven, with the quietest of timpani solos – so quiet once almost had to strain one's ear to hear. And, a similar self-possession and avoidance of heart-on-the-sleeve Romanticism defined Jurowski's leadership of Tchaikovsky's Pathétique.
Jurowski arrived at the LPO in 2007 (as Principal Conductor, after four seasons as Principal Guest Conductor), following a tenure at Glyndebourne.  In 2021, he will depart to become Musical Director of the Bavarian State Opera.  At the Royal Festival Hall, he characteristically conducted with minimal gestures of the utmost exactitude: so many small lightning quick flicks of the baton or hand that they'd gone almost before one had time to notice them, but each one telling and musically instructive.  I could almost imagine the RFH podium as being in a theatre pit, and Jurowski's rapid, microscopic directions ensuring absolute vocal and dramatic rigor on the stage above.
Jurowski's Pathétique explores dark places.  The divided double basses, violas and bassoon at the start of the first movement Adagio set the tone.  The Allegro con grazia did not sway, let alone swoop-and-swoon, the five beats in each bar not – as is frequently the case – subdivided into a clear 2+3/3+2, with an intendant tug on the heart, but rolling evenly, with Jurowski's hand movements diminutive if present at all.  The Allegro molto vivace was a long march building from quiet cold steps to a determined stamp to the death.  It was terrifying, all the more so because of Jurowski's stillness: feet and body remained motionless, but with increasingly charged shudders of the shoulders he compelled his players onwards with chilling power and authority.
The concert had opened with Oliver Knussen's five settings of selected piano pieces from Scriabin's seldom-played Opp.52-28.  Scored for chamber orchestra and lasting in total barely a few minutes, they make for a rather modest opener, but one which gradually draws the listener in through experimentations with colour and sound.  Jurowski clearly cherishes Knussen's lightly scored kaleidoscope, daring the orchestra to find the most delicate pianissimos which allowed the continuous evolving instrumental tapestry to unfold exquisitely.  The music sounded simultaneously as if by Scriabin and by Knussen.  But, to borrow from Virginia Woolf, 'the colour burning on a framework of steel; the light of a butterfly's wing lying upon the arches of a cathedral' was all Jurowski's own.
Claire Seymour
The concert was broadcast live on BBC Radio 3 and can be heard on BBC iPlayer for 30 days.